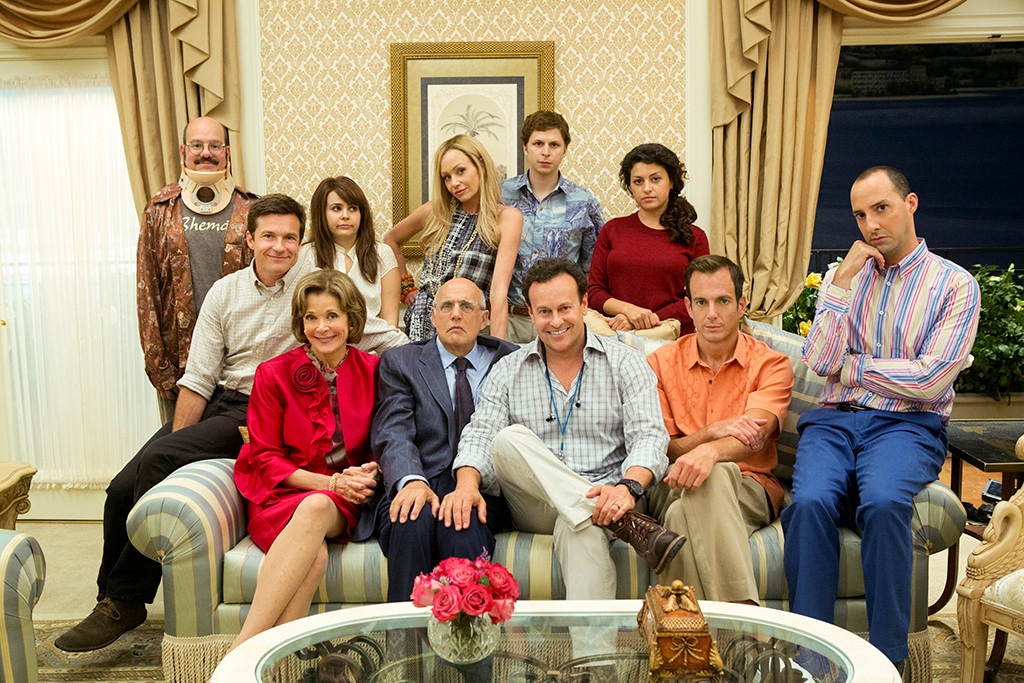 Netflix
Now the story of a cult-hit TV show that was canceled after three seasons, and the streaming service who made the choice to bring it back. It's Arrested Development.
Arrested Development drops the second part of season five on Friday, March 15 nearly 16 years after it first premiered on Fox in 2003. It's been a long, strange road for the Bluths, one filled with critical acclaim, fan adoration, big name guest stars, complicated schedules, critical maligning, and a disastrous press tour.
The Bluth family—Michael (Jason Bateman), George Michael (Michael Cera), GOB (Will Arnett), Buster (Tony Hale), Lucille (Jessica Walter), George Sr. (Jeffrey Tambor), Lindsay (Portia de Rossi), Tobias (David Cross), Maeby (Alia Shawkat)—and their cohorts first came into the lives of viewers in November 2003. Mitch Hurwitz created the show about the dysfunctional family reeling from financial scandal after meeting with series narrator and executive producer Ron Howard.
The series premiere had roughly 8 million viewers, which wasn't great at the time, but there was acclaim. In its review from 2003, The Hollywood Reporter dubbed it "easily the smartest, funniest and most original new comedy of the season."
However, ratings only went down as the season progressed and it was on the cancellation bubble, but the series received seven Emmy nominations for its debut season, and won four, including Outstanding Comedy Series. The show beat out Curb Your Enthusiasm, Will & Grace, Everybody Loves Raymond and Sex and the City that year.
"This is a huge thing for us. This is outrageous," Hurwitz said on stage accepting the award. "You know what? Let's watch it," he said, noting the low viewership.
The show returned for a second season to 6.6 million viewers and ratings stayed low, but consistent. And reviews were still solid. The Atlantic praised the cast. "The genius of Arrested Development is that rather than present us with children who behave like adults, it offers adults who behave like children. Forced by their own indolence and incompetence to live together again (in the model home no less), the Bluth siblings recreate the painful dynamics of childhood--the selfishness, the insecurity, the competition for a parent's favor--but using the weapons of adulthood: money, sex, and a range of sophisticated lies and alliances," Christopher Orr wrote.
Season two received 11 Emmy nominations, including Outstanding Comedy Series, but lost to Everybody Loves Raymond. But it was once again on the bubble.
"It was really a surprise to us that we got to keep making it beyond the first half of the first season," Cera told BBC. "Every episode after that was like a gift, because nobody was watching it when it was on TV."
By the time the third season premiered in 2005, ratings were even worse. The first episode, which aired September 19, 2005, had 4.6 million viewers. There was no Outstanding Comedy Series Emmy nomination. The low ratings coupled with some less than favorable reviews—"the show's quality was a bit erratic in its last season," the now-defunct Zap2It said—ultimately led to Arrested Development's demise in 2006. But as is the case with superheroes, dead doesn't mean dead.
"The fans have been so ardent in their devotion and in return … I've given everything I can to the show in order to try to live up to their expectations," Hurwitz told Variety. "I finally reached a point where I felt I couldn't continue to deliver that on a weekly basis…Of course, if there was enough money in it, I would have happily abandoned the fans' need for quality. But as it turns out, there wasn't."
As the years wore on, with DVD boxed sets and syndication, fans continued to find their way to the Bluth family. And after all seasons became available to stream, the Bluths got a second life.
The cast reunited at the New Yorker Festival in 2011 where they confirmed they would be getting back together for new episodes. There was also a plan to shoot a movie.
Following years of revival discussions, Arrested Development season four premiered on Netflix in May 2013. The reaction? It was mixed. The 15-episode season rarely featured the acclaimed ensemble cast together due to scheduling constraints. Instead, episodes largely followed one specific character, with stories told in a non-linear fashion.
"Yes, Season 4 gets tangled in its own contrivances. Yes, it is fatty and over-narrated (by executive producer Ron Howard, who has the last laugh). Yes, its ambition inspires tortured criticism that tries to Explain It All," The Washington Post said in its review.
In its review, Variety said, "Ultimately, this Arrested revival plays a bit like a reunion special, where the individual cast members come out and take their curtain calls. After the warmth of seeing them reunited (or semi-reunited, given how rarely more than one or two are featured in a scene together), there's a sort of awkwardness to it, as if nobody really has much to say. We're meant to bask in the nostalgia, while the particulars are of relatively little consequence."
The fourth season got three Emmy nods, including one for Bateman. "People might not remember wanting that fourth season so badly that they would buy a subscription service to get it. What they remember clearly is how disappointed they were by the cut-up results, the Rashomon-style Rasho-mess that creator and writer Mitch Hurwitz ended up constructing, partly out of necessity," Tim Goodman of THR said.
Fans were also not thrilled with the way Arrested Development's season four story was told. The absurd characters interacting was what made the first three seasons so magical. Hurwitz tried to remedy this by recutting the series so the story was told in a linear fashion. That created issues regarding actor pay, but it still saw the light of day.
"The original season four of Arrested Development on Netflix, as some of you know, experimented with a Rashomon-style of storytelling—with each episode dedicated to the adventure of one member of the Bluth family," Hurwitz said in a note posted by the Arrested Development Twitter. "The goal was by the end of the season, a unified story of cause and effect would emerge for the viewer—full of surprises about how the Bluths were responsible for most of the misery they had endured. In so way to be an experience for that viewer, perhaps, akin to eating some toast, then some bacon—maybe a sliced tomato followed by some turkey and realizing, 'Hey, I think I just had a BLT.'"
Season four ended on a cliffhanger. Whether the show would return for a fifth season to tie up the story remained a question for years, Netflix only confirmed the fifth season had been ordered in May 2017. It premiered in May 2018 with the first eight episodes.
"In talks with Netflix we all felt that that stories about a narcissistic, erratically behaving family in the building business—and their desperate abuses of power—are really underrepresented on TV these days," Hurwitz said in a statement when season five was officially confirmed. "I am so grateful to them and to 20th TV for making this dream of mine come true in bringing the Bluths, George Sr., Lucille and the kids; Michael, Ivanka, Don Jr., Eric, George-Michael, and who am I forgetting, oh Tiffany. Did I say Tiffany?—back to the glorious stream of life."
A few months after the official season five announcement happened, Tambor was accused of sexual misconduct while working on Transparent. Filming had already been completed on Arrested season five and the team voiced their support for him and maintained his character, George Bluth Sr., would remain in the show.
And then the season five press tour happened.
During an interview with nearly the entire cast of Arrested Development, Walter told The New York Times about an altercation she had with Tambor. "He never crossed the line on our show, with any, you know, sexual whatever. Verbally, yes, he harassed me, but he did apologize ... In like almost 60 years of working, I've never had anybody yell at me like that on a set," she said.
Walter said she had "to let go of being angry" at Tambor, he apologized, but then her costars seemed to gaslight her into thinking the interaction between the two was normal for certain performers.
"Again, not to belittle it or excuse it or anything, but in the entertainment industry it is incredibly common to have people who are, in quotes, 'difficult.' And when you're in a privileged position to hire people, or have an influence in who does get hired, you make phone calls. And you say, 'Hey, so I've heard X about person Y, tell me about that.' And what you learn is context. And you learn about character and you learn about work habits, work ethics, and you start to understand. Because it's a very amorphous process, this sort of [expletive] that we do, you know, making up fake life. It's a weird thing, and it is a breeding ground for atypical behavior and certain people have certain processes," Bateman said.
"But that doesn't mean it's acceptable," Shawkat told Bateman.
Bateman and other male cast members present publicly and personally apologized to Walter.
In an interview with Broadly, Shawkat said when the other actors tried to excuse the behavior, it made her feel uncomfortable. "It just kept going and I, all of a sudden, started to feel hot inside," she said. "Because I was like, okay, if they say all this, then I now have to say, 'But, this is a bigger issue.'"
"I tried to explain to them that, in defending Jeffrey, we covered up something that was more important in the conversation—which was Jessica's feelings in the moment, and also any voice that I felt I had," she said. Shawkat said her costars apologized to her afterward.
Just six days later, the first eight episode Arrested Development season five premiered on Netflix.
After cleaning up stories of the fourth season, THR said "the cylinders are firing a lot more effortlessly, and the series benefits from having the cast pretty much all back together for shared scenes," Goodman wrote. "Episodes five, six and seven show Arrested Development at its best, taking a full sprint at ridiculously elaborate scenarios."
But not everybody was thrilled with the Bluth family's return.
"There isn't much to be excited about with the fifth season of Arrested Development…This latest batch of episodes is over-the-top, convoluted, and self-referentially up its own anustart—qualities that from 2003 to 2006 made the madcap farce, then on Fox, one of the best sitcoms of all time, but also a high-wire masterpiece impossible to follow up. If Season 4 felt like a warped copy of the original, Season 5 feels like a copy of a copy, a Xerox made on a machine lacking a color cartridge. The Bluths' world feels smaller in these eight episodes, as if their universe has contracted since their latest escapades five years ago," Inkoo Kang of Slate said.
Now, the final eight episodes of Arrested Development season five are here, dropping on March 15, 2019. Are people watching? Netflix won't reveal viewership data. And now the streaming landscape is more crowded than ever. It looks like this could be the end of the road for the Bluths.
"I've learned to say 'Never say never,' but I can't see it happening again, I think for a number of reasons," Cross said on Late Night With Seth Meyers Podcast.
At the 2018 Television Critics Association press tour, Netflix boss Cindy Holland said, "I actually don't know if [season six] is a possibility or not. We haven't discussed it at all."
Revolutionary in its heyday, Arrested Development in its current state just seems...to exist. The rabid fanbase has largely grown quiet. If this is it for the Bluths, will anybody mourn?
Arrested Development season five is now streaming in its entirety.