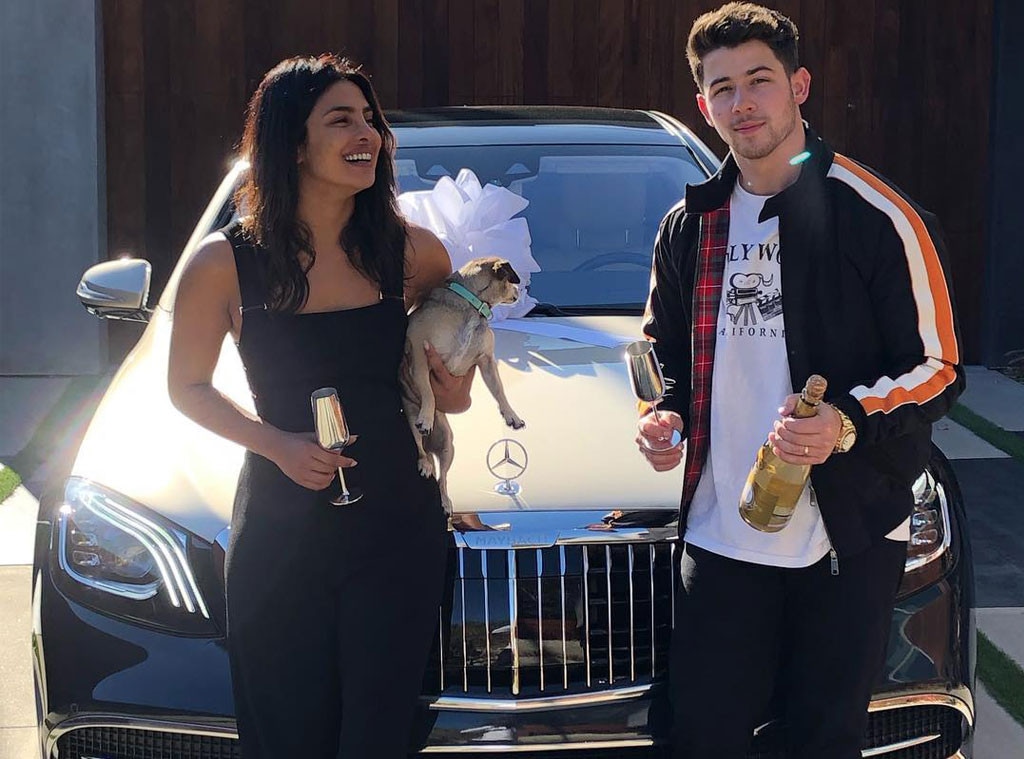 Instagram
Sure, diamonds are a girl's best friend but cars are nice, too.
Nick Jonas proved just how much of a sucker he is for his wife Priyanka Chopra on Tuesday when he surprised her with a black (or dark blue) Mercedes Maybach. "When the hubby goes number one.. the wifey gets a @maybach !!" Chopra captioned the photo of them smiling and kissing in front of the new car. "Introducing.. Extra Chopra Jonas.. haha .. I love you baby!! Yaaay! Best husband ever.." 
Both husband and wife are holding champagne flutes. He also has the bottle in his hand while Chopra carries their dog in her other arm.
A 2019 Mercedes Maybach S650 costs about $199,000. A S560 model goes for $170,750. It would clearly surpass $200,000 if the 26-year-old customized it in any way.
We're just burnin' up with jealousy over this one.
"Sucker" isn't going to be the only Jonas Brothers track hitting our music playlists. Nick, Joe Jonas and Kevin Jonas announced on The Elvis Duran Show that they have big plans for their future and a lot of work coming down the pipeline.
"We have probably 30, 40 songs recorded that we can't wait to release," Joe shared on the radio show.  Those will be coming in the "next few months." We're ready!
The entire "Sucker" music video is an homage to their respective wives and fiancée. Chopra, Sophie Turner and Danielle Jonas dance and generally live their best lives in elaborate costumes and bubble baths at Hatfield House in England. It also happened to be the same location where The Favourite was filmed. Their reunion was five years in the making and fans couldn't be happier.
Since the big day, the JoBros have been totally unstoppable. They had a secret concert in New York and have hinted a few times about an upcoming tour. The three brothers have all been open about their messy breakup in 2013 and what prompted them to reunite once and for all. It apparently all goes back to a reunion in Australia.
"Initially, it was about filming a documentary. So we wanted to tell our story, you know, where we came from, kind of what happened on our journey back then together, and then where we are now," Nick said on Elvis Duran. "And in that, I think we just started to spend a lot of time together, filming again, and I think we realized that there was a magic when we were together that we missed, you know, and and we felt like something different always happened we were together."