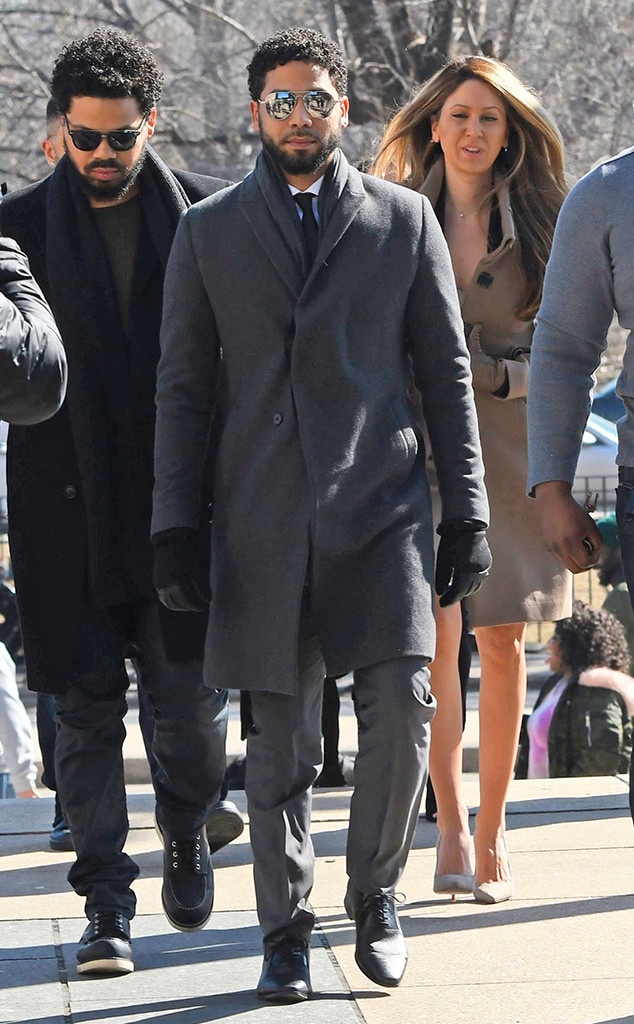 Matt Marton/AP/Shutterstock
Jussie Smollett attended a hearing at the Leighton Criminal Courts Building in Chicago on Tuesday. The hearing was to determine whether cameras would be allowed in the courtroom during his upcoming case.
The Empire actor arrived at the Cooks County court in a gray coat, which he wore over gray pants, a white button-up shirt and a tie. He also covered his eyes with a pair of sunglasses. 
According to Charlie De Mar of CBS Chicago, the judge determined cameras will be permitted in the courtroom for Smollett's hearing on Thursday. Per de Mar, who attended the court appearance, Smollett's legal team claimed they welcome cameras as a counter to the "misinformation" allegedly shared with the media.
"There has been a lot of misinformation in this case that has been presented as fact and evidence against Mr. Smollett which is demonstrably false," Smollett's attorney, Tina Glandian, told reporters. We welcome cameras in the courtroom so that the public and the media can  see the actual evidence and what we believe is actually going to be the lack of evidence against Mr. Smollett. And we look forward to complete transparency and the truth coming out."
The hearing came just days after Smollett was indicted on 16 felony counts for allegedly lying to police about being the victim of a homophobic and racist attack. The indictment came a month after Smollett was arrested and charged with one count of disorderly conduct for allegedly filing a false police report. He was later released on a $100,000 bond.
After news of the indictment broke, Smollett's lawyer, Mark Geragos, released a statement in which he maintained Smollett's innocence.
"The fact of an indictment is not unexpected," he said. "We knew that there is no way they would expose their evidence to a public airing and subject their witnesses to cross-examination. What is unexpected however, is the prosecutorial overkill in charging 16 separate counts against Jussie. This redundant and vindictive indictment is nothing more than a desperate attempt to make headlines in order to distract from the internal investigation launched to investigate the outrageous leaking of false information by the Chicago Police Department and the shameless and illegal invasion of Jussie's privacy in tampering with his medical records. Jussie adamantly maintains his innocence even if law enforcement has robbed him of that presumption."