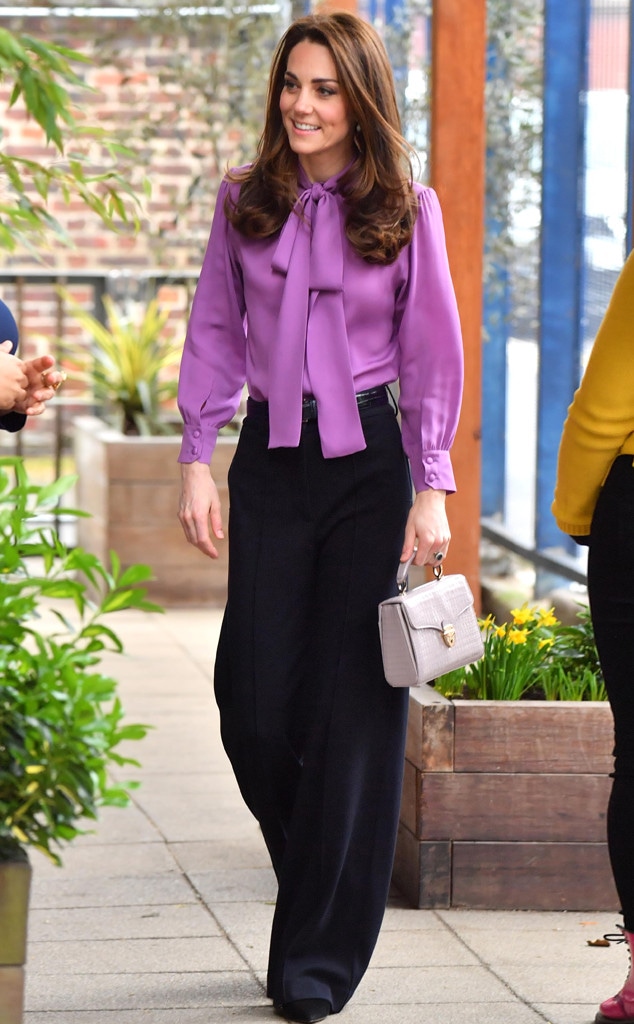 Arthur Edwards - WPA Pool/Getty Images
Kate Middleton knows a thing or two when it comes to babies. After all, she's had three of her own. 
The Duchess of Cambridge looked right at home as she visited the Henry Fawcett Children's Center to see how the the Lambeth Early Action Partnership uses the facilities to support parents, carers and their children.
In lieu of her more typical dresses, Middleton donned wide-leg black pants with a purple Gucci pussy-bow silk-crepe blouse and accessorized with a top-handle purse for the event. The mother of three took a seat on the floor as she joined parents and their toddlers for a "Together Time" session, designed to help parents understand their child's cues and build confidence in their parenting. 
With three youngsters of her own all under the age of six, the royal has been in the parents' shoes. In fact, as the duchess took a seat on the floor and mingled with the parents and their little ones, she spoke of her own youngest, Prince Louis, who is now 10 months old. 
In video of Middleton captured by The Daily Mail's Rebecca English, she told mom Kriti Batta about how her son "bombs around" on his walker. 
"She was saying Louis does this and she was just helping him to balance," the mom of a 9-month-old son told the press of their interaction. 
The duchess also chatted with Finesse Perry, a mother of twin girls. "She asked me what it's like having twins and I said it's double trouble and she said like with her own children, you have your ups and downs," Perry said of their conversation. 
Needless to say, it was a bonding moment for all of the moms, royal or not. As Batta added, "You all just have a common connection as a mother. You understand other people's children, even when other people's children are climbing over you. You understand because your children do the same."
Next month, the youngest of the family will celebrate his first birthday. As royal enthusiasts may recall, Middleton gave birth to her third baby on April 23, 2018, just weeks before Prince Harry and Meghan Markle's royal wedding. 
As the couple awaits their first little one also due this spring, Middleton was recently asked if another youngster was in the cards for her and Prince William. 
Her answer? "I think William would be a little worried," she said with a laugh.