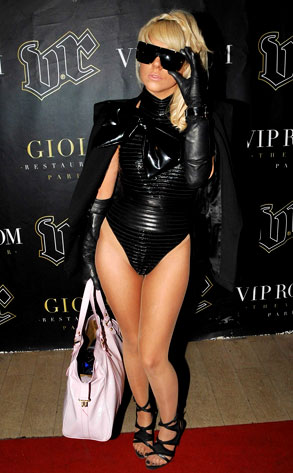 Sipa via AP Images
Apparently, Lady Gaga has never met a pair of pants she's liked, because we haven't been seeing her wearing any in...oh...ever.
Yeah, she's an artist, so she's supposed to have crazy creative and unique style. But the Fame singer's blatant disregard for clothes on her lower extremities is really getting out of control.
Every time she appears on the red carpet, we feel embarrassed for her (Poor thing forgot to wear pants!)—until we realize she probably meant to do that. It's getting annoying.
And Lady No Pants Gaga isn't the only celeb eschewing bottoms these days. Check out the slew of stars jumping on the bottomless bandwagon and saying "No thanks" to slacks and skirts in our No Pants, No Problem gallery.