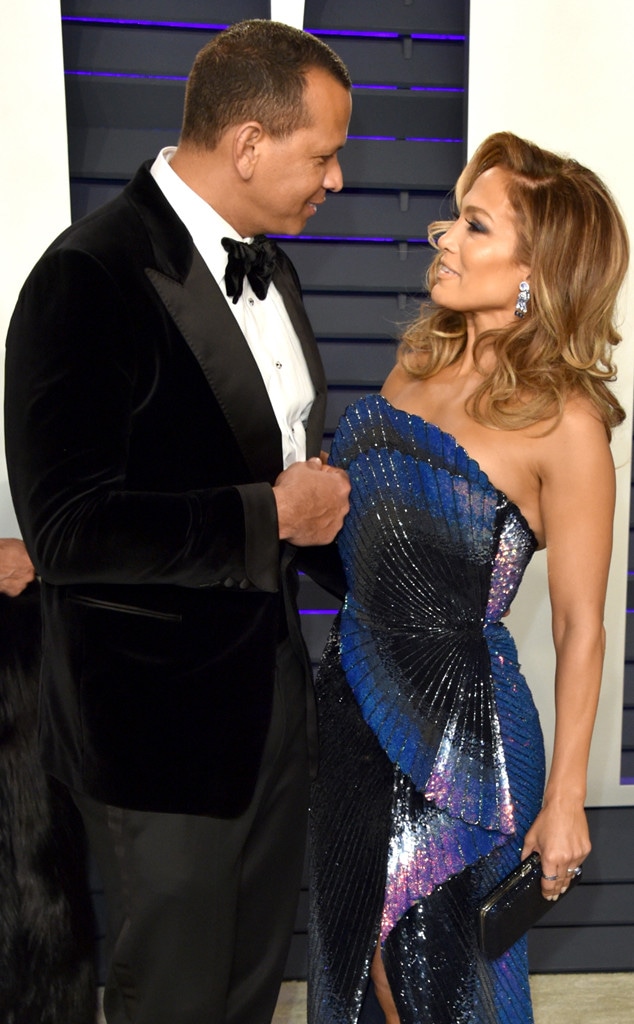 John Shearer/Getty Images
Life's a beach and Alex Rodriguez and Jennifer Lopez are just playing in the sand.
The couple is currently enjoying a beach vacation in what looks like some far-flung tropical destination filled with white sand beaches, gorgeous sunsets and blue skies.
Both J.Lo and A-Rod have shared photos from their getaway together, including one that was quite literally very cheeky. The Second Act star posted a selfie that her beau snapped. He's smiling at the camera with his hand on his chin while she's posing in the background in a green bikini. "#beachbums," she captioned it. Never doubt J.Lo's ability to come up with a catchy caption.
On Friday, the "On The Floor" singer shared a sweet picture of the two of them sitting on a boat looking out at the distance. The two of them both have incredibly busy and demanding schedules, so her caption describes exactly what they're both enjoying: "down time."
The former New York Yankee also shared a number of photos from their vacation. He posted a selfie where they're both smiling at the camera. Their infinity pool and the beach are out of focus but clear enough to see that their lodging has all of their water bases covered.
"Enjoying a little R&R with my [heart emoji]," he wrote.
A-Rod also praised J.Lo, her daughters and his daughters on International Women's Day. "Today we celebrate all women and their extraordinary contributions. I'm blessed to share my life with these incredible ladies," he typed. "You all mean more to me than I could ever express in words."
As beautiful as those tributes and posts are, there's one that he added to his Instagram Story where he let poetry do the talking. The 43-year-old shared a screenshot of an excerpt of a poem called "Soulmate" which was written by Bianca Sparacino. 
It goes, "A soulmate isn't someone who completes you. No, a soulmate is someone who inspires you to complete yourself. A soulmate is someone who loves you with so much conviction, and so much heart, that it is nearly impossible to doubt just how capable you are of becoming exactly who you have always wanted to be."
J.Lo and A-Rod have been together for two years, and the two constantly share their love for each other on social media, the red carpet, talk shows and more. He apparently surprised her with chocolates, flowers and a cake for their first Valentine's Day together. Plus, he's always her biggest fan wherever they go.
The two of them opened up about their relationship in a December 2017 Vanity Fair cover story.
"We are very much twins," he told the magazine. "We're both Leos; we're both from New York; we're both Latino and about 20 other things."
The multi-talented artist added, "I understand him in a way that I don't think anyone else could, and he understands me in a way that no one else could ever."