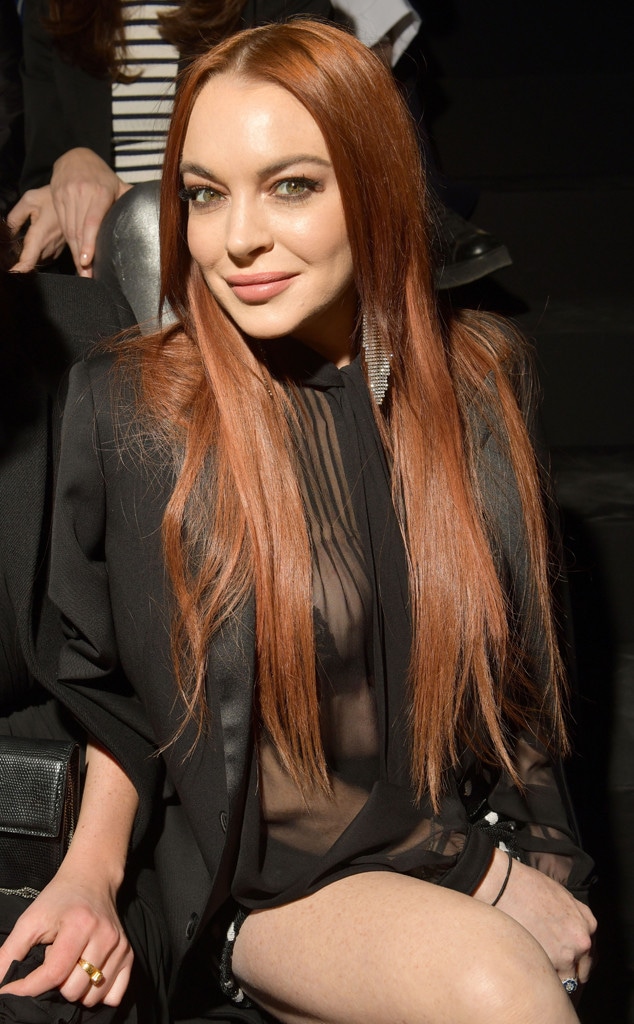 Swan Gallet/WWD/Shutterstock
No offense  to Angie, but the only list we care about is Lindsay Lohan's infamous sex list.
Oh, you forgot about the list? Don't worry, we remember it. Rather than store dates, you know, like the birthdays of beloved family members or the deadline for filing taxes, we hold onto the truly important ones. For example: March 12, 2014, a day we look back on as L-Day, when InTouch Weekly  printed a list of *alleged* famous conquests written by Lohan, with only 18 names revealed and the remaining 18 blurred out. (All written on a Scattegories playing card, a very important detail.)
"Dozens of top stars panic" their cover story boldly claimed of the list being revealed, going onto ask, "What will they tell their wives and girlfriends?" 
Of course, people went nuts, speculating on the details behind the exposed names and guessing which celebrities' names were still blurred. A week later, on March 19, the tabloid revealed 12 more names, with several A-listers included.
As for the remaining six names? Well, they've never been revealed. Consider it one of Hollywood's biggest unsolved mysteries. 
The alleged list was made legit, thanks to Oprah Winfrey. Yes, really.
You see, at the time of the list's scandalous leak, Lohan was starring on Lindsay, her OWN reality show that documented her recovery and attempt to revitalize her career. At least, that's what its original concept was, before it became clear that this was more like a documentation of Oprah's growing frustration with the Mean Girls star. 
Aside from giving the world the infamous scene of the media mogul laying into Lohan—"You need to cut the bulls--t!"—it also was responsible for InTouch getting its hands on the handwritten list. At least according to Lohan, who confirmed that she did in fact list all of the men she'd been with during an appearance on Watch What Happens Live to promote Lindsay. 
"You know, I'm going to get serious for a second," the actress told Andy Cohen when he playfully brought up the list.
"That was actually my fifth step in AA at Betty Ford. And someone, when I was moving during the OWN show, must have taken a photo of it. And so that's a really personal thing and it's really unfortunate," she said, "I talk about it on the last episode on the OWN show, so to be continued."
Tackling the scandal head-on and shamelessly plugging her show?! The range. 
After the leak, some of the famous men listed denied it, some copped to it and some flat-out ignored it. But, being the human garbage disposals we are when it comes to all things celebrities and pop culture, we could never forget it, so we decided to check in on Lohan's list, five years later.
(And no offense to some of other men on the list, including some former athletes and artists, but we kept it to just the bigger names. So you can go shave your backs now/be grateful we didn't once again tie you to this list?)