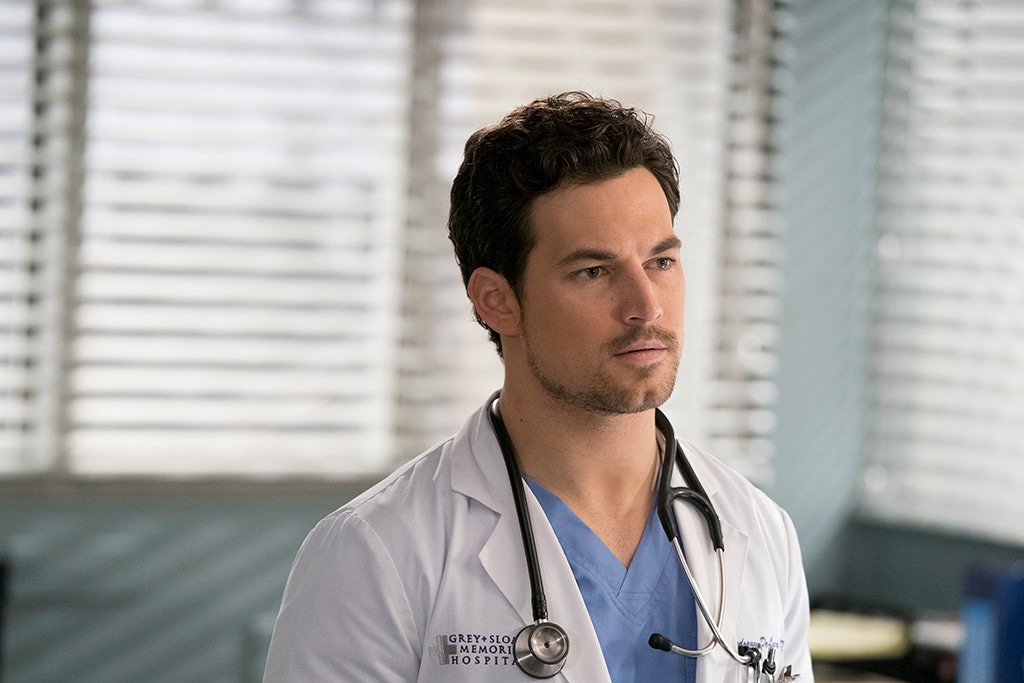 ABC
The journey of Giacomo Gianniotti and Dr. Andrew DeLuca are running parallel—and just getting started.
The Grey's Anatomy star began as guest star in season 11 before getting upped to series regular in season 12, now in season 15 he's the series' romantic male lead as his character embarks on a relationship with Ellen Pompeo's Meredith Grey. But 10 years ago, Gianniotti was a bartender in Rome.
"I was often doing double shifts, and I fell asleep at the wheel," Gianniotti told E! News. "I woke up to sparks flying in my face, I was grinding against a guardrail. I pulled over, I had flattened a tire. I was very lucky to escape with my life and certainly not harming anyone else's life as well, more importantly." Now, he's working with Super 8 by Wyndham to raise awareness on drowsy driving with their Journey Safe campaign.
As somebody who has experienced it before, Gianniotti said he felt it was important to highlight the dangers of drowsy driving. It's pretty much his first "official" celebrity campaign endorsement as his star has risen since joining Grey's Anatomy in 2015.
"I actually drove from Toronto to Los Angeles for this role, to move to LA. So, I remember a lot of long nights, me and two other buddies driving, getting very tired, trying to get there," he said. "It's been a trip, going from an intern to a resident to Ellen Pompeo's love interest and it seems to be something that we're building towards being something lasting, hopefully."
The Meredith and DeLuca pairing was first hinted at in in the season 14 finale when Gianniotti's character drunkenly kissed Pompeo's. There were mixed signals and it was very "traditionally romcom," he said. But it all started with a conversation between Gianniotti and Grey's Anatomy showrunner Krista Vernoff where she outlined why she wanted to explore an older woman being with a younger man on screen.
"She was like, 'I want to flip that on its head. Why is it always the men that are always with these young women?' It's like nobody questions it, but when a woman is with a younger man, 'Oh, it's gross!' Weird labels are attached to it. So, she was said, 'I would like to explore that, that it can be empowering and sexy to be with someone younger. They can rejuvenate you,'" Gianniotti explained.
And as with any change or TV coupling, fans are split.
"If you don't have haters, you're not doing it right. I think Biggie Smalls said that," he said. "There's always division in everything, you know what I mean? And I think for anyone who truly loves her character should definitely understand that someone who is widowed also deserves to have a companion and to experience love again and to have that fulfilling experience, and that no one could ever hold a candle to her husband or that love story, but that person certainly deserves to have a love and companionship in their life. I hope people can kind of just understand that, and I would dare them to wait and see and try. There's a lot more storytelling that we have to do."
Meredith Grey is no ordinary widow. She's a survivor, and now she's a single mother. Just as Meredith has evolved, so has DeLuca—and Gianniotti right there with him off screen—to get to a point where the two characters can build something together, perhaps even a family. Gianniotti said DeLuca is ready to step into the father figure role.
"He's definitely ready to take that on. That's something that we're sort of exploring mildly in the next coming episodes. It's a very real issue. She's a mother, that's not going anywhere, so if he's going to be with her, he's got to be able to take that on in a big way, in a real way. I think that's going to be a fun part that's going to unlock a new layer of love that Meredith has for DeLuca, once she sees that he's capable in that, I think that will really close the circle," he said.
With his place cemented in Grey's Anatomy history, Gianniotti is still having the "pinch me" moments "every day."
"I'm very grateful. I don't come from a lot of money or anything like that, my life has changed immensely," he said, noting he works with homeless organization My Friend's Place. "When I was much younger before I had success in my career as an actor, I would ring that bell and I would ask people to donate, show up with blankets or this or that. We would be lucky if we raised like $300 or $400. But what's been so rewarding about the growth in my career and my following growing is that now when I ring that bell, I'm raising $20, 30, 40, 50,000 for campaigns and things like that," he said. "That's been extremely gratifying that I can provide that for people and causes and I hope to continue to do that."
Grey's Anatomy airs Thursdays, 8 p.m. on ABC.