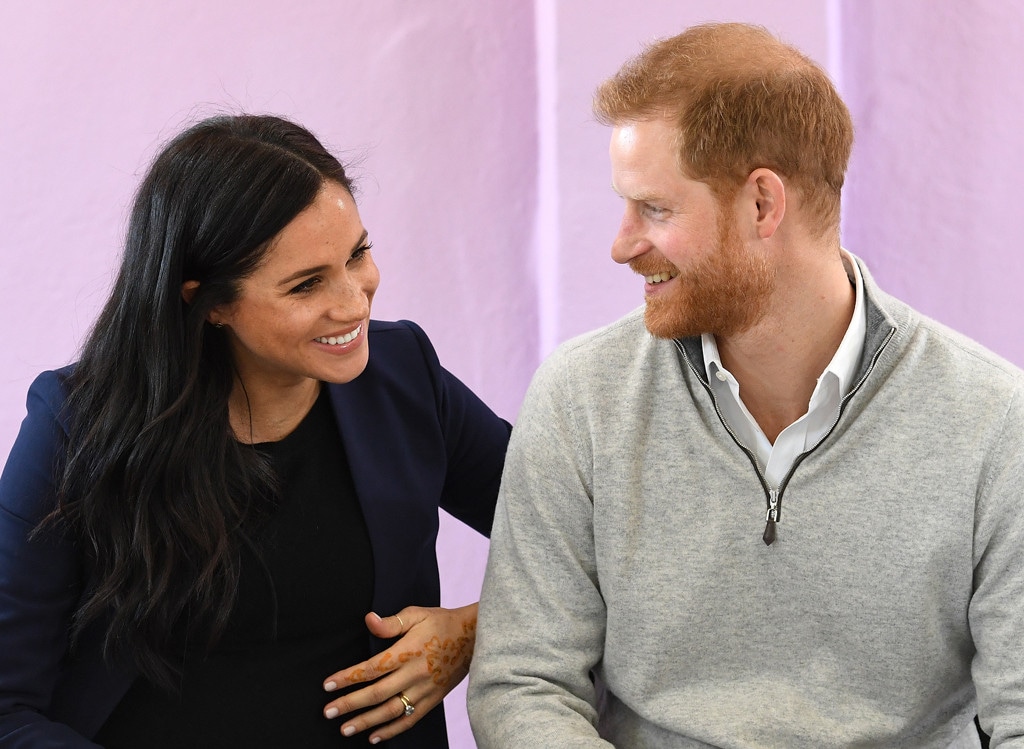 Pool/Samir Hussein/WireImage
He may be weeks away from welcoming his first child, but Prince Harry already has dad jokes. 
During a stop on their three-day tour through Morocco, a representative from a local girls' school offered up her congratulations to Meghan Markle on her pregnancy, prompting her husband to react in mock horror, "What, you're pregnant? Is it mine?" Never one to miss a beat, his bride replied, "Surprise!" 
[Insert rimshot here.] 
Ignoring the obvious, the fact that Meghan is carrying the first heir of Prince Henry Charles David is a shock to precisely no one who has access to the Internet, a television set or has bothered to glance at a newspaper at some point in the last five months or so. 
Baby Sussex isn't due to make his or her arrival for another month and yet royal watchers are already gobbling up details about their nursery being set up inside Windsor Castle's Frogmore Cottage (said to be awash in gender-neutral whites and grays) and Meghan's birth plan (which reportedly involves a doula and intentions to use a technique called hypnobirthing to work through the pain naturally) and filling in the blanks about all of the rest as they see fit. 
So there's pretty much no doubt the eyes of the world will be trained on London—or Surrey, England thought to be another potential spot for Meghan, 37, to labor—come mid-April. But after that, the little Duke or Lady might have a legitimate shot at having a relatively normal existence. To be sure there will be certain expectations and pressures placed on their tiny head, milestones will be celebrated whether the public is welcomed in or not and any major decision or achievement will doubtlessly be dissected.
But unlike their older cousins, Prince George, 5 Princess Charlotte, 3, and 11-month-old Prince Louis, Meghan and Harry's offspring won't carry the weight of a royal title unless Great-Grandma steps in. 
And while Prince William and Kate Middleton will one day have to explain to their eldest that everything the light touches will be his to preside over (the grade-schooler is a fan of The Lion King, after all) and that his siblings are next in line, Baby Sussex only has the slightest shot at ascending to the throne. 
Born a distant seventh in the pecking order and set to slide down as their cousins start families of their own, the newest royal won't be a spare heir like Dad, 34, or even a spare of a spare like little Louis. Rather they'll be more akin to cousin Zara Tindall, privy to all of the perks of being a member of The Firm, but more free to follow their own pursuits, such as training as a professional equestrian, while comfortable in the knowledge they will always have a job as a full-time royal to fall back on. 
Mom and Dad have already seen to it that their earliest years will be shrouded in as much secrecy as realistically possible for someone who calls Queen Elizabeth II great-granny. 
Located some 25 miles outside of London in Windsor, Frogmore Cottage on the lush, 35-acre Windsor Castle Home Park estate seemed the most idyllic setting to raise children for Harry who is keen "to escape the goldfish bowl of royal life," as the Daily Mail reported. While much of his formative years were documented by eager photographers and reporters, his cousin Princess Eugenie, who also grew up free of expectations that she'd one day take the throne, regaled him with tales of her quiet upbringing with older sister Princess Beatrice outside the city.
"It was actually Princess Eugenie who convinced them to make the decision as she had such a wonderful, peaceful childhood on the grounds of Windsor," a source revealed to Us Weekly. And that's the goal for Harry and Meghan, who's talked about the "leafy and affordable" neighborhood she called home in suburban Los Angeles. Says the source, "They want their children to grow up in as normal an environment as possible."  
It's the sort of relative privacy George and his little sister enjoyed when their dad was stationed as an air ambulance pilot in East Anglia, before William came to the realization that he had delayed his future as presumptive king for as long as possible and it was time to fully embrace his royal duties and his permanent home at Kensington Palace. Tucked away in the 10-bedroom Anmer Hall near the remote village of Norfolk, George and Charlotte took their first tentative steps shielded by cast-iron security gates and 12-foot pines. 
"William is very grateful," a friend told Vanity Fair of the setup back in 2016. "It's enabling him and Kate to raise their family in a way that's as close to ordinary as they can get."
Settled in their new palace home George, Charlotte and Louis more than make due with the nearby Kensington Gardens and the four floors that make up their 20-room spread, somewhat laughably labeled an apartment. But baby Sussex will be privvy to acres of land not open to the public. 
"The Cambridges have their garden in the back, which is nice," a source told the Daily Mail, "but there is no real other space for children to play in." By contrast, Frogmore "is secluded, peaceful, tranquil and, most importantly, private," said the source. "No one will see them coming or going." 
All the better for Meghan and Harry's little one to perfect their football or rhythmic gymnastics skills or whatever hobby they may choose to pursue, with the couple thought to be very aware of not pushing them in any one direction. Though the popular rumor is that Meghan spilled to those at her posh New York City shower that she would be having a son, the avowed feminist, "has been talking to some of her friends about the birth and how she and Harry plan to raise their baby," a source recently told Vanity Fair. "Her exact word was fluid. She said they plan to raise their child with a fluid approach to gender and they won't be imposing any stereotypes." 
While that falls in line with many of William and Kate's views—both George and Charlotte are said to love hobbies such as soccer and ballet, thought in some circles to have a more male or female bent—the cousins' upbringings will differ in other ways. 
Maria Teresa Turrion Borrallo, educated at Norland College, basically the Harvard of nanny institutions, has been around since George's early months, but Harry and Meghan intend to forgo professional help, instead choosing to lean heavily on the former actress' mom Doria Ragland. The L.A.-based social worker and yoga instructor "plans to be around a lot when the baby arrives," a source told Vanity Fair, noting the couple have included a bedroom for her in their renovation plans. "She wants to be on hand to help Meghan and Harry with the baby." 
And though George attends London's Thomas's Battersea, the private preparatory academy already a far cry from the all-boys boarding school William and Harry were educated at, the Sussexes are considering an option that's far less British. 
Stephen Lock/Pool/Samir Hussein/WireImage
ACS Egham International School in Egham, Surrey is also private and co-ed, but it offers an American curriculum to students aged 4 to 18. (Its location is also conveniently close to Windsor Great Park.) Meghan and Harry "are thought to want a more diverse education for their child," a source told E! News. "Meghan is also keen for her child to be fully aware of his or her American heritage."
So while they may not be bumping into each other in the hallway or on the Kensington Palace grounds, all signs point to William and Harry's kids being raised rather closely. After all, a half hour or so of distance is rather negligible when you have access to a fleet of chauffeured sedans and even helicopters. 
For all the chatter of the much-hyped Meghan versus Kate feud, the impending arrival is believed to have brought the sister-in-laws closer together, what with the mom of three helping the California native navigate the baby brands on offer in the UK and volunteering to hold an intimate celebration ahead of the birth. 
Though Meghan has a large circle of close friends she keeps in touch with, as evidenced by the decidedly A-list turnout for last month's baby shower she feels she's lacking "a group of moms in London to lean on," an insider told Us Weekly, which has given her even more motivation to shore up her bond with Kate. "It's not bad by any means," says the insider, "but they want to make it stronger." 
And should she require any extra information, help is but a transatlantic phone call away. According to one guest seated at the fete inside the $75,000-a-night, 10,000-square-foot Mark Hotel penthouse, Meghan received "tons of advice" during her shower along with a healthy dollop of encouragement. "That baby," makeup artist and longtime pal Daniel Martin told People, "is going to be loved by all of us."