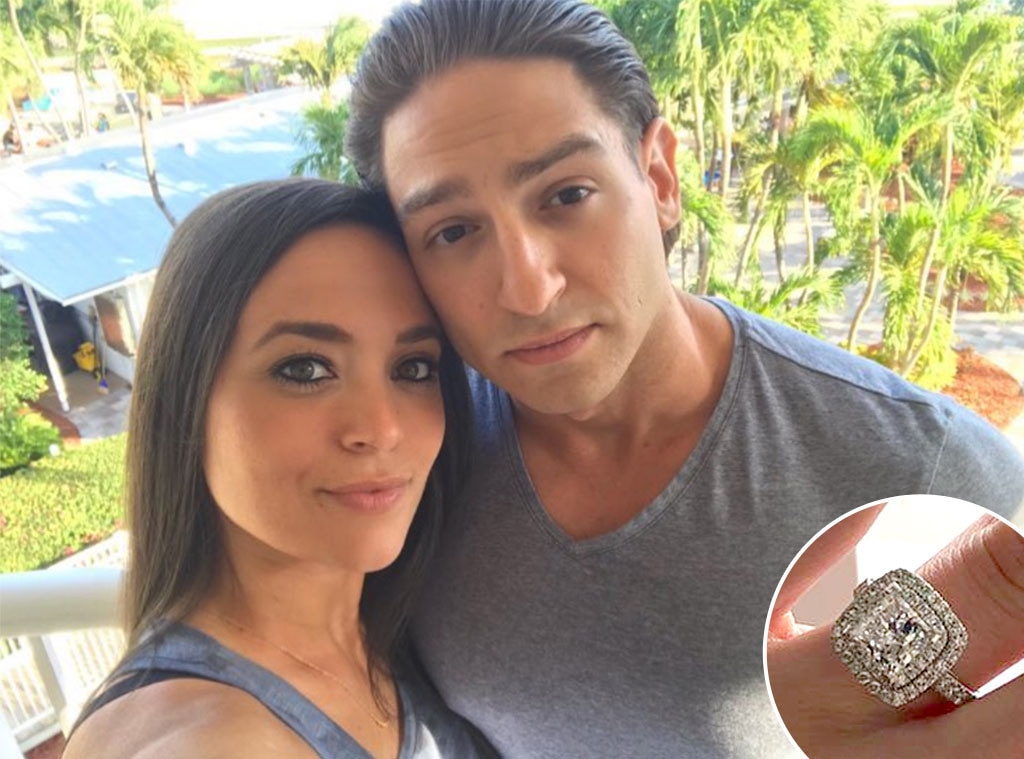 Instagram
Sammi "Sweetheart" Giancola is showing off the diamond that sealed the deal.
Sammi took to Instagram to reveal the stunning engagement ring that her boyfriend, Christian Biscardi, had custom made for the occasion. 
To get the engagement ring of Sammi's dreams, Christian turned to Paul Cozzi III of Cozzi Jewelers, which is a family owned and operated jewelers that specializes in custom made fine jewelry and diamond engagement rings.
While the piece of jewelry definitely raises the bar for all baubles to come, Paul Cozzi III is revealing all the details about the ring to E! News exclusively. "[Christian] picked a princess cut diamond, which is a square brilliant, a little over 2 carats in the center," the jeweler shares. "The rest of the stones in ring are all round brilliant cuts, all G color (near colorless diamond) and VS2 clarity."
Even more impressive is the "custom made platinum mounting, with a square double cushion halo."
As for the inspiration behind the priceless item, Paul says that Christian had a bit of help from Sammi's sister when it comes to the style. Once they had the design, Paul and his father searched for the best diamond to work with, before having Christian choose from five that they thought would do the trick. "He put a lot of thought into everything," Cozzi III shares. 
From there, Christian waited a month and a half to see the finished product. The verdict? Christian told Paul that Sammi was "super thrilled and loved it." Mission accomplished!
Paul adds that Christian said he breathed a "sigh of relief" when Sammi accepted his proposal.
Judging by Sammi's joyful Instagram posts, there is no doubt she would've said yes even if there wasn't a ring. When she announced her engagement she wrote, "I get to marry my other half, best friend and soulmate. I look forward to spending the rest of my life with you." 
Congratulations to Sammi and Christian!