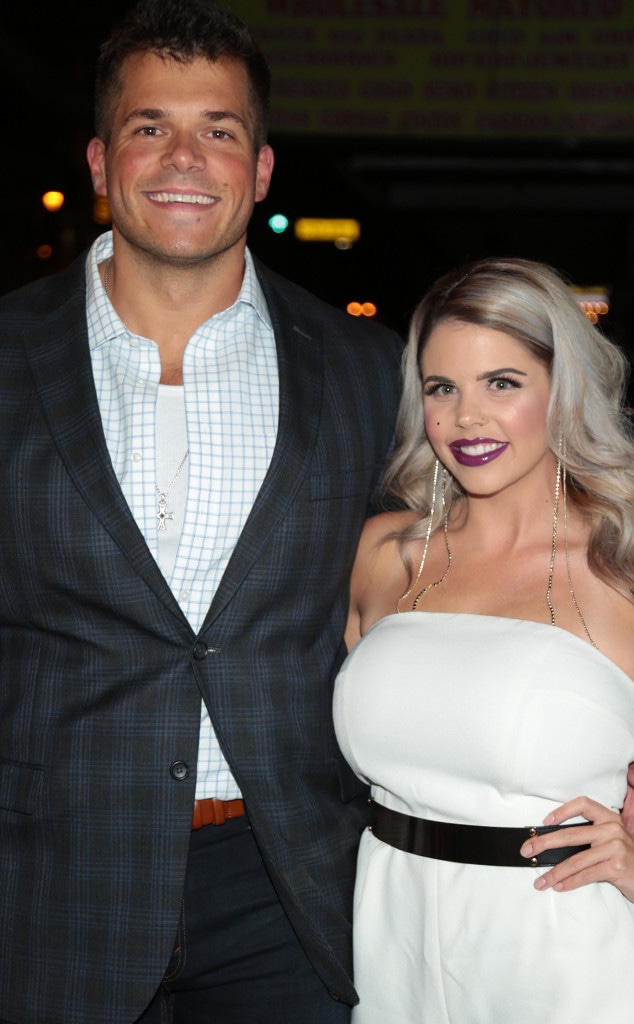 GP/Star Max/GC Images
Big Brother Season 19 star couple Mark Jansen and Elena Davies have gone their separate ways.
The reality TV show is known for its plot twists (hello Anthony Scaramucci not actually being a houseguest?!), drama, some controversies and more. It's also home to a fair share of showmances. Some stand the test of time—see Jessica Graf and Cody Nickson's wedding and their upcoming baby—whereas others do not.
Jansen opened up about the split on his podcast Find Your Fortitude, which he posted on YouTube. He looked visibly distraught and uncomfortable while discussing his breakup. At some points, Jansen seemed on the verge of tears.
"I didn't move to Texas to hang out or continue a friendship," he began. "I came down because I was in love with Elena. I wanted to start a family, start a life with her."
One thing about their relationship that hurt him the most was when Davies supposedly spoke badly about their relationship on social media and other podcasts. He refers to himself as "Mr. Positivity" and those comments were doing anything but making him feel that way.
"I was happy when she was happy. It was really that simple for me. I was happy when she was happy," Jansen explained on the podcast. "With that mindset and perspective, hearing constantly that it's not a fairy tale and I'm far from Prince Charming, it's just a gut shot. Clearly nothing's working."
The New York native explained that they had a "rocky relationship" and "broke up so many times."
Jansen teased the podcast episode, which is titled "My Side," in his latest Instagram post.
"I did this for myself, for all those that are inspired & look up to me," he captioned the photo. "Thank you for all my true friends who know who I am and have reached out!!!"
The couple's breakup is relatively evident on both of their social media profiles. 
Neither Davies nor Jansen has shared photos of each other as of late. The Texas native has taken to posting snapshots with friends and family while they're out on the town. Jansen, on the other hand, uploads pictures related to his personal training business as well as food and nights out with his friends.
The last time she posted a picture with her beau was on New Years Day. "Happy New Year...from us! Thank you, NEXT, 2018," Davies captioned a photo alongside fellow Big Brother season contestants Nickson and Graf. "I am prayerful that 2019 is filled with love, success, puppy breath, and laughter...primarily for me, tbh,...but also for the ones I love and the ones who love me. "
Take a look at the gallery below to see the relationship status of Big Brother couples.
Davies gave her side of the breakup in a statement to E! News on Tuesday. "I loved Mark so much. I actually still do love him very much. My heart is completely broken by our split and some of the decisions made surrounding it. Recovering from that, protecting myself and him, along with having to keep my life moving forward has been my priority since it happened. I wanted to do whatever necessary to make things work between us and now that clearly doesn't seem like a possibility," she said.
She continued, "Hearing that the man you love is no longer committed to your shared relationship is painful. I know we both contributed to allowing things to escalate to this and I certainly wish it didn't have to be this way for both our sakes. I will always love him and I will forever cherish every amazing moment we shared together. I'm aware he has now been vocal about his side of our split and I do plan to share my narrative as well on the next episode of my podcast, The MiscELENAeous Podcast, while remaining respectful of the very limited privacy we have left."
Watch Jansen's full episode here.