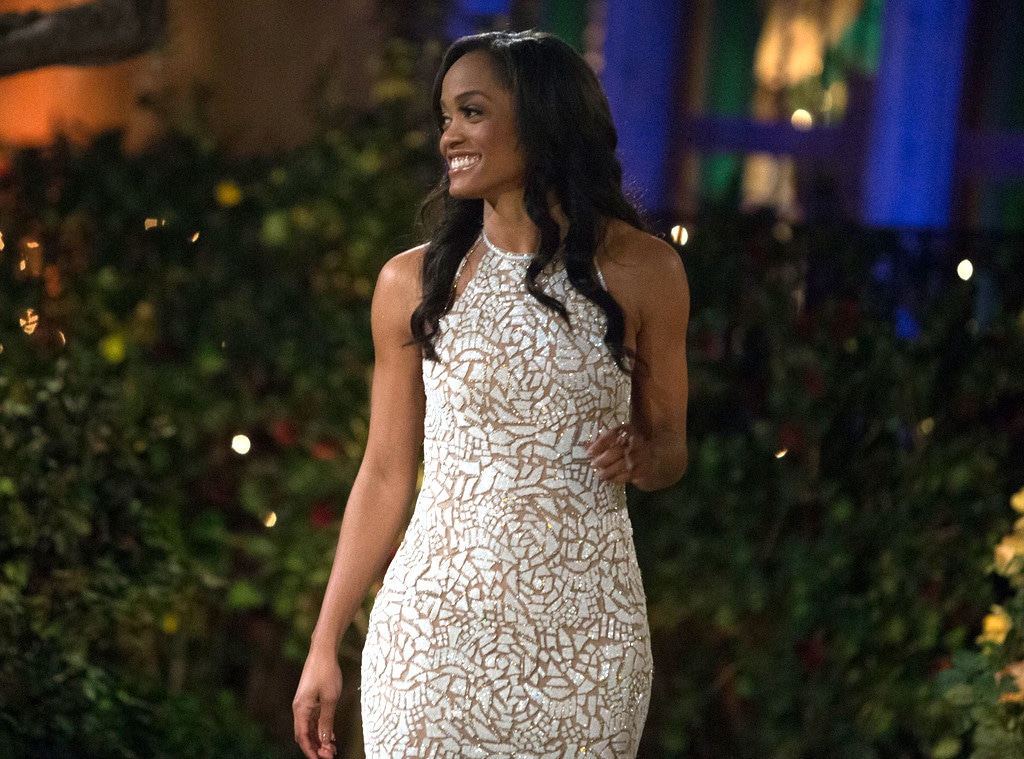 Paul Hebert/ABC
The wedding countdown is on for Rachel Lindsay. 
The reality star of Bachelor and Bachelorette fame recently confirmed her wedding to winner Bryan Abasolo is slated for August in the Caribbean. With a time and location set, her road to the aisle is officially in motion, but don't expect cameras on the day they said "I do."
"It will not be televised," she confirmed to E! News. "I think people think you have to have...'Oh, you're getting big, they're going to give you a televised wedding,' which I kind of feel I was guilty of that as well, and then I realized, 'Ok, they don't have to.' But, then I still wanted it just because I was in such a mode like, 'Oh, well we got engaged on TV, we're going to continue to share this moment with people who've been invested in our relationship,' and then as time went on and we're so in our world and not on camera in that way, I'm kind of like, 'You know what? Everything we've done has been so public, I am actually looking forward to the privacy of our own wedding and doing our wedding our way,' because if we did it on TV, it would be a production and so, we would have to listen to people say 'Stand here, sit here,' you know?"
Lindsay continued, "It just takes the emotion out of it. I'm very excited that it's not going to be a televised production."
While the wedding won't play out on ABC, that doesn't mean members of Bachelor Nation won't be making appearances—just not in the bridal party. 
"I don't even think I'm going to have bridesmaids, and if I do it would be my sisters and Bryan's sisters," she said. "I want to keep the wedding party small. I joke with all the girls and tell them that I'm not inviting any of them. 'None of you are coming! I'll invite you to the bachelorette party,' but I just say that because I'm still trying to work on the wedding list and narrow it down, but there will be girls there from Bachelor Nation. I mean I talk to somebody from my girl gang every week...I'm going to see them tonight. It's like of course they're going to be at the wedding."
Watch:
Rachel Lindsay Shares Details About Spring 2019 Wedding
With the ceremony taking place in the Caribbean as opposed to her earlier picks of Italy, more people will be able to attend. "It is going to be in a very pretty location, but also easily accessible for family. I want people to have a vacation," she explained to E! News. "I like that you can make it a vacation if you want to. I'm really in love with that idea."
Considering the new location and the temperature in August, Lindsay is also reworking her wedding dress style, to be designed by Randi Rahm, and is going to try on some for the first time this month in New York with her mom, future mother-in-law and sisters. "I feel like I'm kind of starting over because it's going to be so hot that I need to change my style," she said. "What I wanted looked a lot like Lauren [Burnham's]...her dress was gorgeous and it literally is a lot like what I was going for, so now I have to change it."
As for their honeymoon, relaxation is the goal. "We want either the Maldives, because you know I was totally jealous when Becca [Kufrin] went on her season. I was like 'Ugh, that's like a dream location for me,' or like Bora Bora, Fiji Islands-type honeymoon," she said. "We kind of want to chill, be by the waters we've never seen before. You know, just wake up to like the beauty of that every morning."
While they're on the same page about their honeymoon, the mounting guest list (currently at 150 people) is a different story. "There have been people that he's wanted to put and I'm like, 'Absolutely not. They are not coming. They will be a hot mess at the wedding and I don't want them there.' That's probably the biggest thing," she said of her future husband. "I'm sure as we get into more details, there will be other things, but right now that's the biggest thing on the table. It's definitely what we've disagreed about."
Overall, however, Abasolo understands that it's Lindsay's special day. "I feel like the only time he asks me questions is when a family member asks him questions, because he realizes he doesn't know," she quipped. 
To add even more to their packed schedules, Lindsay also confirmed they are moving to Miami. "It was hard for me at first to make that decision, but it makes so much sense," the Texas native said. "We've just outgrown Dallas, it doesn't make any sense for us."
Needless to say, Lindsay, who recently partnered with Vaseline, has had her hands full these past few years and has seen the effects of the stress on her skin. "[The partnership is] perfect because I grew up using this product and it has traveled into my adult life just because I already had stress in one way as an attorney, but being thrown into this world with all eyes on you and having this platform and navigating through two different shows, and then doing the media after it, and now what I do. I travel so much between doing entertainment and sports and it's all on camera and it's so important for me to take care of my skin and so naturally I have dry skin and being in the air all the time and in different cities and states where the climates change, it's like insane," she said. "My skin's mad at me all the time, and so I use Vaseline on my lips, I use it on the bottom of my feet."
It's hard to believe it's already been nearly two years since she got engaged on The Bachelorette and soon another lady looking for love will be in her shoes. If it were up to her, she'd pick Danielle Maltby or Kristina Schulman to fill the role. As she explained to E! News, she'd rather see someone get picked from a past season than Colton Underwood's current one. 
"I was more of a fan of them reaching back because they've never done it for women. They have never gone back to the past for a Bachelorette. They've done it twice for the men now and I know there were some concerns with Ari's season and how he'd been gone for so long, it was a little difficult for him to integrate himself back into the system, so they were fearful of that," Lindsay said. "But, I'm not really a fan of any of these [current] girls being the next Bachelorette. I'm just going to be honest."