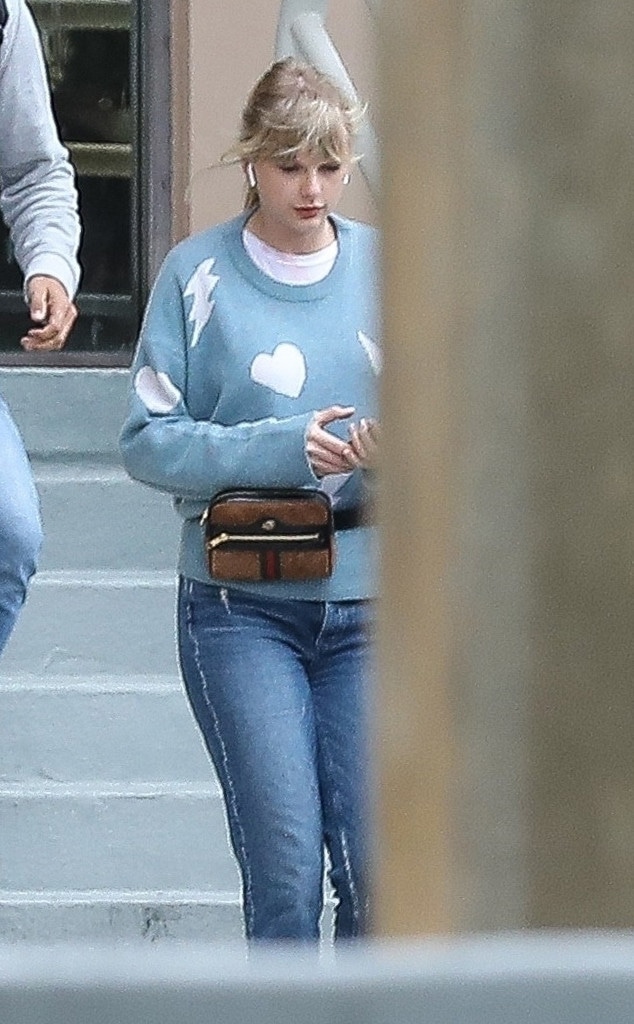 SPOT / BACKGRID
Taylor Swift seems to be dropping even more hints about #TS7!
The 29-year-old Grammy winner was spotted at a recording studio in Los Angeles over the weekend. Photos show Swift, donning a baby blue Zadig&Voltaire sweater, jeans and a Gucci belt bag, along with Apple AirPods, during her outing in L.A.
This sighting of Swift at the studio comes amid speculation that she's about to release new music. Ever since the "End Game" star teased her "next chapter" at the end of 2018, Swifties have been sharing theories about a possible seventh album. Swift herself has been adding fuel to the speculation in recent weeks with her social media activity.
Fans believe that the reputation singer has been dropping clues about upcoming music through her latest photos, with some theories suggesting she's started a countdown.
After reading about the theories online, Swift took to social media last week to post a photo of her cat, Olivia Benson, appearing to make a shocked expression.
"She just read all the theories," T.Swift captioned the post.
Swift's trip to the recording studio also might offer more than the one obvious clue. If you check out her recent social media activity, she's been captioning a lot of her post with hearts. And, while visiting the studio, Swift donned a sweater...with hearts on it. A possible theme for her new album?
On top of that, Swift also recently took to Tumblr to "like" a comment from a fan about a seventh album. "im claiming track 9 on ts7 okay i said it," the comment reads.
Let the theories continue!