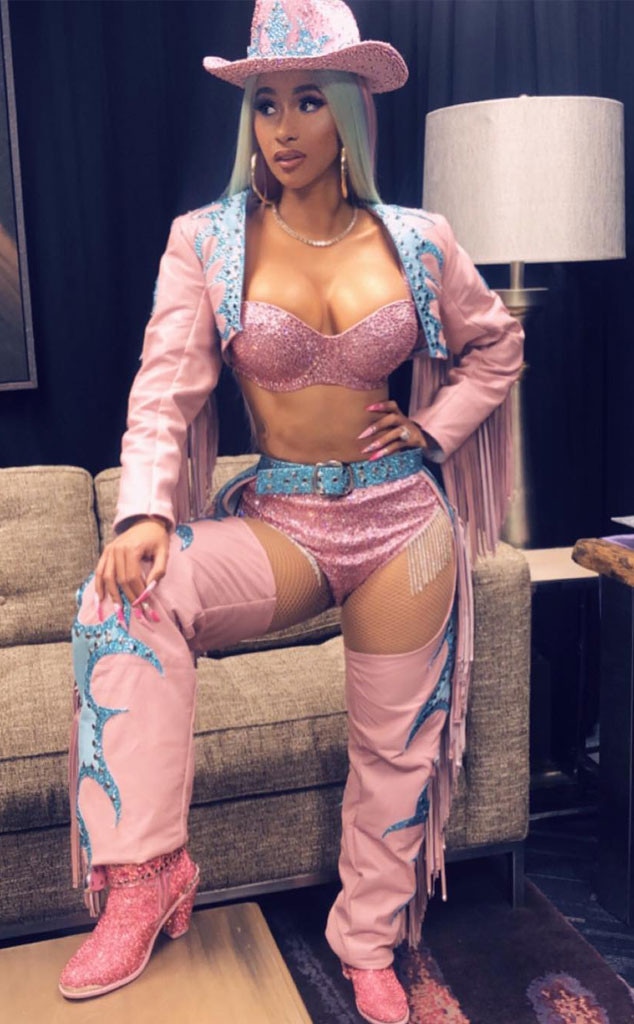 Instagram
Yeehaw!
Cardi B took a fashion turn to the Southwest over the weekend and channeled her inner cowgirl at her show in Houston. The Grammy-winning rapper was decked out in head-to-toe pink and blue cowgirl attire, which was designed by Bryan Hearns. The get-up included a bejeweled hat, bra, jacket, chaps and boots. It was quite a look and she rocked it.
The "Bodak Yellow" artist's night was monumental for reasons other than her unforgettable garb. Rodeo Houston, where she had her concert on Friday, tweeted that her show broke a capacity record. 75,580 fans attended the show. 
Country singer Garth Brooks previously held the record, which he set just under a year ago on March 18, 2018. It was a close call, too. Cardi beat him by just three people. Three!
"FOR THE MADDIES that always find a excuse ! HOUSTON IT WAS AMAZING !! RECORD BREAKER," Cardi tweeted early Saturday morning.
It turns out the 26-year-old rapper wasn't feeling totally herself before the show.
"I was so sick yesterday ya don't even know ! I had such a bad migraine I had to get a doctor backstage to give me two shots and ain't rehearsed cause I been working all week and ain't really know what I was getting myself into until I got in the venue," she explained in an Instagram video caption.
Houston holds a sentimental place in her heart as well. "I remember the first time I came to Houston I came out here to strip and people showed me maaaaaa love," she continued. It also happens to be the city where she and her husband Offset went on one of their first dates.
Despite not feeling great before the show, Cardi saw something in the hallway that was symbolic and inspirational to her: a photo of Selena Quintanilla. "I was so nervous to perform in front of 75,000-plus people, but when I saw this picture, like out of all the outfits that she wore, this was the inspiration for my outfit in 'Please Me.' I know I was gonna be alright." 
Cardi called it a "lucky sign" in her caption.
Talk about serendipitous timing because she and Bruno Mars released their new song and music video "Please Me" on Friday. In the video, she wears a studded bra and jacket almost identical to the one in the photo on the wall.