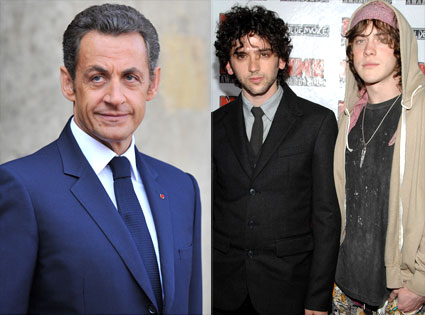 Pascal Le Segretain/Getty Images, John Shearer/Getty Images
Turns out John McCain isn't the only politician who had better think twice before using any old song as a rallying cry.
Indie duo MGMT have demanded compensation from French President Nicolas Sarkozy for using their song "Kids" in two online videos and at his party's national congress.
"We are dealing with acts of counterfeiting, an infringement of intellectual property," the American band's lawyer, Isabelle Wekstein, who's based in France, told the Agence France-Presse.
She called the one euro offered up as a symbolic gesture from Sarkozy's Union for a Popular Movement "insulting."
"It seems that those who led the charge against Internet users are not the most respectful of copyright," Wekstein added, referring to the UPM's plans to present an anti-filesharing bill to parliament next week.
At this point, MGMT, which consists of pals Ben Goldwasser and Andrew VanWyngarden, hasn't filed a formal complaint but is threatening to sue.
Does "Kids" Scream Union for a Popular Movement to You?