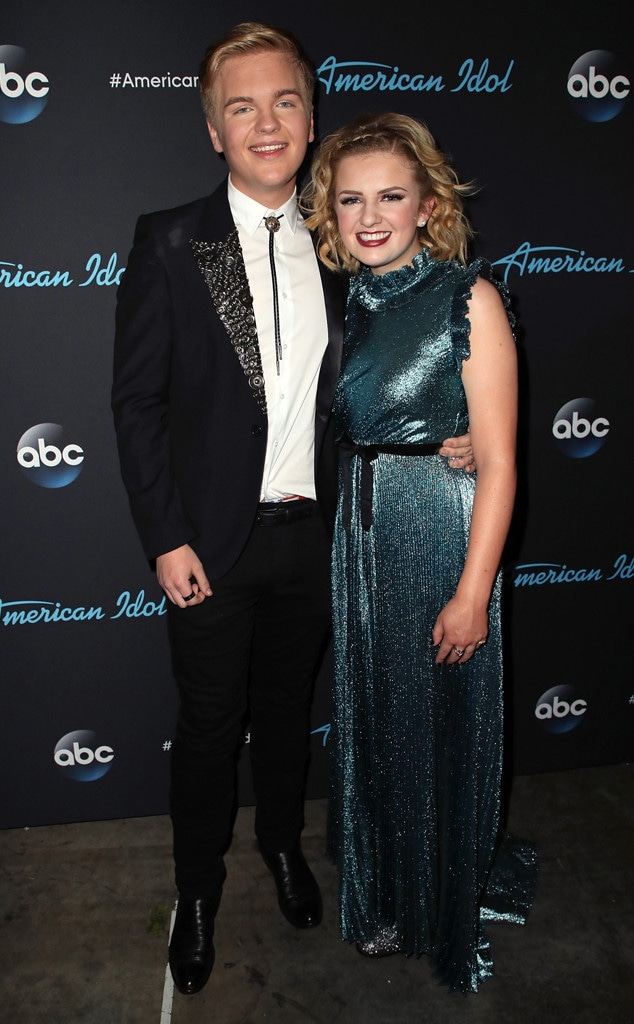 David Livingston/Getty Images
Nearly one year later and your American Idol finalists are still shining bright.
It's hard to believe that it's been close to 10 months since Ryan Seacrest announced Maddie Poppe was the winner while Caleb Lee Hutchinson came in a close second.
And while some contestants find themselves taking some much-deserved time off, these two finalists have been focused on creating new music for their loyal fans. At the same time, they've also been able to maintain a long-distance romantic relationship.
"She really is my best friend and everything," Caleb shared with E! News exclusively ahead of tonight's season premiere. "I kind of just talk to her throughout the day. If something happens, she's the person I want to talk to about it."
The feeling is mutual for Maddie who released her new single titled "Little Things" on Friday. After listening to the lyrics, fans instantly picked up on the fact that the song was inspired by her relationship with Caleb.
"There's a line in the song, 'There is a million little things that keep reminding me of you,'" Maddie explained to us. "And it's really true to my life story because I'm out here in Los Angeles a lot and this time last year, I was with Caleb everyday out here."
While Maddie worked on her new album that will officially be out May 17, Caleb Lee recently released the single "Left of Me" and covered Post Malone's "Better Now."
And despite their schedules, the couple has been able to have unforgettable experiences like attending the world premiere of The Nutcracker and the Four Realms, trips to Hawaii and visiting Walt Disney World.
When asked about the best date nights, however, both parties admitted to us that it's nothing fancy by any means. Instead, it's just good quality time.
"When I look back at the year and everything, the stuff that really sticks out to me is Maddie getting to come to my house and meeting my extended family and friends and me getting to go to hers," Caleb shared. "It's the more normal type stuff that means the most."
Maddie added, "Our favorite thing to do when we are together is literally not do anything and watch Forensic Files and eat Healthy Choice meals." Ummm, sounds like a dream day to us.
While Maddie and Caleb are certainly worth celebrating, we're also taking a look back at some of our favorite contestants from seasons past in our gallery below. Take a look at what some of your favorite singers are up to now.
A new journey of American Idol kicks off tonight at 8 p.m. on ABC with judges Katy Perry, Luke Bryan and Lionel Richie.