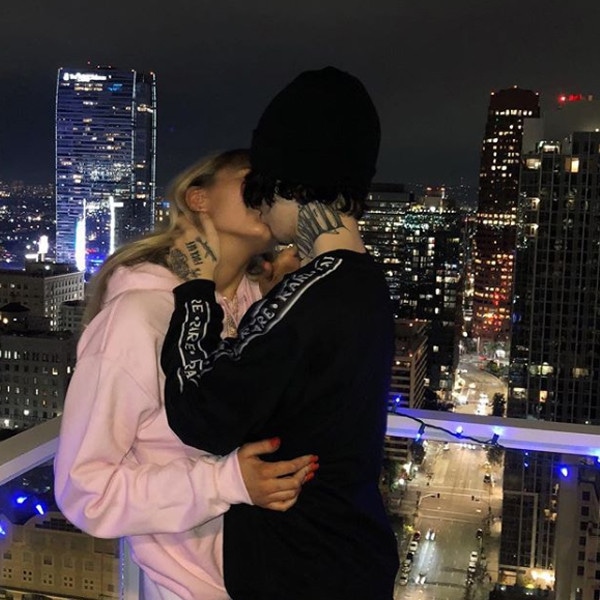 Instagram
What was meant to be a celebratory time has turned into something not so special.
Earlier in the month, Lil Xan revealed on Instagram that he is expecting his first child with fiancée Annie Smith.
"I love you guys so much and hope you stay along for this crazy journey and I've never felt more happy in my life," the rapper shared with his followers.
But just a couple of days ago, the couple's pregnancy news was put under the microscope with some claiming Annie photoshopped photos of her ultrasound. On Wednesday night, the mom-to-be took to Instagram Stories and explained just how hurtful the rumors were.  
"The fact that it's basically being ruined or tarnished by the Internet is heartbreaking to me and it's really, really hard for me to deal with," Annie shared. "I'm already very hormonal and sensitive and it's just a really hard thing to talk about but I just feel like you deserve to hear from me what's going on because it's clearly been twisted around."
According to Annie, she wasn't planning on announcing her pregnancy until after the 12 weeks mark "because I know a lot about miscarriage and all the risks that can happen."
Ultimately, Lil Xan was so excited to share the news and Annie didn't want to stop him from sharing the milestone. As for those photoshop claims, Annie strongly denies it. 
Moving forward, however, the couple is going to be a bit more selective on what they decide to share.
"It's just really personal and I was just so excited when I first found out and of course I'm still so excited but I just really want to keep it private between [Lil Xan] and I god forbid something happened," she shared. "My worst nightmare is having a miscarriage…I just don't even come on the Internet anymore."
Annie continued, "I'm adopted because my mom who adopted me couldn't have children so I know a lot about things like that. I've had a lot of family members that had miscarriages or things."
Through all the negative comments, the parents-to-be remain committed to each other. In fact, Annie recently opened up to E! News about what her wedding to Lil Xan may look like when the time comes.
"We again are very unconventional, so what we most likely we will do is get married [in a] super, super intimate wedding. It could be anytime. It could be in a week, it could be in a month—it could be anytime and then have a little get together with our family and really close friends a little while after and then possibly have a bigger reception celebration down the road," she explained. "But, definitely the main ceremony part we want to keep really intimate, just like us and our parents or even just us and then maybe do something later down the line with family and friends."
Stay tuned!