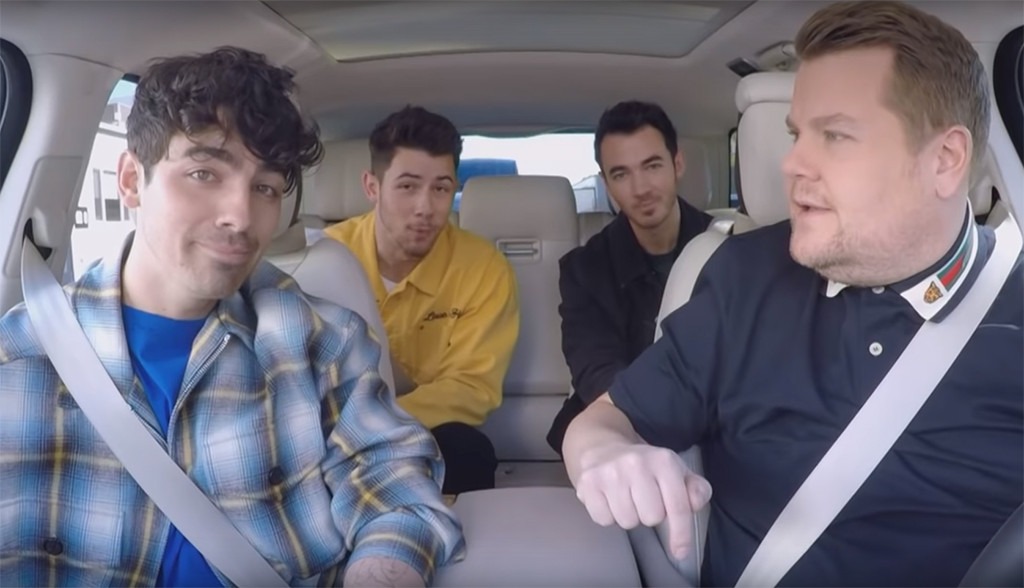 CBS
They're baaacckkk. 
For fans who have been keeping up with the headlines today, you know we're taking about the one and only Jonas Brothers. With help from James Corden and his beloved Carpool Karaoke, Nick Jonas, Joe Jonas and Kevin Jonas confirmed the news that they have officially reunited. 
"Wait! Hang on. Is what I think is happening—is it happening?" Corden asked the trio after they all popped up in his car. "Yup, we're back," they confirmed into the camera in unison, instantly sending shivers down their fans' spines. The Late Late Show teaser trailer also confirmed the group will be taking over the show next week and, as could be deduced from the car, will also take part in a Carpool Karaoke segment. As the grand cherry on this musical sundae, they are releasing a new single, "Sucker," at midnight. Just like that, it's 2008 again—except they're rocking wedding rings now. 
After officially splitting up in 2013, the guys all forged their own paths with Nick and Joe pursuing their own individual music ventures through solo albums and DNCE while Kevin worked in real estate development. On the personal front, Kevin started a family and Joe and Nick both got engaged, with the latter tying the knot at the end of last year. 
While all three seemed to be celebrating success on their own, with Nick even earning a Golden Globe nomination in 2018, there have been serious signs that a reunion was on the way. 
Back in January 2018, the trio got fans buzzing online when the official Jonas Brothers Instagram and Twitter accountswere activated again. Cue the commotion!
A few weeks later, though, Nick confused fans a bit when he tried to shoot down the rumors of a reunion, but didn't do the best job. 
"We hung out for a weekend all together...but I can tell you right now there's no reunion planned," he told E!'s Ryan Seacrest at the 2018 Grammys. "But I can never say never. You never know what's gonna happen."
*Cue universal eyebrow raise*
Then, a year later, Nick started liking a few tweets from fans talking about a reunion once again. 
"11 years ago I became a fan of the Jonas Brothers but I never had the chance to see them live. If a reunion is really gonna happen I will be the happiest man on earth," one of the tweets read. 
Just days later, the news is officially out. 
If we can make just one request, quit playing games with our hearts, JoBros! Oops, wrong boy band, but you get the idea.