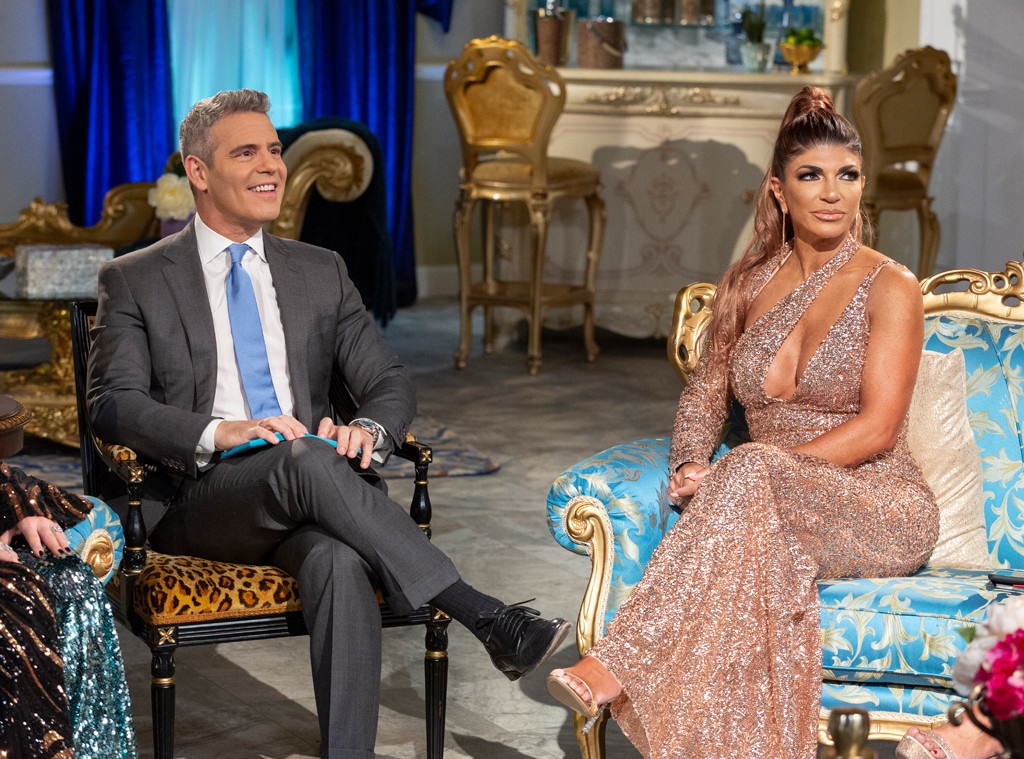 Bravo
Teresa Giudice had some explaining to do. During part two of The Real Housewives of New Jersey reunion, host Andy Cohen looked back at Teresa's fitness journey and life without husband Joe Giudice during the recent season nine—and tackled the headlines about canoodling with a mystery man.
"What else is new? I took tons of pictures with tons of fans. I was hugging a lot of people…a lot of people were touching me. It was New Year's Eve, hello?! One girl wanted to make out with me. I just said, 'Not right now, later,'" she said.
In regard to whether or not she wasn't wearing her wedding ring over New Year's Eve, Teresa said, "Who cares? Who cares if I wore my rings and don't? Joe never wore rings."
Teresa said she sees her incarcerated husband once a month and her daughters go about twice a month. After being shown a clip package about their legal troubles, Teresa said, "It sucks. I can't even believe it."
"Does it make you angry?" Andy asked.
"Of course I'm angry with him. I went to jail…of course I'm angry," Teresa said. "Andy, I have a small family…I'm angry that I came home, eight months later, I lost my mom." She said she blames Joe for taking time away from her with her mother. Teresa said Joe feels guilt, but he's being strong.
When asked about her devotion—her ride-or-die nature with Joe—Teresa said she still is that way. But if he's deported back to Italy, would she go?
"I hope that's not a decision I have to make, but to pick up my children and just move to another country, I don't think that would be good for more children. So, I mean, no, I probably wouldn't," Teresa said.
"Wow. This man is the one and only love of your life, but what you're saying is that you will go your separate ways if this ruling doesn't go your way?" Andy asked. To be continued…
Also during the reunion, Teresa and sister-in-law Melissa Gorga continued trading barbs during the second part of the reunion, with Joe Gorga joining the fray and asking his sister whether she's using her vibrator with husband Joe in prison.
"You need to use that a little bit more," he told Teresa.
"It's name is Lilo!" Teresa said before a commercial break.
But when they returned from break, Teresa and Melissa continued bickering. Melissa said Teresa was taking things out on Jackie Goldschneider because Jackie liked Melissa, but Teresa countered and continued to say Melissa should've backed up Teresa in her first fight with Jackie over her comments regarding Joe Giudice.
"You suck. You're the worst sister-in-law," Melissa said.
A viewer suggested the tension between the sisters-in-law is actually sexual in nature, which broke the tension between the arguing costars and family.
The Real Housewives of New Jersey reunion concludes on Wednesday, March 6 at 8 p.m. on Bravo.
(E! and Bravo are both part of the NBCUniversal family.)