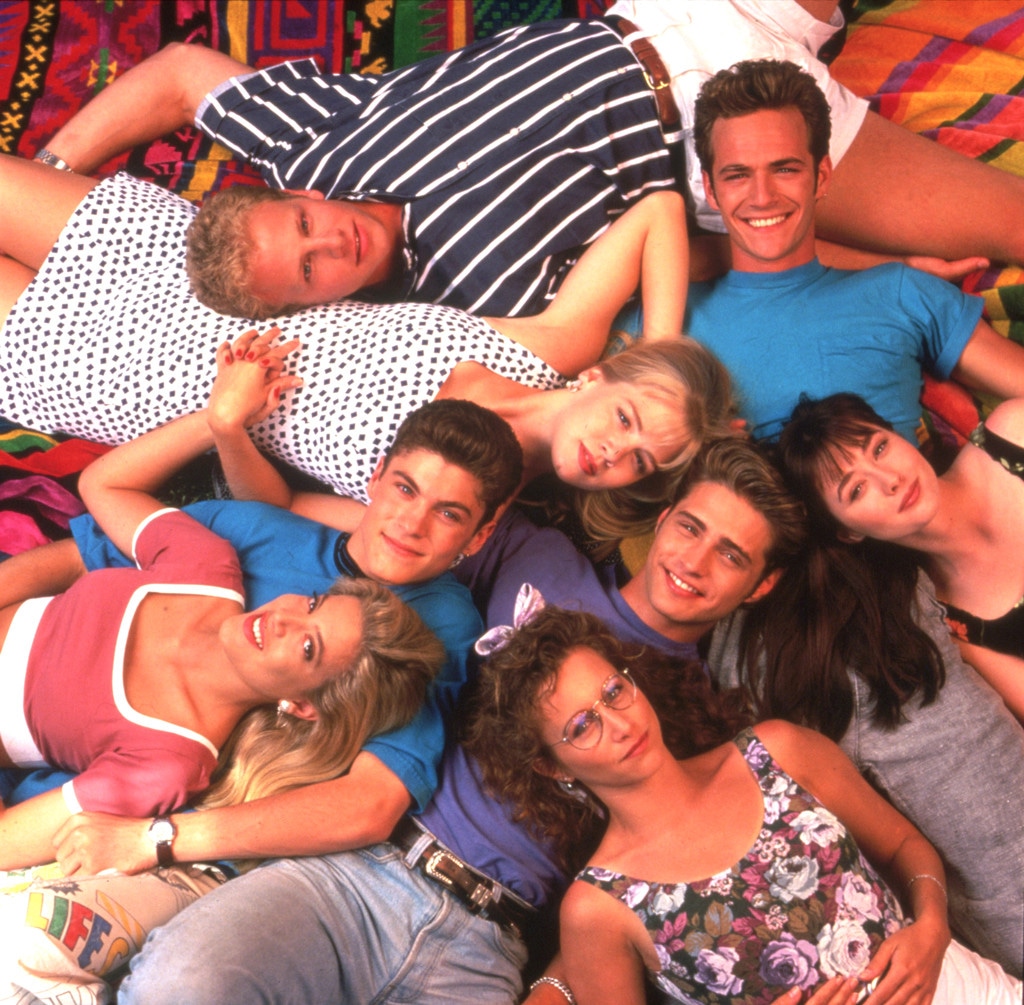 SNAP/Rex/REX USA
Fox is returning to Beverly Hills with 90210, the Beverly Hills, 90210 "revival" of sorts. The six-episode 90210 event series will air summer of 2019.
Jason Priestley, Jennie Garth, Ian Ziering, Gabrielle Carteris, Brian Austin Green and Tori Spelling are all part of the reunion. The original Beverly Hills, 90120 aired for 10 seasons between 1990-2000 on Fox. A sequel series, 90210, was ran for five seasons on The CW between 2009-2013.
According to Fox, the new 90210  comes with "a big twist": The cast will play "heightened versions of themselves in a brand-new serialized drama—with a healthy dose of irreverence—that is inspired by their real lives and relationships."
In a press release, Fox said the new series finds the actors reunited after "one of them suggests it's time to get a Beverly Hills, 90210 reboot up and running. But getting it going may make for an even more delicious soap than the reboot itself. What will happen when first loves, old romances, friends and frenemies come back together, as this iconic cast—whom the whole world watched grow up together—attempts to continue from where they left off?"
Spelling, who recently competed on The Masked Singer, previously told E! all about the mockumentary style of the show.
"It's not technically a reboot, because I feel like everyone has seen the reboot. We don't want to be the last ones like doing the reboot thing, and no one wants to see like old versions of ourselves, but they do want to see us playing our characters, so what we're doing is the entire cast is playing heightened versions of themselves," Spelling explained to Carissa Culiner and Morgan Stewart "Think Curb Your Enthusiasm episodes, in an hour-long show, and we're all playing heightened versions, so it could be fictional, it could be non-fictional, people will have to guess. And then we will have pop-ins, because we're behind the scenes trying to do the reboot."
Chris Alberghini and Mike Chessler are writing and executive producing the series. No official premiere date aside from summer 2019 was given.