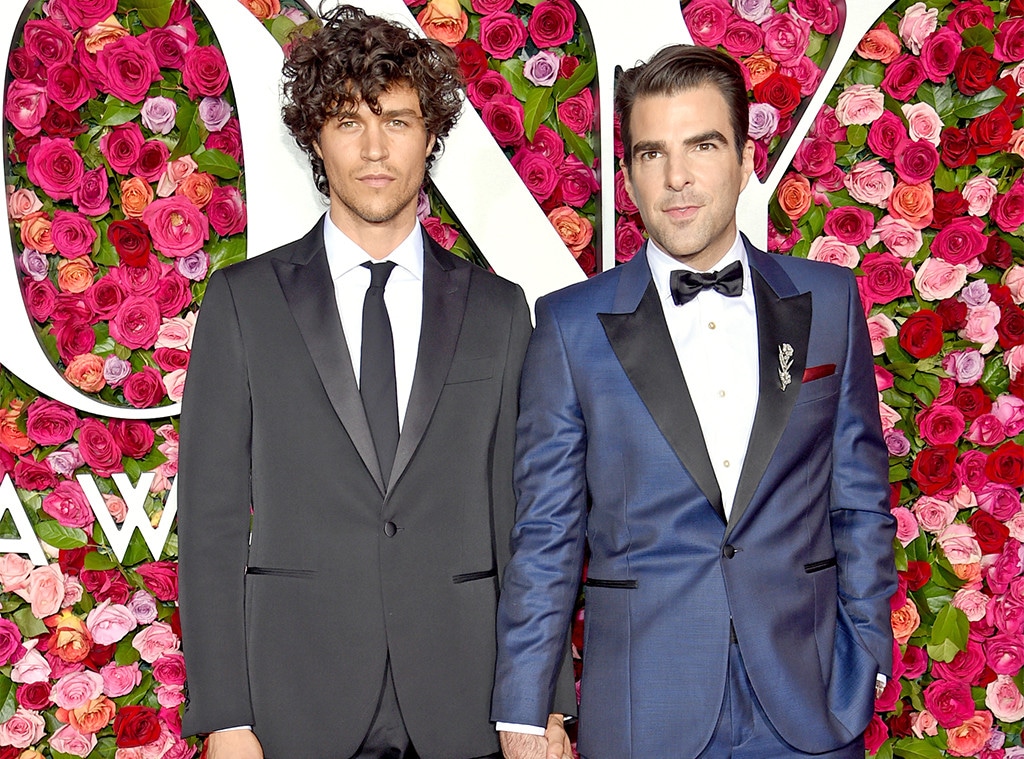 Dimitrios Kambouris/Getty Images
Zachary Quinto and Miles McMillan are no more.
A source confirmed to E! News on Tuesday that the couple split up after nearly six years together.
Neither Quinto nor McMillan has posted photos on social media of their significant other in some time. Most of McMillan's most recent photos involve snuggling with his dogs or traveling to far-flung places.
The last time the 29-year-old model uploaded a picture with his beau occurred in June at the 2018 Tony Awards. He captioned a snapshot of them on the red carpet, "Last night at the Tonys with my one and only!" On Quinto's birthday in June, McMillan paid tribute by calling him "my favorite" and adding, "I love you forever and ever!!"
They celebrated their five-year anniversary in June.
The Star Trek star traveled to Los Angeles over the weekend for the 2019 Oscars and stayed with Modern Family star Jesse Tyler Ferguson and his husband Justin Mikita. The two of them, not McMillan, were his "Oscar squad." Quinto attended Vanity Fair's Oscars after-party , whereas McMillan stopped by Elton John's AIDS Foundation Academy Awards Viewing Party.
Quinto's last reference of his now-ex on social media happened in October.
The 41-year-old shared a "blind drawing" of McMillan that he made on a cafe's paper placemat. On June 27, he praised McMillan on his birthday and called him "the most beautiful person I know."
The Heroes star and McMillan were first seen out together in 2013. According to People, they moved in together in 2015. Architectural Digest even featured their bright and spacious New York City pad in May 2018. There were some murmurs of an engagement in 2016 when Quinto was spotted wearing a band on his ring finger, but he quickly put those to rest.
"It's a vintage ring that I bought as a gift for Miles and because we were not together on this long press tour I was like, 'I am going to take that ring because I love it,'" he explained to E! News in June 2016. "But the only finger it fit on was my ring finger on my left hand so I didn't think much of it."
The couple had "talked about" tying the knot, especially after the Supreme Court ruled gay marriage constitutional in 2015.
"We love each other and we talk about it, but we have no immediate plans," Quinto told us.
Quinto came out as gay in 2011 during an interview with New York magazine. "[A]s a gay man, it made me feel like I—there's still so much work to be done," he told the magazine while discussing the Broadway play Angels in America. "There's still so many things that need to be looked at and addressed. The undercurrent of that fear and that, you know, insidiousness still is swarming. It's still all around us."
A week afterwards, he called it "an incredibly overwhelming experience" but in a good way.
He told E! News in September at the Real Margin premiere, "I'm just grateful to be able to participate in conversations more authentically now and to be able to stand up on behalf of people that aren't quite ready to stand up on their own and give them whatever shred of light or hope in a real sea of darkness."