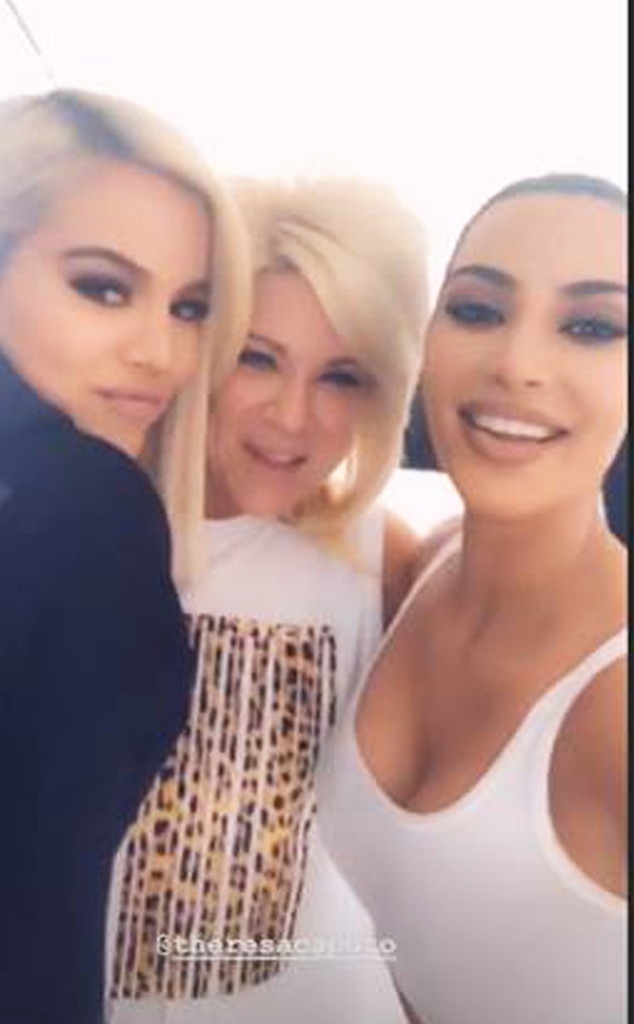 Kim Kardashian is seeing things a lot more clearly.
Long Island Medium star, Theresa Caputo, recently paid the KKW Beauty founder and her sister, Khloe Kardashian, a visit. The beauty mogul she says today marks "one of the best days of my life."
"You guys, today is probably one of the best days of my life, and I have to tell you why," Kim begins her Instagram Stories. "Guess who is at my house, and who I did a reading with?"
In the short clip, the TLC reality TV personality is blushing over Kim's sweet words, and brings Khloe into frame. The Good American founder confesses she got a reading, too. "And me," she says in response to her sister's previous comment.
The three are all smiles, which possibly means one thing, they really did have a hell of a reading.
Caputo also gushes over the Keeping Up With the Kardashians star. She took to Instagram to share her snap with the mom-of-three. "She's honestly one of the sweetest most genuine people I've ever met."
She continues, "@kimkardashian Thank you for trusting me with the souls of your loved ones it was an honor to channel for you."
On Kim's Insta snaps, she jokes that she wants to keep Theresa with her.
"You know, my daughter Victoria [Caputo], she probably just flat lined," Teresa tells Kim, to which she responds, "Victoria! I don't think I'm giving your mom back. She's staying."
Closing her Stories, the KKW Beauty founder says, "You guys we had the best reading."
Aside from Kim, Khloe appeared to be in good spirits (no pun intended). This isn't her first time doing a reading either. In fact, fans of the reality star pointed out that medium, Tyler Henry, may have predicted her and Kylie Jenner's current situation back in June 2017.
"There's a situation with an individual from the past that you have been romantically involved with and I basically see this individual kind of going in and out and to me, that generally indicates that this person is kind of in our lives and kind of out of our lives and kind of in our lives and kind of out of our lives," Henry told the two siblings.
In light of the Tristan Thompson and Jordyn Woods cheating allegations, fans think the medium was on to something.
Though, Khloe seems to be embracing her new chapter. On Monday night, the Good American founder posed for sexy photos alongside her sisters, Kendall Jenner, Kourtney Kardashian and Kylie Jenner. She dazzled in a holographic pink jumpsuit, which clung to the body like a glove.
Her flashy ensemble even caught the attention of her ex, because Tristan "liked" the Instagram photo.
However, E! News confirmed earlier in the month that the two broke up 10 months after they welcomed their daughter, True Thomspon.
No matter what was said in today's reading, Khloe appears to be marching to the beat of her own drum.