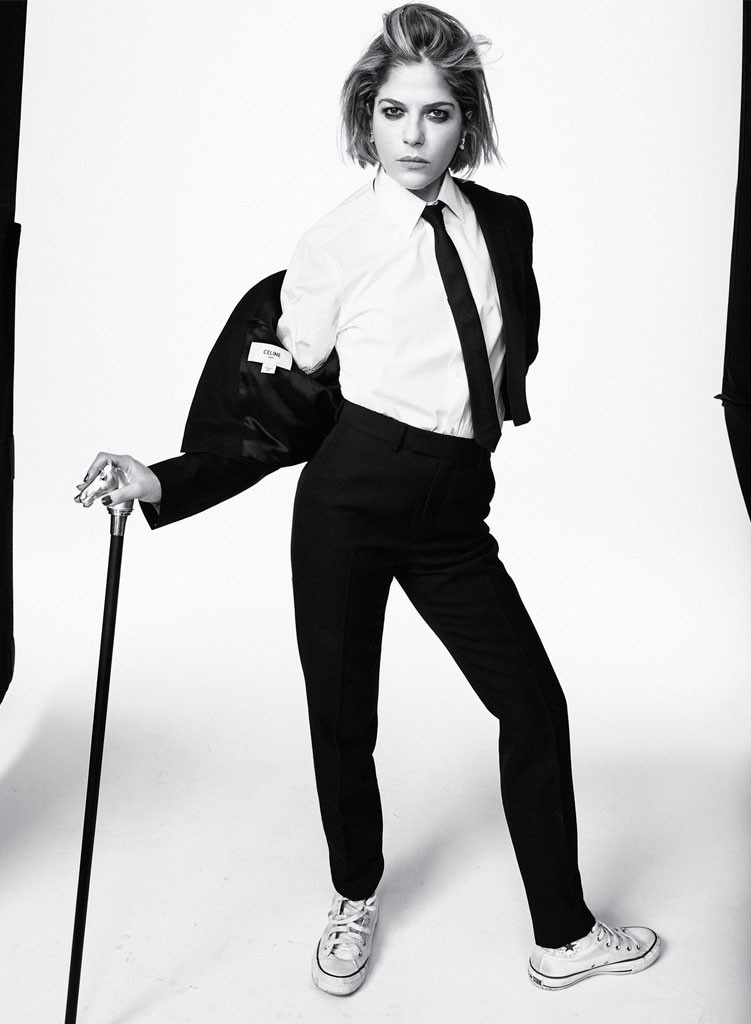 Cass Bird
In October, Selma Blair announced to the world that she was diagnosed with multiple sclerosis (MS). Now, the Another Life star is opening up even more about her condition and its profound effect on her life. She made her first major public appearance since her diagnosis on Sunday at the exclusive and star-studded Vanity Fair Oscars after-party. 
Blair is featured in Vanity Fair's March issue and discusses many aspects of her life both pre- and post-diagnosis, including how people reacted to the news and how she used to cope with her physical pain. The 46-year-old isn't wallowing in sadness despite having difficulties getting dressed, walking with a cane and adjusting to limited body movements. Instead, she told Vanity Fair, "There's a humility and a joy I have now, albeit a fatigued joy."
Her close friend and Cruel Intentions co-star Sarah Michelle Gellar described a newfound "calmness" to her. "I think now she knows she can't do everything, and it's O.K," Gellar explained.
Blair told the magazine that she was "uncomfortable" and "worried" that she wouldn't get hired after telling people about her MS. But it ultimately caused her to "reconnect with so many people who thought I would drop dead soon," including Marc Jacobs, Kris Jenner and Amy Schumer.
Blair's doctor and the chief research scientist at New York's Tisch MS Research Center, Saud Sadiq, praised her decision to come forward and be open about her health. Dr. Sadiq said he was "very optimistic" about her new treatment and that he believes she will "be a different person in a year."
"Her decision to speak out also brings awareness and increases research funding for the disease when people can see somebody affected in the way that she is," he told Vanity Fair.
The actress explained to Good Morning America's Robin Roberts that she cried a lot after learning the truth. "They weren't tears of panic. They were tears of knowing I now had to give in to a body that had loss of control and there was some relief in that," she told Roberts.
Blair's encounters with doctors weren't always positive. For years, they reportedly told her her pain was merely related to depression or hormones. An MRI later confirmed that it was depression, anxiety, hormones and so on causing her the physical distress but rather the multiple sclerosis.
The After star divulged to the magazine that she wanted to "put on a good face" with one of her other doctors "because he was a man." She hopes other people, especially women, will avoid her same earlier mentality. "I had been so embarrassed by some events in my life, whether it was drinking or immature behavior, that, as a mother, I wanted to prove I was great even when I was telling someone I had problems. That's a shame," she said. "So, I'd like to counterbalance it by being really honest about how I am."
One person who finds empowerment in Blair's speaking out about her diagnosis is Kris Jenner. Blair portrayed Jenner in FX's The People v. O.J. Simpson: American Crime Story and the two became friends afterwards. 
"She really is sharing something so vulnerable, and so scary," Jenner told Vanity Fair. "She showed me what courage is and how to be brave. I changed a bit of the way I live because of her."
Apparently, the KarJenner matriarch sent Blair flowers that were "more expensive than my mortgage."
Blair also discusses her earlier years of drinking as a means of "self-medicating."
She revealed she started drinking when she was just 7-years-old and that she has a "history of sadness." A lot of her drinking, however, stemmed from dropping her son, Arthur, off at his dad Jason Bleick's house. "I started drinking because of the pain, one, of him not being with me, and two, my physical pain was so extreme that I would drink by myself. That was also a warning to me," she said. "I've never been one who handled alcohol like a lady. I was self-medicating."
Blair added earlier about her son Arthur, "He wants to be closer to my body more, and I can tell he wants to make sure I'm still here inside. I used to be so athletic with him. Now I fall in front of him."
The Hollywood star's infamous plane outburst in June 2016, however, made her quit drinking and forever "transformed" her. She took an Ambien rather than an Ativan on a flight from Cancun to Los Angeles and blacked out. She was removed from the plane in a stretcher and transported to a hospital. In October 2016, she said it was a "very bad choice and I had a total psychotic blackout."
As Blair continues to adjust to her life with MS, she has one major request for the future: changes in fashion. "I would like to partner with someone like Christian Siriano on a line for everyone—not just people who necessarily need adaptive clothing, but for those who want comfort, too," she said. "It can still be chic. You shouldn't have to sacrifice style. Like, let's get elastic waistbands to look a little bit better."
Check out Blair's full interview with Vanity Fair here.