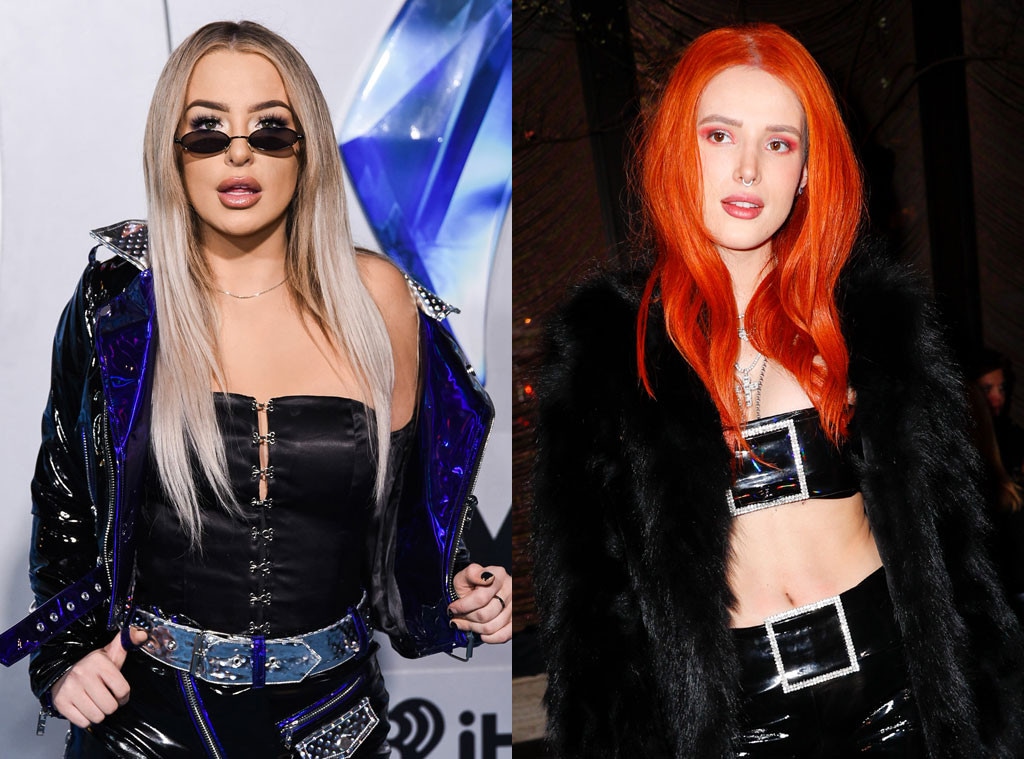 Getty Images
They were once three peas in a pod, but now it looks like there is only room for two in Bella Thorne's love life. 
After months of speculation, the actress took to Twitter on Tuesday to reveal that she and YouTuber Tana Mongeau are no longer in a relationship. "Tana and I aren't together anymore, pls stop asking," the star kindly asked her followers.
Likewise, Tana confirmed the news on Twitter and told her legions of fans: "i love her forever don't get that twisted. she changed my life forever. don't rly wanna talk on it.. there's no negativity at all."
It appears that their other partner, Mod Sun, continues to date Thorne. 
Their relationship comes to an end over a year after Tana joked on Twitter that she wanted to date Bella, which would be the beginning of their unconventional love story.
Randomly enough the two girls ran into each other days later at the Life Is Beautiful music festival, where they shared a steamy kiss that was later shared to social media. People immediately accused the stars of orchestrating the PDA for a PR stunt and while it was, Tana said she was "instantly" mesmerized by the former Disney Channel star. "For me, it was very much instant love, instant infatuation, instant obsession, and my entire life became Bella, Bella, Bella,' the star gushed on a vlog titled "the truth about my relationships, break ups, and sexuality."
On their one year anniversary, Tana shared a heartfelt message to her Instagram praising her girlfriend for always believing in her. She emotionally wrote, "What started with a viral kissing pic turned to you being the love of my life.. you swept me up and introduced me to your entire world, you made my wildest dreams happen."
Despite their deep feelings for one another, both women continued to date other men, with Bella eventually getting into a serious relationship with Mod Sun. Tana admitted on her vlog that there was initially some "tension," but she gradually moved past those feelings. Eventually, Tana came to see Mod as a close friend.
For Halloween the "throuple" even coordinated their Halloween costumes.
It is unclear why the pair split, but Tana said on Twitter that she will be happy as long as Bella is.