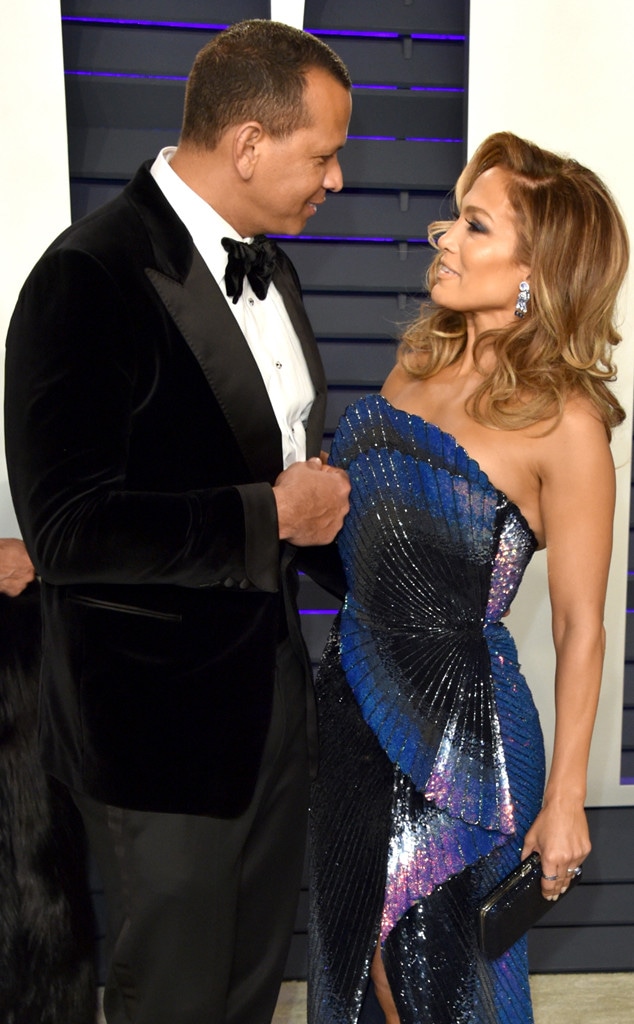 John Shearer/Getty Images
Jennifer Lopez is aware that you want her and Alex Rodriguez to get married.
The attention lavished on the thrice-divorced multi-hyphenate's relationship of two years with the former MLB star-turned-broadcaster hasn't gone unnoticed by either participant in the romance, thanks, in part, to the way in which they've been endlessly needled about their status since they made their red-carpet debut nearly two years ago at the 2017 Met Gala. And they get it. They really do.
"Everyone wants a fairy tale. They all want a romantic comedy, a happy ending. We all do," she told USA Today in December. 
However, she's quick to point out, "But it's not a movie, even if you see us on Instagram or on the shows."
And even if the relationship, at nearly every step of the way, has seemed like something ripped from the script of the sort of film that Lopez has been known to bring to life with great success her entire career.
Take their meet cute, for instance. As the World of Dance star explained the fortuitous turn events to Vanity Fair in October 2017, she was having lunch in Beverly Hills the winter prior when the freshly retired Rodriguez—he'd made his last MLB appearance on August 12, 2016—walked by her. "I almost yelled out 'Alex,' but I am the shyest person when it comes to things like that," she admitted. Luckily, when she went outside, he was still there, albeit with his back turned to her. "I could literally just have walked away," Lopez continued. "But I walk over and tap him on the shoulder and say 'Hey.'
"I had just come from a promo for my show, Shades of Blue [in which she plays N.Y.P.D. detective Harlee Santos], so I'm dressed like my character, like a boy—Timberlands, jeans, curly short hair," she told the magazine. "He looks at me. I say, 'It's Jennifer.' He says, 'You look so beautiful.'"
Within hours, he'd called her and they made plans to have dinner together nights later. She told him that she'd remembered meeting him over a decade earlier when her then-husband Marc Anthony had thrown out the first pitch at a New York Mets game. "You don't have to say you remember if you don't," she told him. His response? "Shea Stadium, during a subway series," she recalled to Vanity Fair.
Cut to their first meal together at the Hotel Bel Air. Rodriguez, unsure if he was even on a date, couldn't stop talking "about his plans, about how he had just retired from baseball, about how he saw himself getting married again, all these things you wouldn't normally talk about on a first date," Lopez recalled. "Then I knew he was nervous because he asked me if I wanted a drink. I said, 'No, I don't drink,' and he asked if I minded if he had one. He was nervous, and it was really cute."
"She told me around the third or fourth inning that she was single," Rodriguez said. "I had to get up and go re-adjust my thoughts. I went to the bathroom and got enough courage to send her a text."
As Rodriguez walked back from the restroom, Lopez's phone alerted her to a new message. Its contents? "'You look sexy AF,'" she told Vanity Fair as she and Rodriguez both laughed. 
"And then it took a turn," she added. "The fire alarm went off, and we had to evacuate."
See what we mean about the rom-com of it all?
That isn't to say that the past two years have all been easy, though, despite how picture-perfect they've seemed at each successive public outing, with Rodriguez always effortlessly filling the role of dutiful, doting boyfriend to his powerhouse girlfriend, snapping pics and beaming with pride as she takes to whichever stage is lucky enough to have her. After all, they both brought plenty of baggage to the relationship.
When they met, Lopez was a single mother of twins Max and Emme (from her marriage to Anthony) who recently ended her on-off relationship with backup dancer Casper Smart, in part, so that she could conquer her fear of being alone. And Rodriguez, divorced from wife Cynthia Scurtis since 2008 and with two kids of his own, daughters Natasha and Ella, was rehabilitating an image that had been tarnished by both his playboy ways (he'd been romantically linked to Madonna—a rumor both parties vociferously denied—Kate Hudson, and Cameron Diaz in the aftermath of his divorce) and the steroid scandal that nearly tanked his career and saw his suspended for an entire season of gameplay in 2014. 
"For me, the relationship journey has been very up and down. But it didn't have to do with anybody else but me—it was about me figuring out me," Lopez admitted in the February 2019 issue of Harper's Bazaar. "Until you learn to love yourself, you can't completely love [someone else] in a way that is pure and true. Once you do that, you can have relationships that are based on love and respect, that are supportive and nourishing. There's an evolution there that had to happen for me. I feel like I'm in a better place now."
And that's got to be because she's found someone who truly just get it. "We are very much twins," Rodriguez told Vanity Fair. "We're both Leos; we're both from New York; we're both Latino and about 20 other things."
"I understand him in a way that I don't think anyone else could, and he understands me in a way that no one else could ever," Lopez added. "In his 20s, he came into big success with the biggest baseball contract [at the time]. I had a No. 1 movie and a No. 1 album and made history. We both had ups and downs and challenges in our 30s, and by our 40s we'd both been through so much. And more importantly than anything, we had both done a lot of work on ourselves."
And it's because of all that that both Lopez and Rodriguez are certain that if they had been single when their paths first crossed in that baseball stadium in the Big Apple 14 years ago, it would've never worked. "We had to grow and discover ourselves first," Lopez said.
Instagram / Jennifer Lopez
While each has found, as Lopez called Rodriguez as she accepted the Michael Jackson Video Vanguard Award at the 2018 MTV VMAs, their "twin soul" in the other, they've also been hard at work blending their families into one beautiful, cohesive unit. "Kids are so beautiful and open to love and new friends," she admitted to People in December. "I was so loving to his kids and he was so loving and accepting of mine, and they embraced each other right away. [It was] 'I get a new bonus brother and sisters to hang out with all the time and it's nice.'"
"Our kids have become best friends and that keeps us both grounded and appreciative," Rodriguez added."We couldn't have asked for anything better than the four of them getting along as they do."
The proof, as they say, is in the pudding—or in this case, the Instagram posting. Look no further than the newly-formed family's joyous Christmas tree decorating from last December to see them in action.
And it's that uncomplicated blending that's been paramount to Lopez as she and Rodriguez fall deeper and deeper for one another. "2018 has really moved us to place where we feel like a real family," she told USA Today at the end of last year. "That's nice."
And yet, she adds: "And it's good enough right now."
It's clear that Lopez and Rodriguez have found their forever partners. Just look at the way in which the two celebrated their second anniversary earlier this month. "You make my world a more beautiful safe and stable place... in the midst of our ever-changing, ever-moving life...you make me feel like a teenager starting out all over again...," Lopez gushed on Instagram. "Every time I think I have you pegged, you surprise me in the most wonderful ways reminding me how blessed I am to have found you now in this moment at this time... our time."
"Only 730 days, which have flown by, but it feels like we have been together forever. We are meant to be, and how much you mean to me cannot be put into words," Rodriguez wrote  in turn. "From baseball games, to traveling across the world to shows in Vegas. We have done it all together and every moment with you is cherished. Where this road will take us next is unknown but there is no one else I would rather have by my side. The journey is just beginning and I am excited for what's ahead."
As for what's ahead, a source close to the couple tells E! News that the two have purchased a new home in Malibu together and they've made it clear to their inner circle that "being together as a family is a top priority for them in 2019." 
"Their families have melded together perfectly and Alex and Jennifer love spending time together with their kids which is why they have decided they will be cutting down on time spent traveling for work and will instead be conducting more of their business meetings from home," our insider noted, "even if it means flying their staff to whatever city the family may be [in] at that time."
And as for when Rodriguez might, indeed, pop that all important question? "Alex has mentioned wanting to propose to Jennifer in a big, grand way, but hasn't given any indication as to when he may pop the question," the source continued, noting that Lopez's 50th birthday is only five months away, on July 24. "Alex has already told people close to him that he wants to have a big celebration for her, which provides [him] the perfect opportunity to propose in front of all of their friends and family."
Until that exciting day comes, we'll all just have to adopt a little bit of Lopez's zen when it comes to her happy ending.
"We're happy," she told USA Today. "We're taking it day-by-day. And it's great."