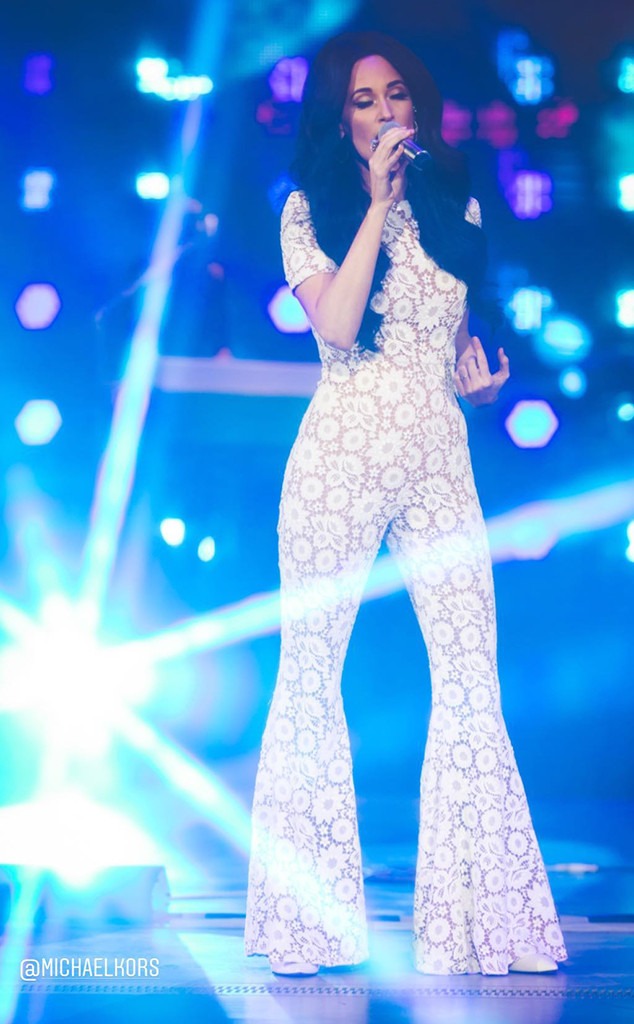 Catherine Powell via Instagram
Kacey Musgraves is still riding high after taking awards season by storm with her four Grammy wins and presenting at the 2019 Oscars.
On Feb. 25, the country singer paid a special tribute to Texas' reina, Selena Quintanilla.
The Texas-native opened the Rodeo Houston show on Monday and surprised fans with a sweet rendition of "Como La Flor," one of the late Tejano star's classic songs.
Flaunting her "big hair for Texas," as she put it, the 30-year-old star oozed with glamour in her white lace floral, body-clinging jumpsuit, which featured flashy bell bottoms. Some would argue that was another nod to Selena, considering she was known for wearing ostentatious jumpsuits.
"20 years ago Selena performed her last concert here," the "Butterflies" songstress wrote on Instagram Stories. "It was a dream of mine to be able to pay respects to her iconic legacy."
Many artists have covered the late star's songs before, including Selena Gomez (whom she is named after) and Jennifer Lopez (who portrayed the Tejano singer in the '90s biopic).
However, Kacey put her own spin on "Como La Flor" while still staying true to the queen of Tejano's original song.
In fact, the cover was so good it caught the attention of Selena's sister, Suzette Quintanilla. The former Selena Y Los Dinos band member took to Instagram to share a video clip of Kacey's performance. 
Catherine Powell via Instagram
She wrote, "Awww this makes me wanna shed a tear! Takes me back."
Adding, "A Big Big Thank you @spaceykacey for the love at the Houston Rodeo tonite with that SELENA Y LOS DINOS Jam!"
The audience was clearly loving the tribute as many were belting out the heartfelt lyrics. But in all honesty, Texas natives and Selena fans will always sing along to her music, no matter the occasion.
For many Selena fans, Kacey's cover hits close to home. The Mexican beauty performed one of her final concerts at the Houston Astrodome, which broke the attendance record at the time. And in true Selena fashion, her on-stage outfit became just as legendary as her concert. She donned her famous sparkly purple suit, which featured a front cut-out and billowing bell bottoms.
If you pay close attention, the 30-year-old star's on-stage outfit had the same vibe.
To make Kacey's performance even more meaningful, Selena performed in Houston 24 years ago on Feb. 26, 1995. That's right, the country singer honored Selena's legacy on a day before she took the Astrodome stage. We're not crying, you're crying.