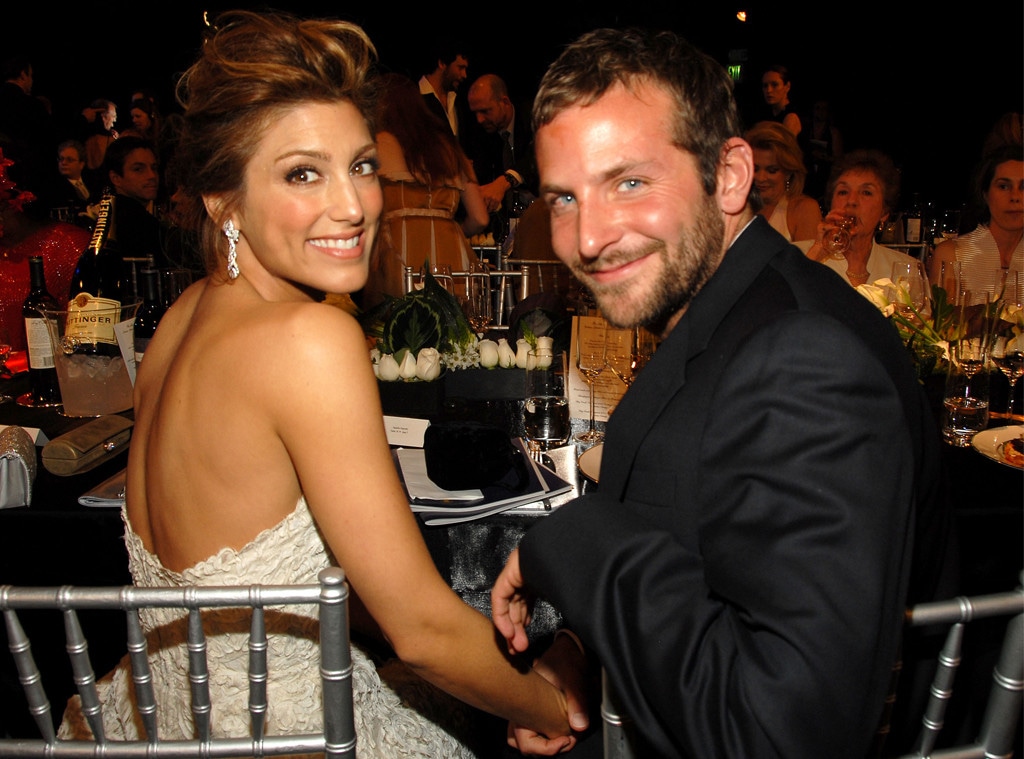 KMazur/WireImage for Turner
"Ha"
That's all Jennifer Esposito wrote, but that little two-letter interjection has proved endlessly fascinating to those who remember that, long before he settled down with Irina Shayk, before he dated Suki Waterhouse, before Zoe Saldana, before Renée Zellweger...
Bradley Cooper was married. 
To Esposito, for four months.
And the actress commented "ha" on a joke David Spade made on Instagram with regard to what everybody else was losing their minds over Sunday night during the Oscars—Cooper and Lady Gaga's palpable, A Star Is Born-level chemistry during their performance of "Shallow." 
Now, Esposito's "ha" could've been devoid of meaning other than it being an obvious reaction to Spade's crack—"Is there any chance these 2 aren't f--king?"—because, no matter what you think about Cooper and Gaga, as delivered with signature Spade tone and timing, that's just funny.
Or maybe it was a weighty "ha." And either way, perhaps the actress, who next plays a CIA agent in the upcoming Amazon Prime show The Boys, wasn't aware that an Instagram account called CommentsByCelebs sees all.
John Shearer/WireImage for InStyle Magazine
Once upon a time, in 2006, it was Esposito and Cooper turning heads on the red carpet during awards season, the private duo not really confessing to being a couple but still obviously together when the year kicked off in Hollywood time at the Golden Globes. Esposito was in demand as one of the stars of eventual surprise Best Picture Oscar winner Crash, and Cooper was also there when she was part of the cast's win at the Screen Actors Guild Awards. 
In 2006, Cooper was known primarily for Alias and playing Rachel McAdams' d-bag fiancé in Wedding Crashers. He was recently sober. The Hangover was still several years away. 
Coincidentally, both he and Esposito had starred on TV shows that ended in 2006 after one season, hers the WB drama Related and his Fox's Kitchen Confidential, based on Anthony Bourdain's best-selling book. They say timing is everything, and in their case they had some space in between projects to get super-serious.
They were engaged by October and got married on Dec. 21, 2006, in the south of France.
As Cooper's movie-star stock rose over the years, he talked about his close bond with his dad, who passed away in 2011, and his desire to ultimately settle down and have a family of his own. Perhaps he thought that opportunity was already upon him when he met Esposito in 2005.
In her 2014 book Jennifer's Way, Esposito recalls a toxic relationship that began when she was still suffering from the effects of yet-to-be diagnosed Celiac disease, which left her with chronic back pain, stomach trouble, recurring sinus infections and all the panic and anxiety that comes with not knowing what's wrong with you. The New York native was also starting to suspect that finding love in Los Angeles would be impossible.
"Then I met someone and accepted a date," she wrote. She ignored the "entire marching band squad of red flags," thinking the relationship wasn't going to go anywhere. "He was funny, smart, cocky, arrogant, and a master manipulator," Esposito continued. "I didn't necessarily find him that attractive, but I figured that I could enjoy his sense of humor and nonsense for awhile. One date became two, two dates became four."
For the record, she never named this person, let alone dropped any definitive anecdotes confirming she was talking about Cooper, but it was widely assumed that she was, in fact, referring to her ex-husband and the NCIS star never disputed it. (She did take issue, however, with the fact that a handful of paragraphs seemed to be all anybody was talking about.) Cooper being Cooper, he never said a public word about the book.
Esposito filed for divorce on May 1, 2007, citing irreconcilable differences. At the time, a rep for Cooper called the split "mutual" and noted that they had been "separated for quite a while."
Yet they had only been married for four months total. The divorce was finalized that November.
"It was just something that happened," Cooper described his brief union on The Howard Stern Show in 2011.
"The good thing is, we both realized it...Sometimes you just realize it," he said. Of course Stern wanted to know much more, but the actor, who remains reticent about his private life to this day, insisted, "It just wasn't right. It's interesting...things happen!"
The man Esposito spent more time with than she thought she would had a "mean, cold side," she wrote, and a "personality that could flip on a dime."
Ultimately "the relationship was about him and what he needed, and nothing else. I was a non-issue. I became sidelined from my life, my needs, my health. I became very sad and I felt very alone, but I stayed in the relationship." She started cooking and baking constantly, she recalled, "to please my un-pleasable boyfriend."
Esposito never refers to this person as a husband or to the relationship as a marriage, but the timing fits. She recalls going to a motivational lecture and meditation at a place called Agape, which she heard about from watching Oprah, and what she gleaned from the experience inspired her to stop trying to fix her relationship. Days later it "hit an all-time low," she wrote, "and within a week, it was over."
Then she really dove into cooking, and waited for the best-sounding opportunity, which came in the form of the ABC sitcom Samantha Who?—which premiered in 2007.
Cooper went on to make He's Just Not That Into You and scored an audition for The Hangover, and he never looked back. Unless when asked.
In 2013, when asked if substance abuse hurt his work early on, Cooper told GQ, "In the way that if—the one thing that I've learned in life is the best thing I can do is embrace who I am and then do that to the fullest extent, and then whatever happens, happens. The more steps I do to not do that, the farther I am away from fulfilling any potential I would have. So the answer to that question, then, is: Yes, of course it hindered the work."
After he got sober, he took almost every job that came his way. 
"Now, in the back of my head, or in a place of my heart of, like, creativity, did I feel utterly fulfilled? Absolutely not," he remembered. "But I was grateful and happy to be working, and filling that void in smaller moments."
Cooper dated Renée Zellweger for awhile after meeting her on the set of the thriller Case 39. Then he was on and off with Zoe Saldana, his co-star in the literary mystery The Words, before dating model-actress Suki Waterhouse, which took him right up until 2015.
"They remain friends but they both want different things right now," a source told E! News about his split from Waterhouse that March. Cooper was ready to start a family and, while they loved each other, "she's so young [17 years his junior] and wants to concentrate on her acting career before becoming a mom."
A month later, he and Irina Shayk took in a performance of Finding Neverland together on Broadway.
Esposito and Cooper, a regular Wimbledon attendee, apparently also had a love of tennis in common—she got engaged to Australian tennis star Mark Philippoussis in 2009. That ultimately didn't work out, but in 2014 she got engaged to Louis Dowler, with whom she also opened her (since-shuttered) gluten-free bakery Jennifer's Way.
They eventually broke up, but she thanked Dowler in her book "for the light you bring into my life every day."
Esposito went on to find love a couple years ago with Danish fitness trainer and windsurfing champion Jesper Vesterstrøm, and he appears to be quite the romantic.
For Valentine's Day last year, he wrote, "Every day with you @jesposito is amazing. I love you and love we don't have to celebrate love just today but that we do it everyday. (what are we doing tonight ?) #iloveyou #everyday #love #smiles#comehome."
This year, they celebrated with vegan, grain-free cake.
But overall the couple and their dogs have been quietly having a ball in New York and beyond, and they were off to Paris as of Tuesday.
"All you need is one good one," Esposito noted on Instagram in June 2017.
For the past decade, the 2011 Stern interview is the most Cooper has ever said directly about his blinked-and-you-missed-it marriage.
"But really, what do you think about the squid?" the actor asked an Esquire writer he was cooking for during an interview in 2011, when she asked how many times he had been in love.
Only over the past year has he even referred to Shayk by name in interviews, previously saying as little as he could about the relationship, which began in 2015. "I just don't talk about certain things," he reiterated to Stern that year after they had started dating.
Todd Wawrychuk / A.M.P.A.S.
Shayk missed Cooper's last frenzied awards season four years ago, when American Sniper was in the mix, but she was by his side for most of this one, starting with the Golden Globes in January. "I also need to thank Irina for putting up with me while I was trying to make music in our basement for a year," Cooper said at the BAFTAs in London while accepting the award for Original Music, "Shallow" ending up being the only big given for A Star Is Born this season.
And so, of course, Shayk had a front-row seat to the big Gaga-Cooper duet that David Spade wrote of so eloquently, prompting a virtual laugh from Jennifer Esposito.
"It's a nonissue for her," a source told Us Weekly about how Shayk had reacted—or not reacted—to all that imagined electricity in the air that people somehow managed to feel all the way from home.