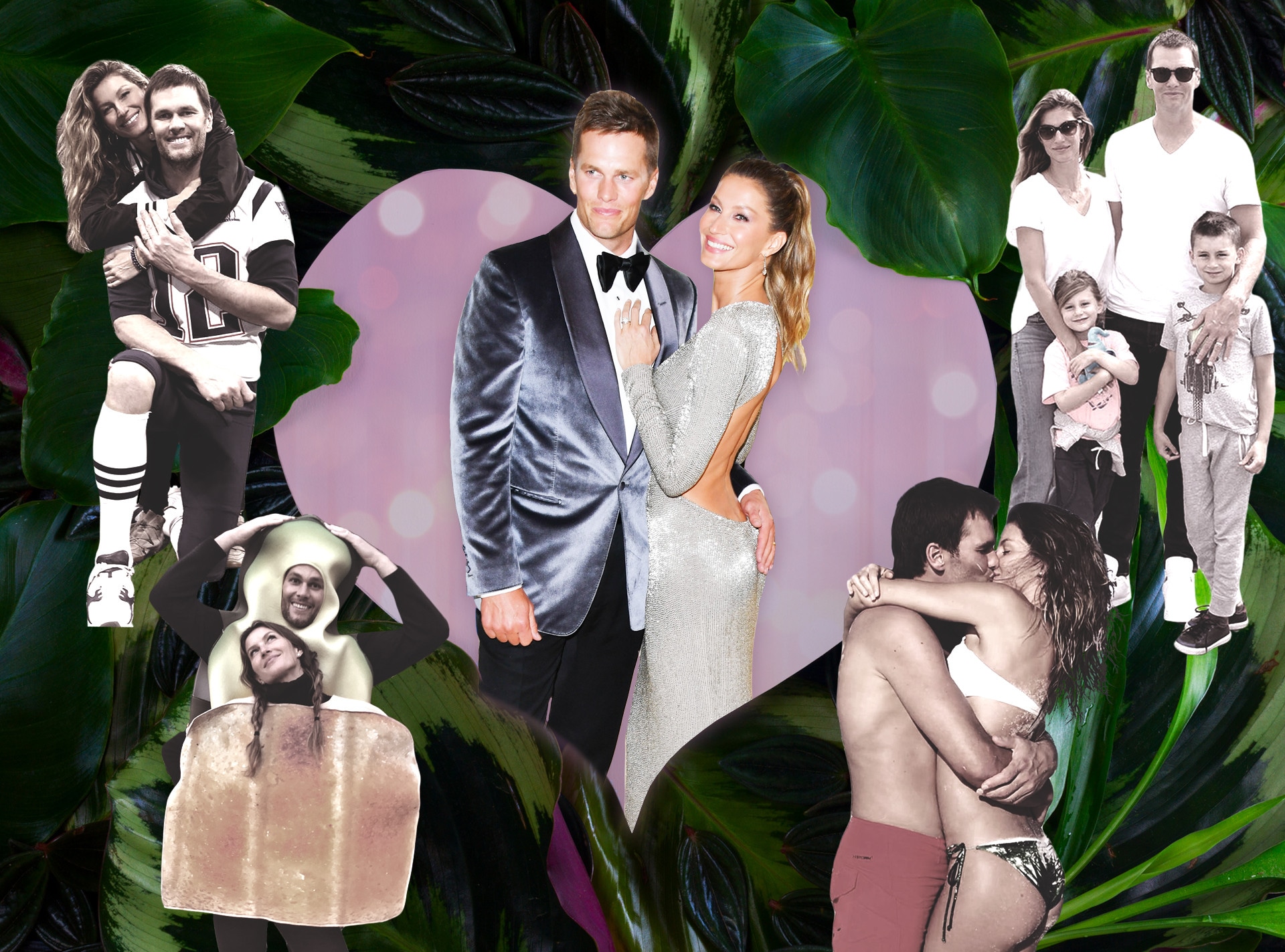 Melissa Herwitt/E! Illustration
After every playoff game leading up to his record sixth Super Bowl win this year, Tom Brady made sure to thank a certain someone.
"I first want to say hi to my wife—I love you so much, I'm coming home," he said after the New England Patriots' AFC Championship win, having also told a national audience he loved her after their divisional win. He would've said it three times, but the Patriots had a bye in the first round.
And when Brady became the player with the most championship rings in NFL history, wife Gisele Bündchen—along with their kids Benjamin and Vivian and Brady's son Jack—was right there with him. As always, win or lose.
"I'm so happy for him, he worked so hard," Gisele, her voice hoarse from cheering, told Boston's WFSB 3 as she joined her husband on the field for their third Super Bowl win as a married couple.
Life has a tendency to look like one big win after another for these two. But as they celebrate their 10th wedding anniversary Tuesday, Bündchen and Brady at least know that their success as a couple hasn't come without its share of adversity, hard work and—like any championship team—a commitment to a cause bigger than any one person.
"I think, naturally, when you're on the road like this, there's less things to do," Brady, in Colorado preparing at high altitude for a game in Mexico City in November 2017, told reporters. "You know, my family's not here, my kids aren't here, there's nobody telling me what I did wrong in the house, so it's just being at home and now it's being here and trying to just figure out how to win a game.
"I didn't mean that, babe," he quickly added, in case his wife got wind of that soundbite. "I take that back."
After last year's loss to the Eagles, Brady admitted that his singular focus on football did take its toll on his home life—which he unprecedentedly opened up to cameras on his 2018 Facebook series Tom vs. Time, so that people could see, not just how much the family really spends at Whole Foods every month, but how much effort goes into being a still-dominant NFL quarterback at 40 (and now 41).
"In the end my life is focused around football, it always has been," he said in the show's first episode. "And it always will be as long as I'm playing."
But every year that goes by, especially one that doesn't result in a Super Bowl ring, is another opportunity to achieve more balance.
"It's been such a long season and now it's going to be nice to just be together, with the whole family," Gisele, cooking in the enviable kitchen of their 14,000-square-foot estate in Brookline, Mass., observed on the sixth and final episode. Brady compares the end of any season to a "crash landing," going from spending 10 to 12 hours a day at work to not having anywhere pressing to be, but agrees that it's nice to be home, seeing the kids off to school and tucking them in at night.
"Part of this off-season for me is certainly about still preparing for what's ahead in my next journey, my next mountain to climb with this group of teammates, but it's also [acknowledging] that a lot of people are getting the short end of the stick in my life—certainly my wife and my kids," Brady said in a Q&A at the Milken Institute Global Conference last May, per ESPN.
"Football is year-round for me," he added. "It's a lot of thought, a lot of energy and emotion put into it, but I need to invest in them, too. My kids are 10, 8 and 5. They're not getting younger, so I need to take time so I can be available to them, too... I've really spent the last two or three months doing those things, and I think I'm really trying to fill my tank up so that when I do go back [to football], I can go back and I think I'll actually be, in my mind, a better player, a better teammate, because I'll be really rejuvenated."
It was hit and miss for the 11-5 Patriots this past season leading up to the playoffs but...you can't really argue with the end result. 
Meanwhile, Brady has said that he intends to play into his mid-40s—which isn't the path his wife would choose for him if it were up to her. And he knows it.
"I don't think it's a healthy thing for your body to go through," Bündchen observed on CBS This Morning in May 2017. "Through that kind of aggression, like, all the time. That cannot be healthy for you, right?" Her interview made big headlines in the sporting world because she also said that her husband got concussions—which, as follow-up reports pointed out, were not ailments that ended up on Patriots injury reports in the 2016-17 season. 
Brady didn't confirm or deny his wife's headline-making assertion, but told ESPN, "She's there every day. I mean, we go to bed in the same bed every night, so I think she knows when I'm sore, she knows when I'm tired, she knows when I get hit. We drive home together. But, she also knows how well I take care of myself. She's a very concerned wife and very loving."
In Costa Rica over the winter holidays in 2017, Gisele recalled on Tom vs. Time, "He did tell me that he was going to play only for 10 years, I just want to say that. When I met him in 2006 he said, 'listen, I'm just going to play for 10 more years and I'm going to win one Super Bowl and I'm going to be happy.'"
Tom, sitting next to her, smiled. "And then I told him last year," she continued, "I say, 'well I think this is great. What a great win. Now you won two Super Bowls, it's the end of the 10th year, like you know, now we're going to go and"—"live in Costa Rica," he interjected—"I was like, 'whoo-hoo, let's go, I'm ready.' But then he's like, 'no.'"
"Still got a few more to go," Tom added. "Yeah, he said that," Gisele said.
"Football, as far as I'm concerned, it's like, his first love. I mean, it really is," she said as they both started laughing. "And I think it's, like, his main love, really, quite frankly. He tells me [otherwise, but] it's true."
In December, Gisele told Ellen DeGeneres that she still worried about Tom's safety and health, of course, "but he loves it so much, and you've got to let him do what he loves."  
To be clear, however, to do that is a choice she has made.
"The life I live today is an accumulation of dozens of decisions I have made," Bündchen wrote in her 2018 memoir Lessons: My Path to a Meaningful Life (all the proceeds from which have gone to Projeto Agua Limpa).
Bündchen's life with Brady has involved a series of pivotal choices from the very beginning, since she first met the already three-time Super Bowl winner on a blind date in 2006, about a year after breaking up with longtime boyfriend Leonardo DiCaprio.
"This friend told me he knew a girl version of me," Brady recalled to Details in 2009, with Gisele adding, "and he said to me he'd found a boy version of me." (And one who managed to love clothes even more than she did, so he proved a perfect date for Met Galas. Or she did, depending on who's more excited to go on any given year.)
"I knew right way—the first time I saw him," she told Vanity Fair in 2009, just days before they got married. "We met through a friend. The moment I saw him, he smiled and I was like, That is the most beautiful, charismatic smile I've ever seen! We sat and talked for three hours. I had to go home for Christmas, but I didn't want to leave. You know that feeling of, like, you can't get enough? From the first day we met, we've never spent one day without speaking to each other."
Let's just say, communication was key when, a couple months in, she found out that Brady's ex-girlfriend Bridget Moynahan was pregnant with their child.
"It was definitely a surprise for both of us," Gisele recalled to VF. "In the beginning you're living this romantic fantasy; you're thinking, This can't be true, it's so good! And then, Whoops—wake-up call! We were dating two and a half months when he found out, and it was a very challenging situation. Obviously, in the beginning, it's not the ideal thing."
"You question at times—'Should I stay here? Maybe you should work this out,'" she remembered thinking. "But when people break up, it's for a reason."
She acknowledged on CBS This Morning in 2017 that the decision-making process wasn't quite so simple.
"It was a challenging thing because here I am, you know, thinking, I'm dating this guy, we met, and we started dating and everything is great and then this happens," she said. "So, then I felt like I didn't know what to do. It was kind of one of those moments of like, 'Do I just run away?'"
"That's not how you envisioned your life, that's not how you envisioned having children," Brady, who like Bündchen grew up in a big, tight-knit family, admitted in Details, "but it happens...Life is not living in the suburbs with a white picket fence. That's not life. Somehow our American culture has made it out that that's what life needs to be—and that if it's not that, it's all screwed up. It's not. You go through life and you try the best you can."
Faced with the classic I-love-him-but-who-needs-this-drama conundrum, Bündchen dug in her heels.
"I think it was a blessing, because otherwise I don't think I would have known what he was made of, and he wouldn't have known what I was made of," she told Vanity Fair. "I wouldn't have seen the integrity in him—the way he was a good person through all the times. I was like, You have the heart in a good place! It made me feel more in love with him; it made me realize who he was. Our relationship has become so much stronger, and I think I wouldn't be as certain as I am today if it weren't for that."
Ultimately, "my idea of that is you have a partner who's got your back. When I'm weak, you can be strong; when I'm strong, you can be weak. That's what I believe marriage is. Loving someone, you want to grow with them, share with them, share the same values, the same feelings about things, the same beliefs."
So, they got married 10 years ago Tuesday, in a small civil ceremony in Santa Monica, Calif., and then a slightly larger beach affair that April in Costa Rica, where they have one of their several homes.
"We planned it in like 20 days, and it was perfect," Brady told GQ. "We went back to the house and I barbecued aged New York strips. We had champagne, a cake, some ice cream. It was a great night. I think you always have this idea that weddings need to be 200 people and you invite everybody, and I'm all for it if people want to do that, but I think there was really something special about just having our parents there."
Bündchen also, incidentally, was over the moon for her eventual stepson, John Edward Thomas Moynahan (they call him Jack), who attended both of his dad's weddings. 
"I understand that he has a mom, and I respect that, but to me it's not like because somebody else delivered him, that's not my child. I feel it is, 100 percent," Gisele told VF in 2009. "I want him to have a great relationship with his mom, because that's important, but I love him the same way as if he were mine. I already feel like he's my son, from the first day."
It was reported when Jack was little that Moynahan wasn't particularly in love with Bündchen's comments about feeling as if she were also Jack's mom, but the Blue Bloods star and the sort-of-retired supermodel have long since settled into a sprawling-family routine.
"It wasn't the ideal situation for anyone—there's no manual to prepare you for that," Bündchen told People in September. "But I'm so grateful for [Bridget]. I know this was hard, but I couldn't imagine my life without [Jack]. I call him my bonus child."
Brady and Bündchen's first child together, Benjamin Rein Brady, was born on Dec. 8, 2009, he of the immaculate painless birth that Gisele infamously spoke of later on, inspiring many and annoying many more. But that's just because her life already looked so impossibly perfect.
In recent years, Gisele has readily admitted that's hardly been the case.
"Probably after wins I'm more with her," Brady explained to GQ in the fall of 2009, talking about his usual regular-season routine. "After losses, I don't think much of anything other than the game. This morning at breakfast, for instance, I was talking to her, but I just wasn't there."
And that's when things were normal. While the birth of Ben, and then Vivian on Dec. 5, 2012, demanded that he reroute his one-track mind even during football season, the stress of the scandal known as "Deflategate"—in which the Patriots were accused of purposely letting the air out of balls to make them easier for Brady to catch and which ultimately resulted in Brady being suspended for the first four games of the 2016 season, opening a forever-rift between him and NFL Commissioner Robert Goodell—couldn't help but follow Brady home.
Kevin Mazur/WireImage.com
Bündchen acknowledged to People last year that her full-time job(s), taking care of the kids while Brady was away all day either at practice or on the road, while also attending to her modeling career and, since her retirement from the runway, various business ventures, didn't always leave her in the best mood, either.
"You're overwhelmed and tired and then you're not the nicest partner," she said.
All told, from accusation to suspension, the saga unfolded over the better part of two years, straining Brady's marriage in the process and resulting in the first not all that far-fetched-seeming rumors about the state of their union.
"We're in a great place. I'll just say that," Brady, doing the sacking for a change, said on Boston's WEEI radio in September 2015. "I'm a lucky man."
Tony Gutierrez/AP/REX/Shutterstock
"I think we've been through a few tough times together," Gisele acknowledged on CBS This Morning in 2015. "I think that's when you know who are your friends and who loves you. My father always said the quality of your life depends on the quality of your relationships, and I think, no matter how challenging it was, we've always been supportive of one another. I think that's the most important thing you can have in life, you know? A support system and love."
Just as she stuck with Brady in the beginning because she sensed he would always have her back, so did she do the same for him when his good name (assorted Patriots controversies side) took its first real hit in the Twitter-outrage era.
"There's no bigger supporter that I have than her and vice versa," Brady also told WEEI. "I've been very blessed to have an incredible relationship with my life partner, and I don't think anything will ever get in the way of that."
"When someone you love is happy, it makes you happy, or if they're sad it makes you sad," Bündchen told People last year. "You suffer with them and you have joy with them."
And it turns out that her ultra-disciplined lifestyle—another choice she shares with her husband—hasn't always been in service to looking good on the Victoria's Secret runway. Rather, she cut out sugar, alcohol and caffeine and got heavily into meditation and yoga after suffering from debilitating anxiety and panic attacks. 
"When I was going through my panic attacks, I didn't even feel like I could share with anyone," Bündchen told Porter magazine for its spring 2019 issue. "I thought maybe I don't have the right, everybody is going through so many difficult things in the world, and I don't have the right to feel this way. So I'd suppress it, and the more I suppressed it, the bigger it became."
Shoving issues under the rug is pretty much never the answer, and Gisele and Tom appear to have taken that approach with their marriage, emerging stronger than ever after their admitted rough patch a few years ago.
Kevin C. Cox/Getty Images
"The only thing, I believe, that limits us is time," Bundchen says in the fifth episode of Tom vs. Time. "What we want to do with this time...It's about priorities, you know, what are the priorities?"
"I think what I'm learning, as you get older, it comes from within—the joy, the happiness, those things come from inside," Brady said at the Milken Institute Global Conference last year. "To seek that from others, to seek that from outside influences, people you work with, people that cheer against you or cheer with you, I feel like it comes from within for me. So I'm trying to build up what's within me, so that I can be the best for me, so that I can be the best for other people. That's part of growing. I'm learning these things, too."
Even when the Patriots lost the Super Bowl in 2018 and his kids were old enough to be truly sad for him and his team for the first time, Brady used it as a learning experience.
"I said to them, 'Look, this is a great lesson. We don't always win. We try our best, and sometimes, it doesn't go the way we want,'" he shared on the finale of Tom vs. Time, which he presumably envisioned ending another way. "That's probably one of the best moments I've had as a parent, because you really feel like you're parenting."
"He's been much better this time than the other times [the Patriots lost], you know," Gisele said. "But I feel that, you know, now their dad's job has finished and now actually they're really happy because they get more of their dad. They never get their dad."
"This off-season is going to be about my family and they deserve it," Brady concluded last February. "There's more to think about than just me. And I think that's what you commit to when you have a family, and they commit a lot to me. That obviously goes both ways."
A year later, it's the off-season once again—this time after a win—and it's been all about family since the clock ran out on Super Bowl LIII.
"My Forever Valentine!!! Te amo tanto amor da minha vida!" Brady wished Bündchen on Instagram, from their idyll in Costa Rica, where they frolicked on the beach and went horseback riding with the kids.
A week later, Gisele was honored at UCLA's 2019 Hollywood for Science Gala, and Brady also commemorated that moment (plus his wife's stunning presence in a white Stella McCartney gown), writing, "I am so proud of my wife for the work she has done over the past 15 years to be recognized by the UCLA Institute of Environment and Sustainability. You are a warrior for the environment and your family loves you so much. Te amo @gisele."
Plenty of people are wondering what Brady's next chapter will look like when he finally does call it a career (after one more Super Bowl or another four years, whichever happens first, like a car warranty). But aside from working on his burgeoning wellness brand, TB12, he one overarching plan in mind.
"When I am done playing I do really want to be able to support [my wife] and what her dreams are," he said on Tom vs. Time, "to be more flexible with schedule and time and commitment. You know, a lot of that time will be freed up that's been so committed to pursuing this career, that will only last a short while longer. At least not another 10 years."