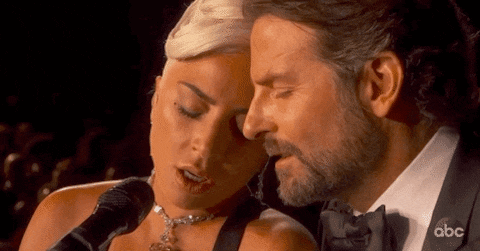 ABC
We don't mean to be "Shallow," but Lady Gaga and Bradley Cooper look like a match made in co-star heaven.
The A Star Is Born actors took the stage at the 2019 Oscars to perform their hit song "Shallow" and the emotional performance had everyone in their feelings. Lady Gaga and Bradley walked hand-in-hand up the steps to a piano, where they stared into each other's eyes as they sang.
As Lady Gaga sat at the piano for her part of the song, the crowd broke into a cheer. Then, people gasped as Bradley took a seat next to her and they began singing into the microphone at an intimate proximity to one another. As the song drew to a close, Lady Gaga and Bradley were literally cheek-to-cheek, which drove the audience and all of social media crazy with excitement. 
Ahead of their performance, the "Bad Romance" singer also changed into a black dress with a scoop-neck, instead of the Alexander McQueen dress she wore for the red carpet. The new dress echoed the look that Audrey Hepburn wore in a 1962 publicity shoot for Breakfast at Tiffany's, especially since she wore the same 128.54-carat Tiffany & Co diamond necklace that Hepburn donned. 
Before taking the stage, Cooper told E! News that he was "terrified" to sing live in front of his friends and colleagues, similar to the way he felt when he joined Gaga to sing in Las Vegas. 
MARK RALSTON/AFP/Getty Images
"That was terrifying," he shared with E! News' Tamara Dhia on at the 2019 Directors Guild Awards in Hollywood. "I just had to like, Zen out and just pray that I wouldn't ruin her show. Because, think about it, she just crushed it for two hours... and I thought, 'Please let me just be on pitch.'" But, his fears were for nothing, cause he and the "Bad Romance" singer totally killed it. 
Both of the stars had plenty of support and love from the audience, where Cooper's girlfriend Irina Shayk and his mom sat next to Lady Gaga's manager, who was her date for the night in lieu of ex Christian Carino. 
Now, the stars have to wait and see if their film will take home the award for Best Picture of 2018. Best of luck to Bradley and Lady Gaga at tonight's show.
To see who takes home the gold at tonight's show, check out the full list of winners here!
For a recap of the 2019 Oscars, watch E! News tonight at 7 p.m.!