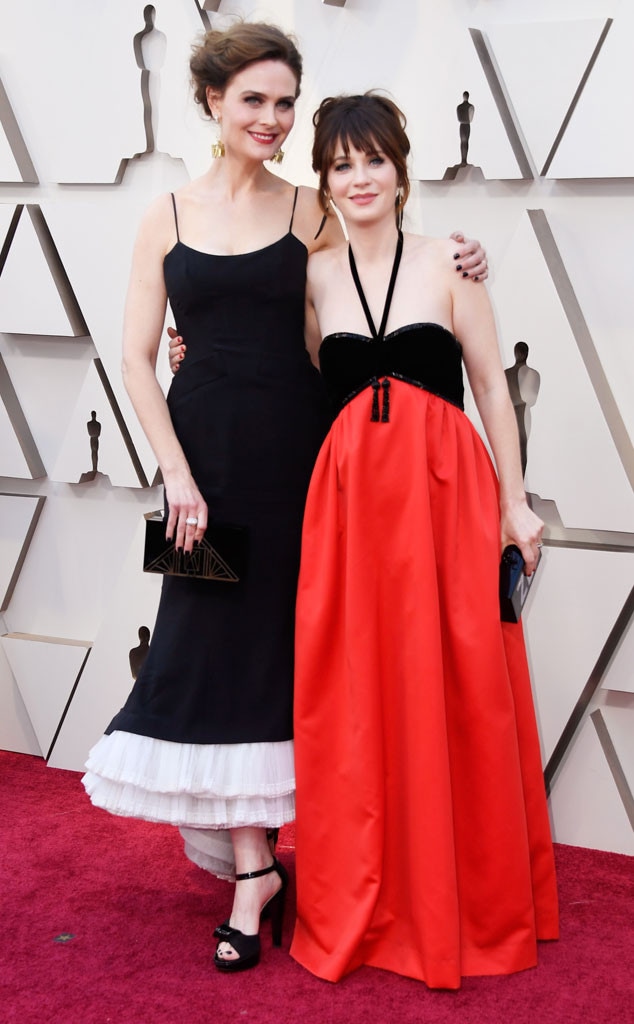 Frazer Harrison/Getty Images
Zooey Deschanel and her older sister, Emily Deschanel, are having a sisters' night out at the 2019 Oscars.
The two siblings are making the star-studded event a family affair, especially since their dad, Caleb Deschanel, is nominated tonight for Best Cinematography for Never Look Away.
"Sister Emily and I on our way to the Oscars," the New Girl actress said in an Instagram post. "Getting ready to root for our dad!"
The famous sisters made sure to dress to the nines, too. While they had the same mindset, in terms of style, their outfits couldn't have been more different.
Zooey opted for a unique gown, which featured a red train and black top half. To make it even more one-of-a-kind, it included two black tassels and a necklace-like strap.
Emily, on the other hand, went the classic route with a black strappy dress that featured white ruffles at the hem.
The two paired their sleek outfits with statement pieces and glam makeup.
Zooey tied her simple, yet striking fashion look with gold drop earrings. As for her beauty? The actress' signature bangs were on full display as her hair was pinned back. She tied her look together with peachy, pink lipstick and fluttery lashes.
The Bones star wore a similar get-up, styling her hair in a high bun with a few hair wispies. She also wore statement drop earrings and threw on a fabulous pink lipstick and bold lashes. 
MARK RALSTON/AFP/Getty Images
"Can't believe @theacademy isn't airing the categories for the most important jobs in film. Try making a film without a cinematographer or editor! It can't be done!"
She continued, "Film is a collaborative art. Treat it as such. (Pic is me at 4yo with my cinematographer dad. He's the best and taught me so much about filmmaking.)"
When the Academy announced they wouldn't move forward with that decision, Deschanel took to Instagram to share the exciting news.
"Very happy @theacademy has decided to reverse its decision and air all of the categories at the oscars," she began her post. "Thanks for listening and thanks for honoring all of the film arts!"
Along with Zooey and Emily, their mom Mary Jo Deschanel also graced the red carpet with her husband.
The star-studded event is set to air soon, which means it's time to get your snacks ready! For more fashion updates, behind-the-scenes moments and more, E! has you covered.
For a recap of the 2019 Oscars, watch E! News tonight at 7 p.m.!