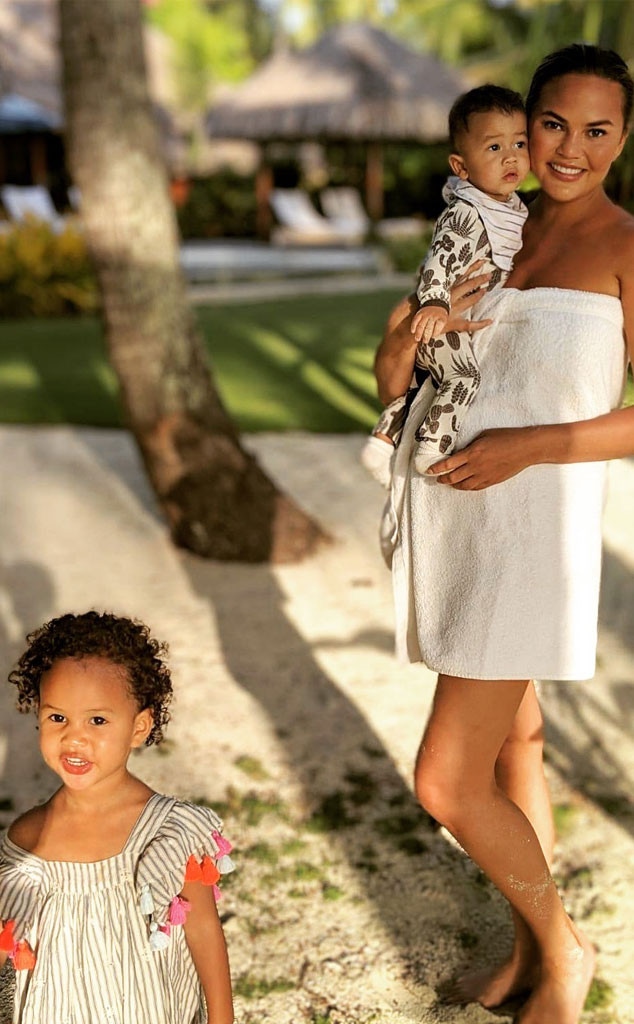 Instagram
John Legend's twin a.k.a. his son Miles Stephens turned 9-months-old on Saturday and Chrissy Teigen is celebrating it in the cutest way possible.
The Cravings cookbook author posted a photo on Instagram of baby Miles alongside a chalkboard that shared some information about him. For instance, he now has two teeth, weighs 15 1/2 pounds and is 28 3/4 inches tall.
Additionally, Miles' favorite songs are "Baby Shark" and "B-I-N-G-O." One can only imagine what a John Legend-led lullaby of "Baby Shark" sounds like.
Other than his physical aspects, Teigen's little board about her son divulges some of his likes and dislikes. The top three lines say "I love my sister Luna," "I love toys with music noises" and "I love bath time." Music is clearly in his blood!
It seems, however, that there is some split loyalty when it comes to his parent's professions. 
The 9-month-old loves his musical toys and lullabies, but he hasn't quite caught up with the food trends like his mom.
The last bit of information on Miles' birthday board shows off his one dislike: quinoa.
In December, the Sports Illustrated swimsuit model shared that Miles was fitted for a helmet "for his adorable slightly misshapen head." She said on Twitter, "so if you see pictures, don't feel bad for him because he's just fixing his flat and honestly he's probably gonna be even cuter with it somehow."
The mom of 2 recently gave some insight into Miles' personality and how he takes after his parents. "He loves being told he's handsome," Teigen told E! News in October.
She added, "Miles is so reserved—he's just John. He's just a cuddly, lovable little ball."
Take a look at the gallery below to see Miles and his sister Luna's cutest sibling moments.
Happy 9-month birthday, Miles! There won't be any quinoa cake for you, don't worry.