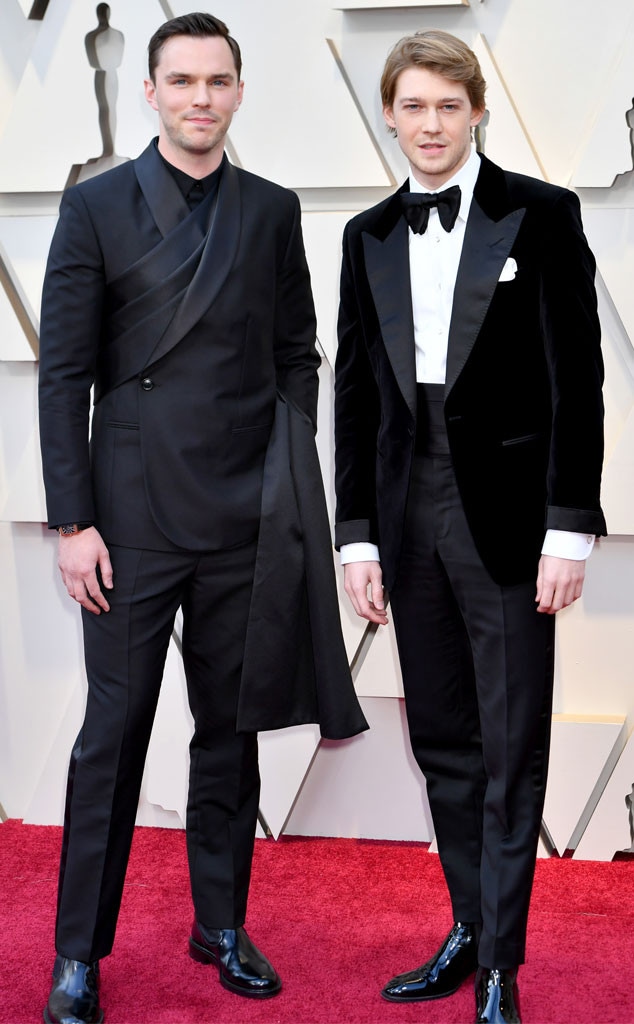 Jeff Kravitz/FilmMagic
Joe Alwyn and Nicholas Hoult have arrived to the 2019 Oscars! Both men looked handsome in their suits, with Hoult in Dior and Alwyn in Tom Ford.
The actors stopped by E!'s Live From the Red Carpet on Sunday to talk about their film, The Favourite, which received nine Academy Award nominations, including a nod for Best Picture. Alwyn and Hoult co-star in the film alongside Olivia Colman, Emma Stone and Rachel Weisz. 
Colman is up for Best Actress in a Leading Role at Sunday's ceremony, while Stone and Weisz are both nominated for Best Actress in a Supporting Role for their incredible work in the movie.
Hoult told Ryan Seacrest he loved working on the film because it was "very fresh and original" and "these three female leads were dynamic and strong."
It also turns out that filming the movie wasn't all seriousness.
"It was a very fun set," Hoult said. "We rehearsed for two weeks but we didn't talk about the script or characters. We danced with each other and played games."
Jordan Strauss/Invision/AP
When Seacrest inquired who the better dancer was, Hoult basically bowed down to Alwyn.
"Have you seen Joe in the movie? His dance in the film is incredible," Hoult said.
Alwyn turned 28 on Feb. 21 and shared some details on how he celebrated. "I just saw a bunch of friends in the evening, had dinner and had a lot to drink," he said.
If you want to get on Alwyn's good side, it turns out he prefers chocolate cake over cookie cake or no cake at all.
It was just weeks ago that The Favourite received multiple honors at the 2019 BAFTA Film Awards. After the ceremony, Alwyn's longtime girlfriend, Taylor Swift, took to Instagram to cheer on the film.
"AHHHHH @thefavouritemovie just won 7 @bafta awards !!!" Swift wrote. "Bout to go give some high fives - thanks @stellamccartney for this dressss."
While Swift didn't appear to attend the ceremony, she and Alwyn met up after to celebrate.
For a recap of the 2019 Oscars, watch E! News tonight at 7 p.m.!