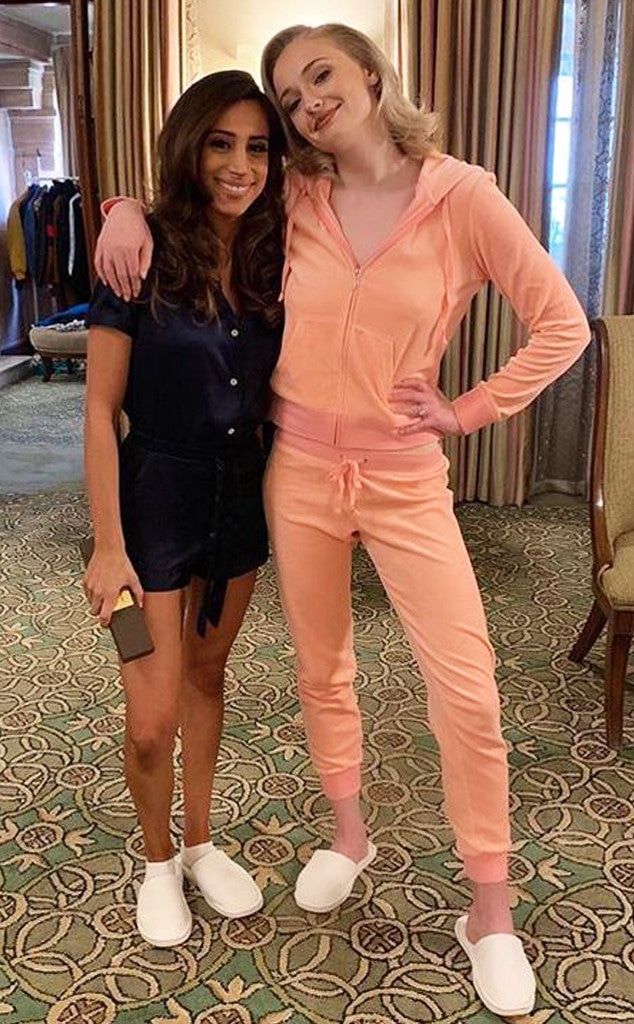 Instagram
Danielle Jonas isn't putting up with negativity on her social media feed.
The 32-year-old star, who is married to Kevin Jonas, took to Instagram to wish Sophie Turner a happy birthday. Danielle shared a sweet moment with her future sister-in-law with her 1.3 million followers.
"happy birthday @sophiet!! my girls and I are so blessed to have you in our lives, they can't get enough of their aunt sophie," she captioned her photo. "You deserve the world and i hope you're having an amazing birthday! love you."
Harmless, right? That's what the mom-of-two thought, but it didn't take long for fans to comment on how the social media snap was "lowkey shade" against Priyanka Chopra.
The reality TV personality quickly shut down the accusations, responding to a few comments.
"nope," Jonas began with the thumbs down emoji. "no shade about Priyanka. It's just Sophie's birthday so I wanted to say happy birthday."
She continued, "I think everyone should stop with thinking that we don't like Priyanka she is lovely."
Gary Gershoff/WireImage Jamie McCarthy/Getty Images
She closed her response, saying, "I am so over people trying to make a problem."
People speculated the New Jersey native didn't get along with the Baywatch star when she didn't attend the bachelorette party last November. But Danielle admitted she was in the process of "moving to another house" and couldn't make it.
Fans of the Jonas brothers will recall the Isn't It Romantic actress married Nick Jonas on Dec. 1, 2018. 
Danielle has been married to Nick's eldest brother, Kevin, for almost 10 years—they tied-the-knot back in 2009. More recently, the Game of Thrones star became engaged to Nick's older brother, Joe Jonas, last October.
Everyone attended Nick and Priyanka's wedding at the Taj Umaid Bhawan Palace in Jodhpur.
It's safe to say there's no bad blood between the two sister-in-laws.