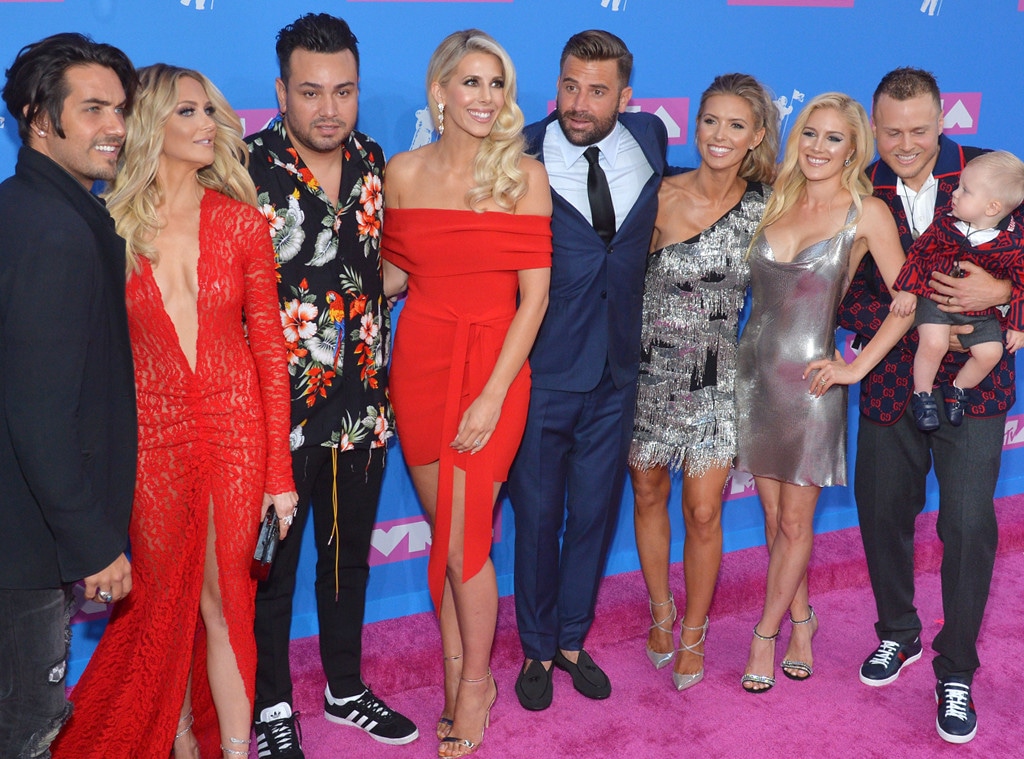 Matt Baron/REX/Shutterstock
Even for reality TV's most famous faces, stepping back in front of the camera is easier said than done.
Close to nine years after The Hills aired its final episode on MTV, pop culture fans are more than excited to learn any and all details about the network's reboot.
Appropriated titled The Hills: New Beginnings, the series doesn't have a premiere date just yet. But that won't stop much of the cast from coming together and participating in a new photoshoot for Interview.
When not posing for glamorous photos, many cast members got real about their fears, hesitations and mindset as they prepare to have their lives followed by cameras all over again.
"I think I've been stereotyped as a person who is here to listen — the girl next door. That is a part of who I am, it's true. I'm not necessarily going to bring the drama, so that's the role I play. And these days, I'm definitely a bit more guarded," Whitney Port shared with the publication. "When you're 20 years old, you don't have a career yet and you can be very raw. But now I think everybody is more conscious of how their behavior is going to affect their family or their work."
For Jason Wahler, he's ready to open up about his active recovery and sobriety. And while some may be hesitant to document a personal journey on reality TV, the MTV vet hopes that it could inspire viewers.
"It's my life, not a once-in-a-while thing. The whole reason I wanted to do this was to shed hope and show that recovery is possible," he explained. "On every show that's out there, there's usually one person on there who struggles, or is sober, or is in recovery. On our show, that's me."
And for many cast members, gone are the days of late nights on the town. Instead, it's about balancing work and parenthood under the Hollywood lights.
"Back then, I think I cared too much about what people thought. This time around, there's no holding back. I want to be shown as I really am," Frankie Delgado shared. "Frank the Tank is still out — I'm still running the L.A. nightlife — but with a family, it's a balance."
And for those who question how much drama there will be, we're already getting a sense that tensions will be visible on the small screen. One relationship that will likely take center stage is the complicated bond between Spencer Pratt and Stephanie Pratt.
Watch:
"The Hills" Reboot Has Already Started Filming
In her latest iHeartRadio podcast called Pratt Cast, Stephanie opened up about a recent interview she had to do for the show. It was more emotional than she anticipated.
"I had to relive some parts and I was just balling crying. Like it was so hard. I really miss my brother," she shared with co-host Wells Adams. "It's a hard road. It doesn't really happen until the end of the series but yah, it was really sucky. I think Spencer and I overshare and are so honest and we can't really hide from who we are and some of the cast members are really good at hiding their dark stuff and they put on a great façade…but Spencer and I can't do that. It's not in us. For us, it's very real."
And although Spencer didn't address his sister in his chat with Interview, he did hint about drama ahead.
"I went into this season trying to be as genuine and authentic as possible, but the reality of my personality is that I just want success for this so badly that I've definitely caught myself," he admitted. "On the new series, I really am trying to explore real issues with other cast members on the show. They're like, 'Call me off-camera!' And I'm like, 'No.'"
The Hills: New Beginnings is set to air later this year on MTV.