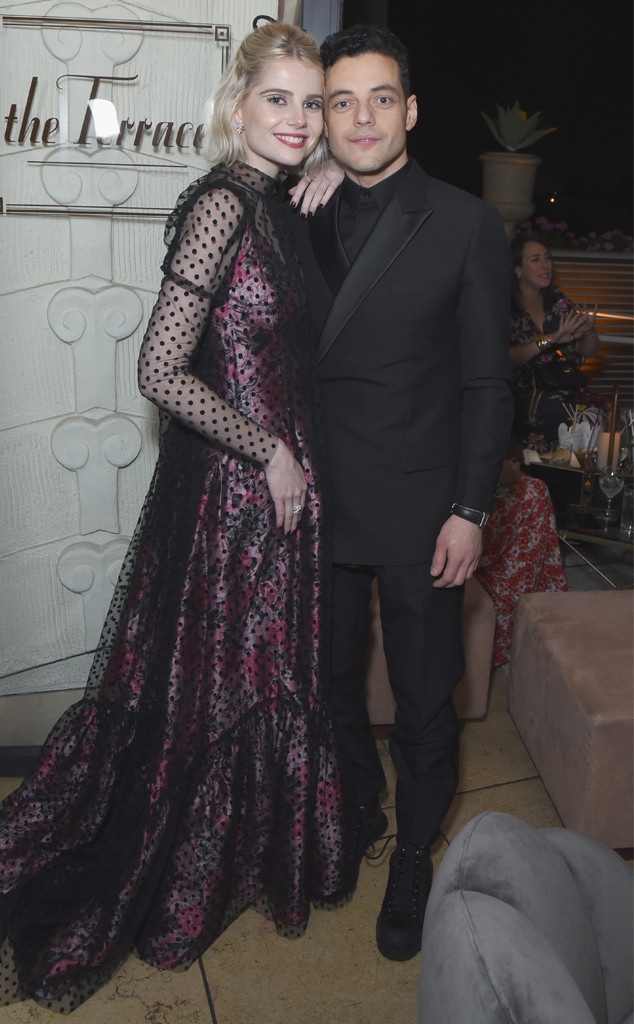 Presley Ann/Getty Images for Netflix
Just a few years ago, Rami Malek had something specific in mind when considering a mate. 
Having recently formed a friendship with fellow actor Robert Downey Jr., he was reminded by GQ writer Lauren Larson that the Iron Man star had praised him to the outlet, saying, "Everyone should be studying this guy." And that was before his portrayal of enigmatic Queen frontman Freddie Mercury in last year's Bohemian Rhapsody turned him into Hollywood's latest man of the moment. 
Malek's reply was equal parts humble and effusive. "That's the actor everybody wants to emulate. Folks want to get an ounce of what he has in his DNA," he said before going on to joke, "I'm waiting for him to have a daughter. No. That's weird. But does he have any daughters?"
He does, though, at 4-years-old (not even two at the time of the July 2016 interview), she may still be a bit young for the Los Angeles dating scene. 
Watch:
Rami Malek: Freddie Mercury Would Be Tickled By "Bohemian Rhapsody"
No matter, in the years since, Malek has found another acting talent to cherish. 
As fiercely private as the man responsible for catapulting him into his current movie star status, the 37-year-old Egyptian-American actor made a solid effort to shield his romance with Lucy Boynton—the Mary to his Freddie, having played the British singer-songwriter's fiancée and lifelong muse Mary Austin in the biopic, up for five trophies at tomorrow's Academy Awards, including some of the biggies: Best Picture and Best Actor. 
But as the first accolades rolled in (to date, he's nabbed a Golden Globe, a BAFTA and a Screen Actors Guild award for his iconic role), he seemed to accept that the whole of his life would now be up for public consumption. So why not celebrate the very best parts? 
"Thank you, Lucy Boynton," he said, while accepting the Breakthrough Performance Award at January's Palm Springs International Film Festival, per Billboard. "You have been my ally, my confidant, my love. Thank you so much."
His sweet gesture of gratitude was the first public acknowledgement of a romance that had become an open secret, unless you count Boynton's intentionally cryptic April 2018 Instagram post, in which she holds up a recently removed wisdom tooth and proclaims, "Lost some wisdom today but the upside is ma boyfriend's gonna be gettin a jazzy homemade necklace for his bday." (Malek turned 37 less than three weeks later.) 
Us Weekly reported last April that the costars were dating after meeting on the UK set. "He is so into her," a source said of the L.A. native's feelings for the 25-year-old New York-born, British-bred actress. "He goes and visits her in London all the time."
She was quick to return the favor, the duo spotted together at a U2 concert in Los Angeles in May and walking arm-in-arm en route to a lunch date in the city three months later. 
And of course, in between, they had an entire press circuit together, and, now, an awards show victory lap that's given them the chance to talk about their relationship without outright confirming it. 
"She's such a wildly talented human being and an inspiration," the University of Evansville grad told Us Weekly at the 2nd Annual Los Angeles Online Film Critics Society Award Ceremony Jan. 9. "I have to say that goes for the entire cast."
But it was Boynton alone that he singled out as a top-notch screen partner. "I get a lot of love, I get a lot of takes, but there are people who can get their jobs done in just a few takes, in comparison," he said while speaking on a panel at February's Santa Barbara Film Festival. "Actors like Lucy Boynton, who, when I looked into her eyes, I thought, 'Oh, I don't have to act. I don't have to do a thing.'"
Malek has a bit of a history of being taken with his coworkers. He dated his Mr. Robot cohort Portia Doubleday for some time before they quietly ended things in 2017 and was linked to Angela Sarafyan, whom he shared the screen with when he played vampire Benjamin in 2012's Twilight: Breaking Dawn—Part 2. 
Though he's never so much as hinted at those pairings in the past. Part of that may be smart strategy for the man awarded the dubious honor of Internet boyfriend after gaining traction as morphine-addicted hacker Elliott, the anti-hero of TV's sleeper hit Mr. Robot. Quickly lauded as the one to watch, he sat down with the likes of Vanity Fair, GQ and Interview (the latter pairing him off with Downey, who popped by the USA series' set after his emails to Malek went unreturned) en route to nabbing the 2016 Emmy for Best Actor in a Drama Series, the first non-white actor to do so in 16 years. 
But even as his star rose, the actor who once filled his resume with guest spots on Medium, 24 and Gilmore Girls, never quite adjusted to the increased notoriety. While he maintains the requisite social media, his Twitter, used mainly to promote projects and political views, contains just 286 missives sprinkled out across the past seven years and his Instagram feed has just three photos: two with Stephen Colbert and one with Ellen DeGeneres in November 2018.
Admitting to Vanity Fair he "can't quite wrap my head around" the need to spontaneously share his daily happenings and random encounters on social media, he added, "Something about it is not right and a bit unsettling."
Which goes a long way to explaining what may be his biggest pseudo scandal to date. Last October, even before Bohemian Rhapsody made history as the highest-grossing music biopic of all time, a 19-year-old St. Francis College film major named Xan Black approached Malek on the streets of Manhattan, asking if he'd record a message for a pal. Malek politely declined, offering to take a selfie instead, before realizing that Black had already began filming. 
Black would go on to post the exchange, captioning it, "THIS IS PROBABLY THE MOST EMBARRASSING THING TO EVER HAPPEN TO ME," turning the cringeworthy moment viral as upwards of 3 million viewed the seven-second clip in one week. 
Though Malek was sent into a spiral of worry when his publicist alerted him to the video just moments before he was to appear on The View, after he watched it, he largely felt relief that it captured his genuine spirit. "I thought, 'Oh, that's not that bad. I don't find myself offensive,'" he told Vanity Fair. 
David Fisher/BAFTA/Shutterstock
He made it clear to E! News days later that he has no issue posing up for those that have helped build the career he enjoys today. "I am who I am and people can interpret that how they want, but I love the fans, I wouldn't be here without my fans and I try to take as much time as possible," he said. "Sometimes, when you've been traveling around the earth a couple times, you try to just be protective of your time as a human being. And I'm finding it quite funny."
Boynton, too, is having a bit of a laugh over her sudden thrust into the spotlight. 
The daughter of two London journalists—dad Graham Boynton is editor of the Telegraph Media Group; mom Adriaane Pielou is a travel writer—she had her breakout role at age 12 playing a young Renee Zellweger in 2006's Miss Potter. She told The Picture Journal she was inspired to give acting a whirl after repeat viewings of Anna Chlumsky in My Girl. "It was the funeral scene in that, and she starts crying and goes up to the coffin," she said of the moment that had her practicing her sobs on command. But she wouldn't return to the work in earnest until she resumed auditioning at 20. 
Stefanie Keenan/Getty Images for JNSQ Wines
Roles followed in 2016's Sing Street and I Am the Pretty Thing That Lives in the House, 2017's Rebel in the Rye and Murder on the Orient Express and she appeared opposite therapist Naomi Watts as a meth addict in the 2017 Netflix series Gypsy. Next up, she's due to play a lead in Ryan Murphy's Netflix comedy The Politician, a sure sign of big things to come. But it's her tendency to truly rock any carpet she steps out on that seems to be gaining her the most traction.
Once admittedly fearful of red carpets ("Because when you're younger, fashion is all based in insecurity," she told Who What Wear), once she realized it best to embrace her slightly quirky, authentically personal style the whole process became a lot more fun. "It can be an intimidating thing, a self-conscious thing," she told the outlet, "but it's been really liberating just getting older and deciding f--k it—I want to wear this because it makes me feel like me. I just want to be that person who always looks comfortable and very much themselves." 
That person is a lover of cinched waists, romantic ethereal shapes and period pieces and someone who wasn't afraid to turn up to a 2017 movie premiere in a pair of robot-patterned baby pink Prada pajamas. And it all works. "So long as I feel right in an outfit," she said, "I will never regret it." 
She's been lauded by Refinery29 for her choppy bob. "She just reminded me of old Hollywood, someone who would exist in the era of Mia Farrow or Nastassja Kinski in Paris, Texas with that little bob. I said to her, 'We've got to cut your hair like that!'" Suave celeb stylist Jenny Cho said of making the cut. "She said, 'I love it! Let's do it!'". And British Vogue celebrated her willingness to push makeup boundaries, a fearlessness that led them to dub her Britain's next breakout beauty star. 
But when she stepped out at the Golden Globes in glittering gold Céline she achieved instant breakout ingenue status as Who What Wear labeled her 2019's most exciting fashion star. 
Vince Bucci/Fox/PictureGroup/Shutterstock
"Dressing for shoots and red carpets, it just feels like stepping into a version of myself that's more decorated. More special," she told the style outlet. "I also think fashion is an incredibly important part of what I do as an actress—costumes are at the center of it, and the red carpet is an extension of that. It's like its own little production. It's like a play."
Draping herself in the likes of Miu Miu, Gucci and Erdem and often coordinated with her guy (a situation she insists is not at all intentional and, in fact has "always been a bit of a shock,") she and Malek have become this season's award show darlings.
They've already celebrated together at the British Academy Film Awards, the SAGs and the Golden Globes, where an ecstatic Malek planted a kiss on his girlfriend's cheek at Fox's post-show bash. 
And should they take to the red carpet together on Sunday it will only provide more opportunities for them to gush about each other's work and the experience that made this whole union possible. In an interview with Flicks and the City, Boynton shared her reasoning for signing on to Bohemian Rhapsody. "I think one of the main things that attracted me to the part of Mary was the dynamic that she and Freddie have and had throughout his entire life and their lives together. Although it started off as a romantic relationship, it is something that is so much deeper."
Here's to hoping that history repeats itself. 
For a recap of the 2019 Oscars, watch E! News tonight at 7 p.m.!