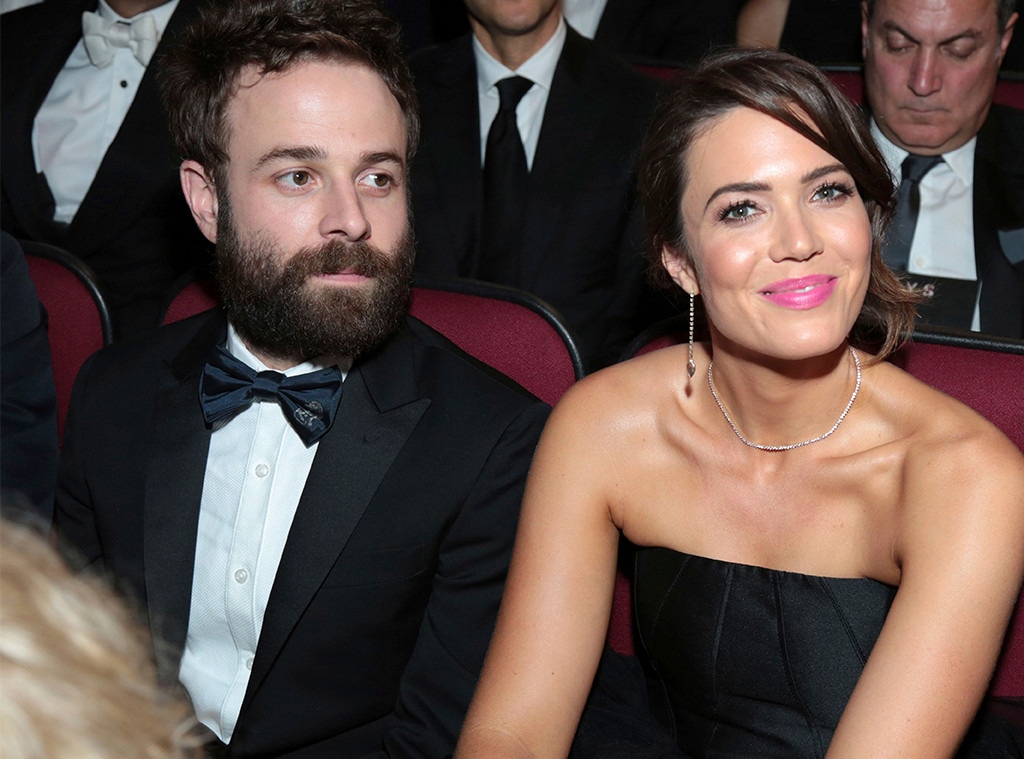 Invision/AP/Shutterstock
When Mandy Moore summited Mount Kilimanjaro last year, with then-fiancé Taylor Goldsmith by her side, it was more than a feat of physical endurance.
The singer and actress had also proverbially reached the mountaintop after quite the uphill climb, with no guarantee that happiness would be waiting for her at the end.
But though the journey ultimately proved worth it, whatever was waiting for her was going to be better than what she was putting behind her.
"It's no coincidence to me that once I did that hard work, life opened up in a way that I never could have expected," Moore told Bustle in November. "Once I did that, it was like, the sun came back out again. In every respect I felt like, 'Oh, now I'm living the life that I'm supposed to be living."
Over the past few months, Moore has been opening up about what sort of relationship she had with Ryan Adams, whom she married in 2009 and separated from in 2015. And though she made it fairly clear after they split up that she was glad to have turned the page on that chapter of her life, no one knew the extent of how unhappy the story was.
Even she was unaware of it at times.
In an interview on Marc Maron's WTF podcast, conducted in early February, Maron jokingly referred to her being married now to a "second rock guy" and, a bit later, asked if her brothers now preferred Goldsmith's band, Dawes, to Ryan Adams' music.
John Shearer/Getty Images for People Magazine
"Everyone does, yeah. Everyone in my life!" she replied, laughing.
Well, they have their reasons.
Because Moore is now a star of one of the most talked-about shows on TV in This Is Us, and just won her first SAG Award in January as part of the NBC drama's winning ensemble, it's easy to forget about the drier years, when even she wondered if her time had passed.
The fact that those years largely coincided with her marriage could have been a coincidence—lots of actors and artists slow down to focus on their relationships or families. But in Moore's case, it wasn't a coincidence.
Eric Charbonneau/Invision/AP Images
"I was living my life for him," Moore said on WTF. "I had no sense of self. I felt like I was drowning. It was so untenable and unsustainable and it was so lonely. I was so sad. I was lonely with him."
Moore similarly reflected to Bustle in November, "When I think back to that particular time period that we're talking about...It was heavy. It was dark. It was confusing. It was lonely. There was no room for me. There was no room for me to have anything else in my life."
Moore's last album, Amanda Leigh (her real name), came out in May 2009, a couple months after she and Adams got married. She had been recording music since she was 15, having left high school after her freshman year to commit to it full-time. That was Moore's sixth studio album and she was under the impression that there would be more to come in her near future.
Music was "definitely a common interest between the two of us," a recently wedded Moore told EW.com about her and Adams in 2009. "There's always music playing in the house, or being written. It's nice to be able to share that with one another, and share new things that we discover and find. Usually it's him introducing me to something.
"There's a lot more metal being played in the house than ever before. It's like, 'No, no, that's hair metal, that's not black metal. And that's more melodic Scandinavian metal.' It's hard to discern, but I'm starting to get there."
Asked if they talked about music, she said yes, adding, "It's nice to be able to bounce ideas off someone, especially someone that you have a lot of respect for. It's wonderful."
Asked if she would consider working on music with Adams, Moore said, "I'm sure in due time something will probably come about in terms of collaborating. We certainly have done that at home, writing together—it just organically happens. In terms of putting stuff out there, I don't know. Maybe somewhere down the line that'll be fun."
Christopher Polk/Getty Images
During their marriage, the reliably prolific Adams made five studio albums, including his self-titled Ryan Adams, which was nominated for two Grammys, and 2015's 1989, his quirky cover of the songs on Taylor Swift's album of the same name (released after they were separated). 
In 2009, Moore auditioned for and earned the role of Rapunzel in Disney's animated hit Tangled—"I was with some friends and my husband and I screamed as soon as I found out the news, I was over the moon," she told Huffington Post—and she had an arc on Grey's Anatomy in 2010.
She did other things during that time, including a few forgettable movies and a lot of voice work, and went on a lot of auditions for stuff that didn't quite pan out. She eventually popped up on the much-hyped but short-lived Fox drama Red Band Society in 2014. Throughout, she didn't put out any music.
That's not a coincidence, either.
According to The New York Times, Adams appointed himself as de facto decider when it came to his wife's career. The paper also detailed an alleged pattern of behavior exhibited by Adams over the past decade, in which part of his process was to bond with young women over music, foster a connection and then turn controlling, creepy and—with Moore and his ex-fiancée Megan Butterworth—emotionally abusive. (Adams has apologized for ever making anyone uncomfortable but, through an attorney and via Twitter, has categorically denied much of the behavior he's accused of in the article as well as the entire occurrence of some events described.)
"His controlling behavior essentially did block my ability to make new connections in the industry during a very pivotal and potentially lucrative time—my entire mid-to-late 20s," Moore told the Times. 
Adams, a singer-songwriter who established his own record label, PAX AM, in 2004, is known for being outspoken and particular about his creative process. Early on he utilized social media, where nowadays most loyalty is harnessed, as an unparalleled way to connect with his fans directly. He has also been open about his struggle with depression and drug and alcohol abuse.  
"I was running the risk of becoming one of those people who talks to himself all the time," he told The New York Times in 2007. "I was about to walk over this line that there was no coming back from, and I could feel it. I was seeing ghosts and hearing stuff. Having horrible nightmares. I was creating as much distance from people as possible so that, in the event that something terrible happened, it wouldn't hurt them."
Also in 2006, he was diagnosed with Ménière's disease, which affects balance and hearing. "All the stuff I was doing exacerbated the disease," Adams told The Guardian in 2011. "You're not supposed to smoke, you're not supposed to drink alcohol, be stressed, eat salty foods...You're probably not supposed to do speedballs."
He wouldn't admit to any autobiographical songs about his (seemingly good) relationship with Moore, but acknowledged that the line "when I met you the clouds inside me parted" from "I Love You But I Don't Know What to Say" (from 2011's Ashes and Fire) was "not unrelatable."
Used to telling his own story, when word got out that he was dating Moore in March 2008, Adams fired back at the Daily Intelligencer, "I can't believe you guys would print lies like that. You said Mandy Moore and I were dating! Which we're not. She's single, and I don't know why everyone thinks she has to be in a relationship." A few months later he claimed they had broken up.
But they ended up together.
"As a 23-year-old impressionable woman, I was really taken by him," Moore, now 35, said on WTF. "I had never met someone who had that lens on the world."
Eventually, however, he allegedly became controlling and manipulative. Moore told the Times that Adams, who's 10 years her senior, promised they would record songs that they wrote together, but never followed through, and he would book studio time for them, only to replace her with another female artist. She says he discouraged her from working with anybody else.
"He would always tell me, 'You're not a real musician, because you don't play an instrument,'" Moore recalled. (Adams denied being unsupportive of Moore's career or getting in the way of her working with others.) 
"Music was a point of control for him," she asserted.
In 2013, when they were still married, Adams started exchanging texts with a female fan, at first about music, but eventually the messages and a Skype session turned sexual, according to the New York Times. The now 20-year-old woman, identified by her middle name, Ava, said she was 14 when she first started corresponding with Adams. He insisted via his lawyer that he didn't remember the exchange but would never knowingly exchange text messages of a sexual nature with an underage girl.
Ava, who was an accomplished bass player when she first started messaging with Adams, told the Times the whole experience—feeling objectified, and as if sex would have to be part of the deal if she wanted to make it as an artist—turned her off of music altogether.
"What you experience with him—the treatment, the destructive, manic sort of back and forth behavior—feels so exclusive," Moore told the paper. "You feel like there's no way other people have been treated like this."
She added, "I want to make music. I'm not going to let Ryan stop me."
Moore said on WTF that, while she never relied on it as her sole source of income or only source of creativity, "music's always what I've been more passionate about, so [as a young recording artist] I was happy to have some semblance of it in my life" while making her name as an actress.
And she's getting back into the music, she said.
Last July she posted a video on Instagram of a mixing board and she can be heard singing in the background. She captioned the post: "Getting back to it. It's time. I miss it. I'm not scared anymore. No more excuses. No more allowing someone's else insecurities to dictate my relationship to music and singing. Boom. Also- this is just a little demo of something @themikeviola [who produced Amanda Leigh] and I worked on yesterday... but still, it's a start!"
Also, Moore has been subtly referring to Adams' issues and the crisis of confidence she suffered during her marriage for awhile now.
"Not the smartest decision. I didn't choose the right person," Moore succinctly told Glamour in hindsight last fall. She described feeling "spiritually and fundamentally stuck" while married to Adams.
Meanwhile, Adams has talked about getting sober in 2006 by going cold-turkey, followed by occasional AA meetings, but in response to the Glamour interview, he claimed last year to have been too high to remember marrying Moore in the first place.
A day after he tweeted appreciatively about a new Dawes album, Adams retweeted a write-up on the Glamour piece and wrote, "She didn't like the Melvins or BladeRunner. Doomed from the start… if only I could remember the start lol." He continued, "When someone told me we got married I thought they were joking. Then I realized how many painkillers I was taking. Honestly there weren't enough to numb the shock. Gollygooops." Adams concluded, "Sometimes you get stuck to the spiritual equivalent of a soggy piece of cardboard. But it rains on net-a-porter everyday when you're trapped inside yourself," adding, "Take the money I'll take my pride, any day." (The tweets are long since deleted.)
In response to a Moore defender who fired back that Adams wrote "75% of [his] love songs" about her on his last album, 2017's Prisoners, Adams replied, "There's not actually a single song about her. Like not one. Fact."
When Prisoners came out, Adams told NME, "For me, the big shadow illuminating things for fans will be that this record is directly related to my divorce and to what was going on inside me — how I endured it and where I was in my emotions at that time—and they wouldn't be wrong. I didn't want to make a mistake and avoid it…I believe in art, and it sounds so stupid—but I think it's more stupid to pretend that things aren't happening to you and write some bland f--king useless bulls--t."
Some fans were concerned about Adams following his rant about Moore's interview, and he eventually tweeted, "Thank you for the kind messages. I am speaking with a grief/ crisis counselor. I apologize if I caused anyone any worry. Depression, anxiety/ panic attacks & grief are very real and serious issues. If anyone is suffering I urge you to seek help. And cats.
"I apologize for my remarks. I was trying to be funny. But I have and will always choose to remember the amazing moments. It isn't classy or ok lessen what was. I am happy for everyone and doing my best."
In the wake of the New York Times piece, the release of Big Colors, the first of three albums Adams was scheduled to put out this year, was indefinitely postponed.
One notable place we've been hearing singing from Mandy Moore lately, however, is on This Is Us. In one of those joyful Hollywood twists, the show was created by Tangled writer Dan Fogelman, and he wrote an aspiring-singer back story for Moore's character, Rebecca Pearson.
Bittersweetly, the hit show appeared on the horizon not long after her marriage ended.
She and Adams announced they were amicably parting ways in January 2015. "I don't feel guilty for it. I don't fault myself for it," Moore told Glamour. "When people said, 'I'm sorry,' I was like, 'No. Sorry would have been had I stayed in a very unhealthy situation.' I didn't. I found my way out. And when I did, things opened back up again."
Their divorce was finalized just a few months before the This Is Us premiere reveal hooked audiences everywhere in September 2016.
"Life is not easy," Moore said during the series' TCA panel that summer. "I think it's been great to be able to take all of the chapters in my life and be able to pour it into a job like this because it all helps. It's all fuel."
"I think everything happens for a reason," she continued. "I think I spent a good portion of the last years of my life really pouring all of my energy into my life and relationship, and now that that's sort of not part of my life any more. It's just not a coincidence to me that things sort of opened back up, and I'm able to focus back on myself again."
Well, not entirely on herself.
Moore met Taylor Goldsmith on, of all places, social media—she posted a pic of a Dawes album, just like any fan, and Goldsmith slid into her DMs—and they were hanging out by the fall of 2015. He proposed in 2017 and they tied the knot in November.
"I was still dealing with the trauma of my divorce when we started dating," Moore told Glamour. "Taylor was steadfast in his support—that was a huge sign for me."
She continued, "He makes me melt. I can imagine no better partner. He's going to be the most tremendous father. I view the past as a stepping-stone to get me where I am today. I would gladly weather all of that a million times over if it brought me to Taylor again."
And she weathered a lot—more than most people knew—but Moore hasn't wavered from her everything-happens-for-a-reason, all-roads-lead-to-now positive attitude.
"I'm strong," Moore told E! News at the HFA Grants Gala in Beverly Hills back in 2016, about a month before This Is Us premiered. "I feel great. Life is hard, man, but you know it's all part of it and you just take that stuff and you know you use it as fuel and pour it into your work and try to make sense of all of it."
"You put one foot in front of the other," she said. "Life happens."
(Originally published Feb. 21, 2019, at 3 a.m. PT)