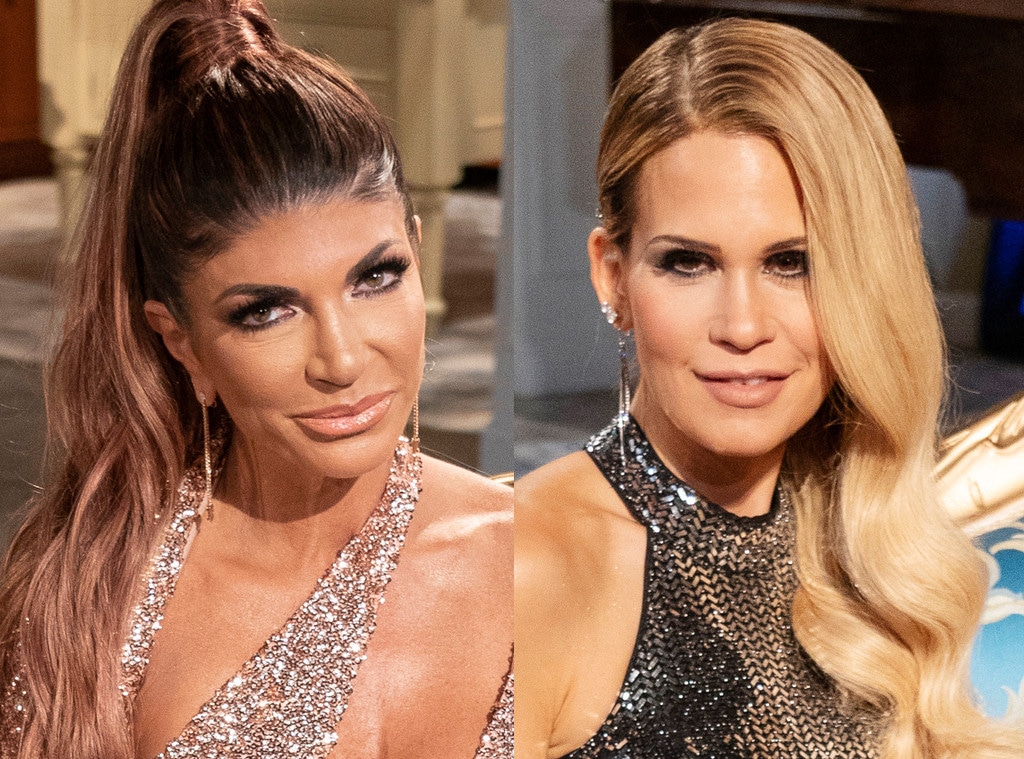 Bravo
Is it The Real Housewives of New Jersey or the Teresa Show? That was the hot topic of the night in part one of the RHONJ season nine reunion.
Andy Cohen gathered Teresa Giudice, Melissa Gorga, Dolores Catania, Margaret Josephs, Jennifer Aydin and Jackie Goldschneider in all their sequin glory to rehash the past season of trips, fights, name-calling, family feuds and Milania Giudice rap songs. It started out civil, with the ladies copping to the plastic surgery they've had—Jackie had a tummy tuck, Dolores a facelift and butt injections, Margaret a facelift.
"I mean, you see yourself on high-definition TV and you're like, 'Holy s—t, I look like a little baby pork chop.' So, of course you want to do stuff," Margaret said.
The laughs stopped quickly when Margaret and Jennifer resumed their on and off war of words from the season, specifically about marriages. But the real fireworks were between Teresa and Jackie.
After Jackie revealed she has started speaking to her sister (she had seen her over the last 15 years, they just didn't speak), and the cause of their falling out (lots of little fights, no big blowout), Teresa started in with Jackie over Jackie's story about Jennifer and her kids.
"You think you know me so f—king well, like, are you kidding me?" Teresa said.
"I don't even want to know you, Teresa," Jackie said. "You're not my kind of people."
"You live a very sad life," Jackie told Tre.
"You want to be me," Teresa countered. "Thank you very much."
"You have zero that I aspire to be, Teresa," Jackie said.
"That's why you've been following me for 10 years," Teresa countered. Then she pulled up a photo of herself and Jackie at some kind of book signing. Jackie said she showed it to Teresa their first week of filming, and Teresa called her a stalker.
"So what's the problem with this?" Andy asked.
"She's a stalker!" Teresa said. After Jackie called her "Mrs. Merriam-Webster," Teresa claimed Jackie had an agenda in joining the show and the two shouted over each other to the delight of Jennifer. Jackie said she had been a fan of the show and happened on the book signing and went in to meet Teresa.
According to Teresa, Jackie had been following the show and admitted to being a fan when they first started filming (Melissa countered Jennifer also admitted that), but Jackie wasn't having it.
"She's clearly very threatened by me," Jackie said.
The two went around and around, hurling insults about professions and writings, with Jackie making fun of Teresa using "compassionate" when she meant "compassion," fighting over Jackie's comments about Joe Giudice being in prison, Melissa joined the fray, ghost writer accusations got thrown around and Teresa reached for Andy's note cards to throw them.
To be continued.
The Real Housewives of New Jersey airs Wednesdays, 9 p.m. on Bravo.
(E! and Bravo are both part of the NBCUniversal family.)