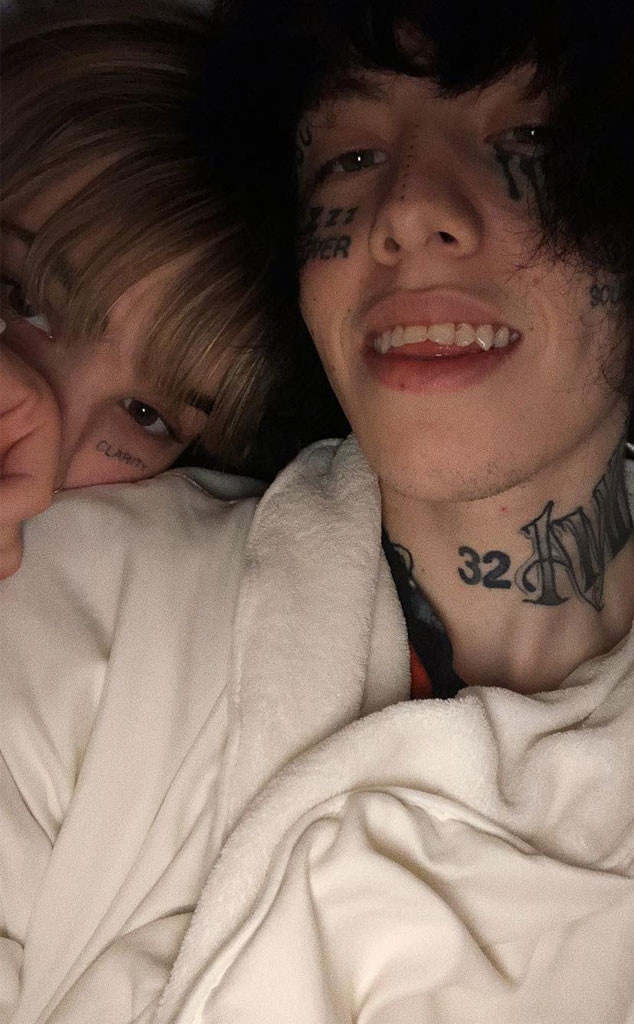 Instagram
Lil Xan is no longer a heartbreak soldier—because he's in love and has a baby on the way. 
Over the weekend, the 22-year-old rapper shocked fans when he revealed he and his special lady Annie Smith are about to start a family. "I wanted to wait but i just can't leave my fans in the dark,it's official im going to be a father," the budding star, whose real name is Nicholas Diego Leanos, announced on Instagram. "i love you guys so much and hope you stay along for this crazy journey and i've never felt more happy in my life." 
To top off the special news, Smith also seemed to allude to an engagement. In an exclusive new interview with E! News, she confirmed that that her famous beau did indeed pop the question.
"It was just causal. We were talking about it really casually for a long time, like we already knew we were going to get married, but we didn't talk about it in too much depth, we just knew it was going to happen eventually. And then we were just at home and he just proposed," she told E! News. "So, we are engaged. The ring...we're very unconventional. We're engaged, but we don't have the ring yet."
The bauble is currently being custom-made for the couple to pick up once they return from touring.  
It's a major new chapter for the couple that, according to Smith, has "always just had a really special bond." She explained that they met through a mutual friend and officially started dating right before they went on his North American tour. 
"We have been really close for a long time and we both have always just had a really special bond with each other...we both really cared about each other, we both loved each other, but we didn't know how the other person felt, so that's why it was like friends for so long," she explained to E! News. "There were other reasons that it was just not I guess the right time and then I don't know, one day we were just like, we're always together. Even before this, we were together 24/7. We went on trips together, we were always doing things together and I guess one day we were just kind of like, 'What are we doing? Why are we not together?'"
As for their wedding, it will likely follow suit with their low-key style.
"We again are very unconventional, so what we most likely we will do is get married [in a] super, super intimate wedding. It could be anytime. It could be in a week, it could be in a month—it could be anytime and then have a little get together with our family and really close friends a little while after and then possibly have a bigger reception celebration down the road," she explained. "But, definitely the main ceremony part we want to keep really intimate, just like us and our parents or even just us and then maybe do something later down the line with family and friends."
Of course, tying the knot isn't their only upcoming milestone. 
"Our first reaction [to the baby news] was excitement. We were definitely shocked because we have been trying, but we haven't really been pushing it, so we were definitely shocked, but we were so excited," she recalled. "We cried. We were over the moon. It was a shock, but it was amazing."
Their families were filled with just as much excitement. "They know that we want children, so they weren't too surprised, but they're all super excited for us," the mom-to-be told E! News. "They're all super excited to be grandparents and aunts and uncles. Everybody's really, really happy and the reaction has been really positive, so it's been really good."
While Smith feels somewhat prepared thanks to her experience as a nanny, she's also confident in her man as a new dad. "I think he's going to be an amazing father. He has the biggest heart, he's such a family man and he just does everything for his family," she complimented him."He wants to always be able to support his family, he's so loving, so I'm really excited to see him as a dad because I know that he's going to be so involved and it's going to be great. He's going to be amazing."
The future mom and dad are already on top of their baby names, too. While they want to keep the first name a surprise, they're contemplating the middle names Valentino for a boy and Izabella for a girl, in honor of Lil Xan's late niece.
Ultimately, they want to tackle parenthood their way. "People always give us advice whether we ask for it or not, but we kind of want to figure this out on our own," Smith told E! News. "We're excited to kind of be able to do it our own style."