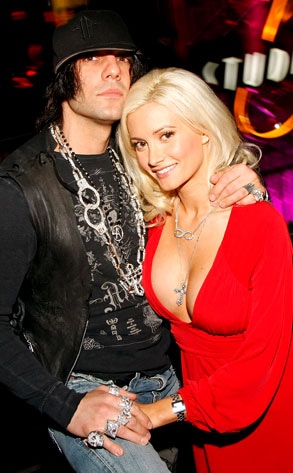 Ethan Miller/Getty Images
Now you see them, now you don't.
The original Girl Next Door, Holly Madison, has amicably parted ways with her Mindfreak beau, Criss Angel, after nearly four months of dating.
"Criss and Holly are no longer a couple. They remain very close friends and wish each other the very best," a rep for Angel tells E! News.
The 29-year-old Madison and 41-year-old Angel had been cohabitating at the magician's Sin City abode since December, but the Playboy pinup recently moved back in with family.
"She was very much in love with him, and they're still very close friends," a source close to the former couple said, adding that the decision to split was mutual.
"It was a conflict of schedules. She felt she couldn't devote 100 percent of her time in Vegas and his career at the expense of her career and her goals."
The two were first spotted cozying up last October, shortly after Madison and Hugh Hefner had called it quits. While Angel and Madison at first claimed to be just good friends, they quickly went public with their romance, moved in together and even—a first for Madison—met each others' parents.
Despite news of the split, the couple's relationship has showed no signs of outward strain recently.
On Valentine's Day, the pair was spotted smooching it up in Sin City, and just last month they vacationed in Cabo San Lucas, along with fellow reality star Paula Abdul.
Sudden though the split may seem, it was not entered into lightly.
"It was a tough decision for her to make and come back to L.A. and pursue her career," the source told E! News. "She still has very intense feelings for him."
Angel, in the meantime, remains in Las Vegas where he performs his show, Criss Angel Believe, five nights a week at the Luxor.
(Originally published Feb. 25, 2009 at 12:55 p.m. PT.)