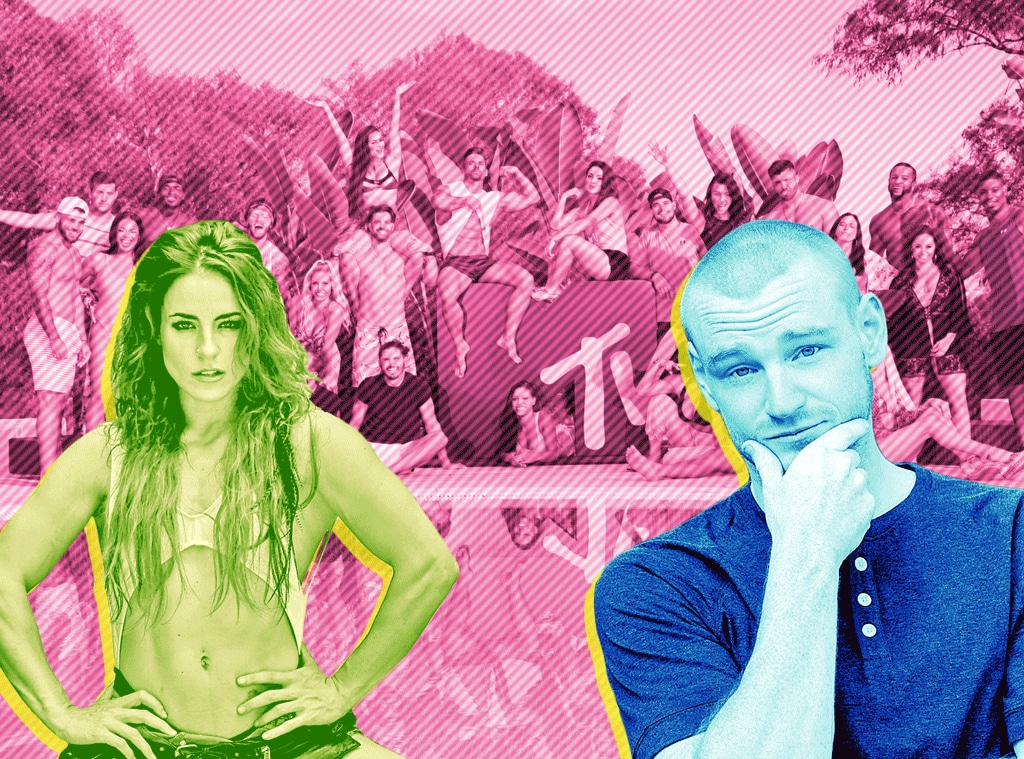 MTV; Melissa Herwitt / E! Illustration
There are no off days in The Challenge house. 
From the moment Johnny "Bananas" Devenanzio and co. arrived to the set of the latest iteration of MTV's beloved competition show, The Challenge: War of the Worlds, (last week's episode marked the series' highest ratings since 2013) cameras began to roll. 
Though the 34 competitors on this, the 33rd go-round of the series that started as a way to pit telegenic, engaging Real World contestants against those from the Road Rules franchise and has morphed into must-watch soap opera, incorporating casts from some 11 different reality shows, have one day each week where they're not dangling precariously several yards above the ocean or swinging back and forth between moving semis, "There are always cameras," MTV producer and vice president of series development Dan Caster tells E! News. Because even when they're not competing, they're competing, the angling and strategy and gamesmanship just as key to avoiding elimination as athleticism and a knack for puzzles. 
"And inevitably, if something is going to go wrong, it's going to be on their day off," notes Julie Pizzi, president of entertainment and development for Bunim/Murray Productions, the entertainment company behind The Challenge. "Because they have so much together time, that they generally get in fights. Or if stuff is going to come to a head, it's going to come to a head on the days that we're not out doing a challenge. Those are the days that sometimes the best drama happens." 
And yet, even with that level of constant coverage, there is still plenty that goes on behind the scenes that Challenge-watching inquiring minds want to know: How is the cast put together each season? What's on the do not pack list? And are those rivalries really as heated as they seem? We asked Caster and Pizzi to run through our gauntlet of questions. 
The casting process is involved. 
The choice a few seasons back to incorporate stars from the likes of Big Brother, Geordie Shore and Ex on the Beach may have significantly increased the pool of potential contestants, but it hasn't made choosing them any easier. "One of the main reasons is I think our audience is so in love and loyal with certain characters they've seen," explains Caster. "So when we actively made the decision to bring in our new people, it's like our bar is set so high because they have to compete with Johnny Bananas, [Chris] C.T. Tamburello, Cara Maria [Sorbello], all these amazing people. So the process of finding new folks is pretty intense." 
While hopefuls aren't put through physical testing ("At least not yet," allows Pizzi) producers work to get their full histories by using Skype interviews, watching footage from their previous shows and doing a deep dive into their Instagram feeds. "We're always looking for people that can stand side-by-side with our cast because if they can't compete, then it doesn't feel like a fair game," says Pizzi. "I think it's always a struggle trying to find people that have the athleticism and also the gameplay, which is why the Big Brother types are so great because they're accustomed to playing the inner game." 
Another sign that they'll be able to hack it is a natural aptitude for puzzles. "When you really look at the scope of the season, it's the brain games that get everybody," points out Pizzi. "Like most of the finales or even this year's premiere, it really came down to a puzzle. And that's kind of intense because literally anybody can do it, but not everybody can do it." 
Even execs have their favorites. 
Though it may appear Bananas has a reserved spot each season, The Real World: Key West alum needs to fit into the planned conceit of the show if he wants to slip into the roster. "Different kinds of concepts have different casting filters," says Caster, "so that's usually the first thing: Okay, if we do this show, who can we have? Who can we lock in? Who's available?" 
When putting together Dirty 30, for instance, featuring the series' most underhanded players, "There were so many people that I think we would love to put on, but they weren't dirty players," he explains. "So you couldn't cast them even though they're a fan favorite." 
However, he admits that producers find some gamers more appealing than others. "Everyone has their favorites for different reasons," he says of the vets who have proven time and time again to equate to quality television. "So it's a lot of behind-the-scenes of everyone that works on it having to kind of advocate for people to be there for certain reasons." 
Contestants are every bit as crafty as you'd imagine. 
The list of items competitors aren't allowed to bring includes TVs, radios and books (basically anything that would keep them from interacting with their castmates). But the personal effect they find hardest to ditch is their cell phones. "Of course they try to sneak in phones so they can have outside world contact!" admits Caster. 
And that's phones as in plural. While most vets know to willingly relinquish their main cell, "They're totally into burner phones," notes Pizzi. "Like, you take their one phone and there's another one, like, in a compartment in their shoe." Since they're intentionally casting the most devious of reality stars, the pre-show screening process has become akin to a prison search. "They literally try to hide phones in everything," she says. "Like, they'll cut the side of a jacket and put a phone in there. It's very funny." 
Another oft-rejected personal item: protein powder. 
Those in the know train for weeks to ready themselves for the daunting physical tests the series can bring "and they're always trying to stay in the best possible condition," stresses Pizzi. "You'd be surprised at the amount of vitamins and protein shakes and all of the stuff that they bring to keep themselves physically fit." 
Unfortunately a good portion of those supplements tend to end up in the reject bin since MTV looks over everything with an eye toward what could possibly be viewed as an unfair performance enhancer. "We have to know what's in everything," says Pizzi. "So if they have protein pills, if we don't know what it is, we won't let them take it in the house. We basically take almost everything unless it's a very familiar brand." 
Nights in the house aren't a 24/7 party. 
Players have access to beer, wine and, Sorbello told Us Weekly, "the occasional" fifth of vodka (dyed blue so it can't be hidden in water bottles) and they're allowed to order that same collection of spirits during nights out at the bar. And while the ever watchful producers keep an eye out for anyone that's been overserved—"Because we have cameras on them all the time, we can gauge if somebody is getting really drunk and then we would certainly intervene," says Pizzi—with a few notable exceptions, "They're pretty responsible." 
With their wallets on the line, no truly dedicated contestant would show up to a challenge not of sound mind. "We do these crazy stunts where we're hanging above a tall building on harnesses," Tamburello pointed out to Rolling Stone. "You can't be doing that if you're drunk." And most are careful not to get tanked the night before. "This is my favorite thing about the show is that the people who do this game, their buy-in is so great," says Pizzi. "Like, they show up and they listen to the rules and they do try to outsmart the game, but they're so serious about it." 
In fact, the gym is usually the most bumping space. 
Along with an abundance of food, a fitness space is a must in any Challenge house. "It just such a strong device for them to go and work out and to become physically fit so they can continue to compete and win," says Caster. "So it's kind of a no-brainer for us."
A hive of activity, the area is the spot to go if you're seeking an informal workout session. "They train each other," reveals Caster. "They help each other with whatever areas they want to grow in." Or, if necessary, they put their partner through their paces so they'll be able to hang in the cardio-heavy final. Among the most informed gym rats is Sorbello, who teaches kickboxing when she's home in Montana and often slakes her competitive drive with Spartan Races. "Cara Maria knows so much about fitness," marvels Caster. The first rookie axed from Fresh Meat II back in 2010, "Now, the way she eats, the way she trains, everything is different." 
Watch:
Natalie Negrotti Spills Behind the Scenes "Challenge" Secrets
Yeah, some of the contestants legit hate each other. 
"I get asked this question a lot: 'What's real? What's not real?'" admits Caster. And his answer remains the same, yes, some of the regulars really dislike each other as much as it seems. That list includes Sorbello and Amanda Garcia, whose time on Final Reckoning got so heated Garcia memorably yelled out that she hoped Sorbello's horse would die. (Which, harsh.) Garcia is also truly at odds with Jenna Compono and Zach Nichols, having tried to interfere with their real life romance. And the Sorbello-Paulie Calafiore-Kyle Christie pseudo love triangle is every bit as bitter as it appears. 
Other clashes aren't as personal, notes Pizzi, "They're just top dogs really wanting to take down each other." In that camp: Bananas and Wes Bergmann. "I would say that's more of a game rivalry," she opines. While the pair aren't exactly on each other's birthday party guest lists, "In life they don't hate each other." 
The love is real, too. 
Bananas' bromance with Leroy Garrett is well-documented, but Pizzi says the host of NBC's late-night travel series 1st Look is also tight with fellow series vet Tamburello. "They're deeply friends," she says, noting a conflict kept him from attending the Real World: Paris standout's September vows in Miami. "They do have a real, almost like high school friends. They actually do care about each other." 
Also on the nice list: Sorbello and Marie Roda, former rivals who were paired up for Final Reckoning. "They did not like each other at all," insists Caster. "And now they're great friends because they had to team up." 
Dreaming up the challenges is almost as tough as the games themselves. 
Okay, it's not walking through a curtain of 700-volt electrical wires hard, but it's still quite the process. Pizzi credits the series' showrunners, Kevin Lee and Justin Booth, with "constantly raising the bar" when it comes to their inventiveness. "They have a team of people that are sort of regular, but they're always bringing in new blood because I think there can become some redundancy in the challenges." 
Inevitably, though, she notes, "Every time we bring in somebody new, they come up with all of these challenges and and it's like, 'We did that, we did that.'" In an effort to keep things fresh, they lean into the theme and location of each season. The desert setting for War of the Worlds, for instance, "had a real Mad Max look," she said, "so everything was sort of inspired by that." 
And dozens of seasons in, they know which feats will leave contestants quaking—generally anything involving exceptionally gross food or excessive heights. "I'd say the water ones, too," adds Pizzi. "You just are always surprised by the people who can't really hold their breath or are afraid to go deep. There are people that are legitimately afraid of the ocean." 
The show's hardest test: spoilers. 
With leaks "the bane of our existence," as Pizzi puts it, "We threaten them just shy of their life," she jokes of the requisite NDAs and fines that are put in place for blabbing. Still, secrets have a tendency to make their way to the Internet. "We have one leak that we're trying to figure out that's been going on for a couple of years now," she admits. "We practically put detectives on it to try and figure out who it is!" 
The Challenge: War of the Worlds airs Wednesdays at 9 p.m. on MTV.