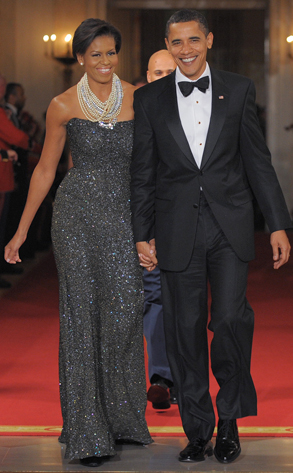 MANDEL NGAN/AFP/Getty Images
Finally. After several fashion mishaps Michelle Obama killed it last night, while looking completely nail-able, too! She looked totally glam in the long, sequined gown without looking the slightest bit frumpy. We knew Michelle just had to channel her inner sexiness, and the way she had her hair loosely pulled back adorned with necklaces was altogether steamy.
Jackie who? Welcome back to the hot side, hon! We might not know what to think of Barack's speech (fab, yes, but lotsa feel-good air, anybody?), but we do know we get a lot of country pride knowing our First Family is smokin'.
Why didn't Vogue photograph Mich in this hot crap?