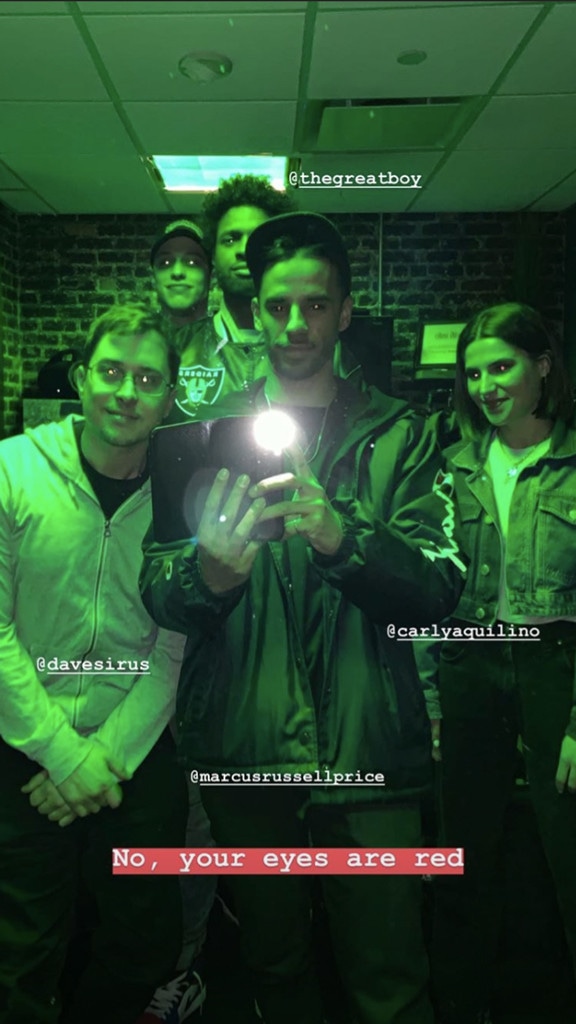 Instagram
Pete Davidson was spotted hanging out with his ex-girlfriend, Carly Aquilino, over the long holiday weekend. 
On Monday, the Saturday Night Live star reunited with the 28-year-old stand-up comedian after his show at the The Paramount in Huntington, New York.
Pics or it didn't happen, right?
The 25-year-old actor's photographer, Marcus Russell Price, took to Instagram Stories to share the fun-filled night. Along with the former couple and Price, the three were surrounded by friends and fellow comedians Dave Sirus and Derek Gaines.
In one Insta video clip, Davidson is jamming out and singing along to Juicy J's song "Blow Out," and in another photo, the group is posing for a mirror selfie. 
"No, your eyes are red," Price captioned the flash-photo.
In the post, both the SNL star and Aquilino are in the pic but they aren't standing next to each other. In fact, they're on opposite sides.
US magazine reports the the Girl Code alum performed a comedy set before Pete went on stage for his show.
The former couple dated in 2015 and after, the SNL star was in a relationship with Cazzie David from 2016 to 2018. The two dated on-and-off for two years.
It wasn't long before Davidson made headlines for dating Ariana Grande and proposing to her. The pair called off their four-month engagement in October 2018.
As of late, the 25-year-old star has been linked to Kate Beckinsale.
The two were spotted flirting in January at a 2019 Golden Globes after-party, and, more recently, the two were seen holding hands after they left his L.A. comedy show.
On Friday, the Underworld actress took to Instagram to clap back at a troll who commented on her rumored romance.
The user wrote, "Disappointed in your dating choices." She responded, "fairly let down by your wonky beard but thought possibly rude to say."
Although, it seems Davidson and Beckinsale are keeping things casual.
A source close to the actress previously told E! News she "has spent some time with him and thinks he's very funny and charming," adding, "It's definitely not anything intense."
It could be the the SNL star's latest hang out with his ex-girlfriend is also "not anything intense."