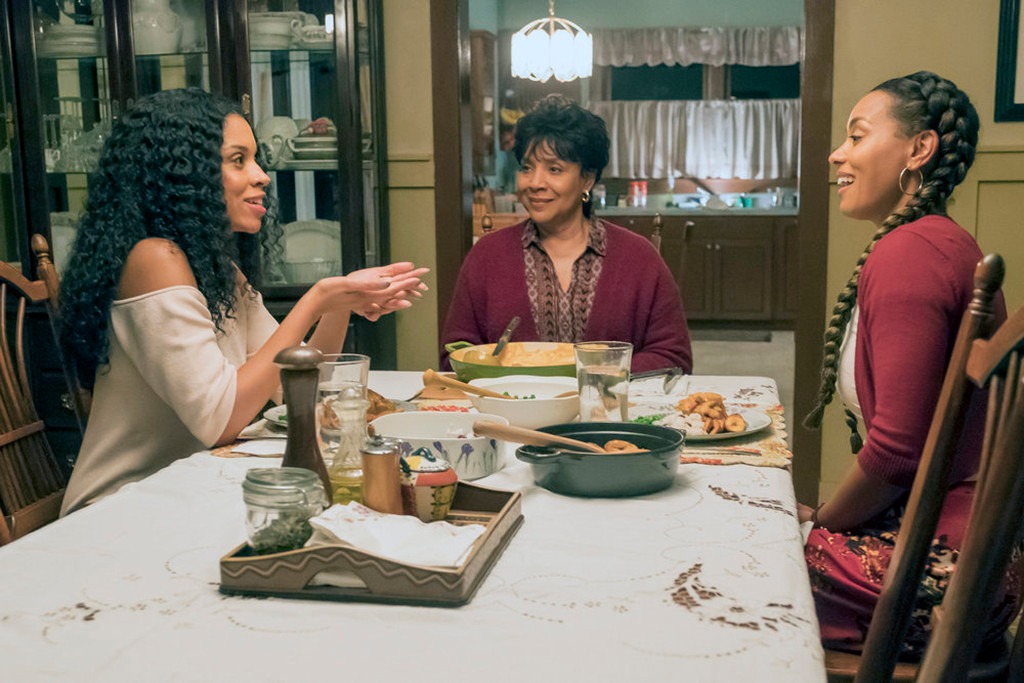 NBC
Tonight, This Is Us is taking a bit of a break from the Pearson family. 
The show is taking a moment to follow Beth (Susan Kelechi Watson) and her cousin Zoe (Melanie Liburd) home to visit Beth's mother, and it not only serves as a bit of a personal breakthrough for Beth, but it explains a whole lot about the woman formerly known as Bethany. It's also just one of the most beautiful episodes the show has ever done. 
"Our Little Island Girl" reunites Beth with her mother in present day, but also goes back to tell us how Beth grew up as a dancer, with a strict but supportive mother and an extremely supportive and loving father. It draws on Watson's Jamaican heritage and real dance background, and the whole thing was a labor of love for the group of women behind and in front of the camera. The episode was written by women, directed by a woman (choreographer Anne Fletcher), and mostly stars women, aside from Beth's dad (Carl Lumbly) and ballet teacher (Goran Visnjic). 
Watson first got a hint of Beth's dance-heavy background when she got a strange text from one of the writers of the episode.
"I got a text from Kay Oyegun that said, "Girl, can you dance for real?" Watson said during a TV Critics Association panel after a screening of the episode. "I said 'yeah,' and she said, 'But like, for real, you like it?' So that's when I had a hint of like, OK, there's possibly dance coming, and then I received a call about really training to dance." 
Watson does dance in the episode, but the dancing work is shared by the two young actresses who play 12 year-old Beth (Akira Akbar) and teenage Beth (Rachel Hilson). 
The episode is as much about Beth's love of dance as it is about Beth's relationship with her parents, specifically her mother Carol (Phylicia Rashad), who is a force to be reckoned with. Rashad was even somewhat "terrifying" to work with, Watson and Liburd recalled. They were just as scared of Rashad as Beth and Zoe are of Carol, and of the fact that they've come to visit her to tell her to slow down so she doesn't break another hip. 
"I think when we were starting to talk about Beth's origin story, what interested us the most is that the Beth that we've been seeing for the last two seasons is very you know...she's the strong woman, she's funny, she's witty, and it was this idea that...in her childhood, she was a bit of a different person, a quieter person, that she came from this world this ballet world which was mostly white," writer Eboni Freeman said. "And so, that was, I think, really interesting to delve into, and to, also, when coming up with who her mother would be and who Phylicia would be, it was very interesting that we kept talking about this whole idea of the strong black woman, and where that would have come from, and how she would have gotten that from Carol, and the whole idea of the way in which, you know, Carol with her hip, and how she still presses forward..." 
Carol very much refuses to slow down despite being injured, and she expects the same of her kids, especially her youngest daughter Bethany. It's a bit of a contrast to the other mother/daughter relationship we've come to know from this show, with Rebecca and Kate. 
"Obviously, Rebecca is a woman that stayed home and devoted her life to taking care of her kids. And here, we're seeing a woman who loves her job, and it's a really big part of herself. That's a part that Rebecca had to sacrifice," executive producer Elizabeth Berger said. "But in both women, I think you see this, sort of, strong, loving core. And we really love what Phylicia brought to the role because I think all of us were imagining it a little bit harsher, and Phylicia brought this really brilliant mix of love and strength that surpassed our dreams for the role. So, she's playing all of these things at once that just blew us away." 
Stay tuned after tonight's episode to hear what Beth's rediscovery of her dancing past will do to her relationship with Randall, and for scoop on one important moment at the episode's end. 
This Is Us airs Tuesdays at 9 p.m. on NBC.