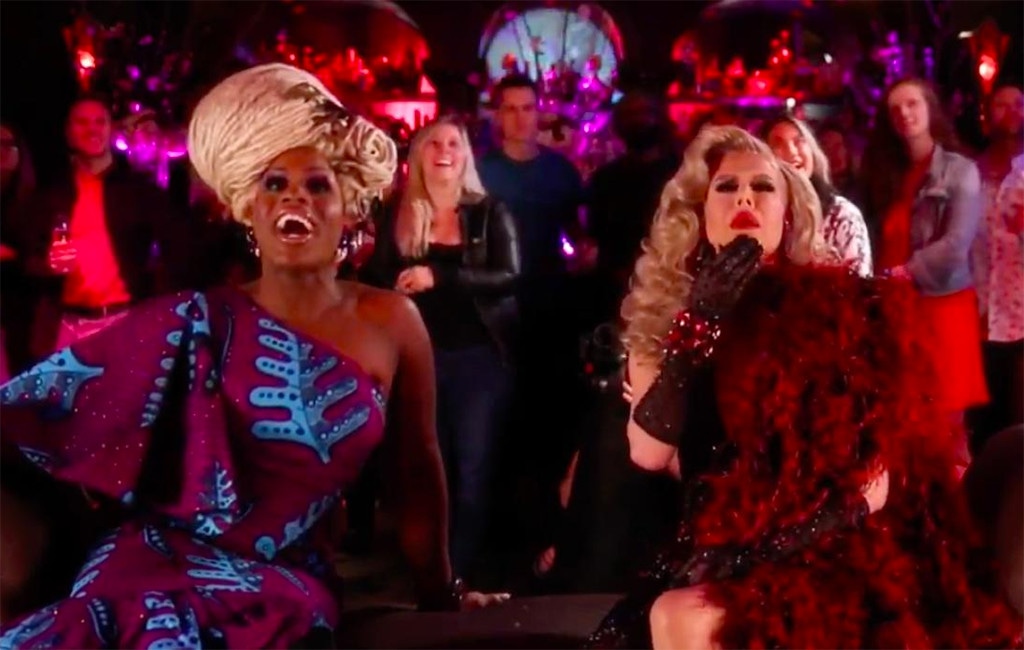 World of Wonder Productions
RuPaul's Drag Race made show history on Friday when not one but two winners were crowned on the finale of All Stars season 4—Monét X Change and Trinity the Tuck. 
The two both earn the title of "America's Next Drag Superstar" and will receive $100,000 cash each and spots in the "Drag Race Hall of Fame."
"When faced with the difficult decision of which queen deserved to win, the words of the great philosopher, Michelle Visage, popped into my head: It takes two to make a thing go right. It takes two to make it out of sight," host and executive producer RuPaul said in a press release released by VH1. "Not only are Monét X Change and Trinity The Tuck the best of the best, together they can spread their charisma, uniqueness, nerve and talent wider, faster and further than ever before. Long Live Drag Race!"
Both seemed to take their tie win in stride.
"I'd be lying if I said I haven't dreamt about this moment at least 100 times over," Monét X Change wrote on Instagram on Saturday. "Beyond honored to be representing @rupaulsdragrace as a reigning queen, but more so honored to be doing it as a QUEEN OF COLOR, and being your first Chocolate All Star. Throughout my time on Drag Race I have EARNED every stone on that crown & scepter. I've been wrong, I've been right, but always 100% unapologetically me. All the love to my fans, stans, and supporters...we did it!!!"
Trinity the Tuck seemed annoyed by the tie after it was announced, then seemed to accept it, saying in VH1's press release, "Wow! I am so excited and very grateful, This cast was amazing, so I'm very happy that I got to experience this with them! I am so very thankful to RuPaul and the judges for pushing me to be better and seeing an All Star in me! I'm so thankful to World of Wonder and VH1 for giving me this platform and I'm so proud to have this honor! I couldn't have done this without the support of my partner Leo, my friends, family and fans! Thank you!"
Twitter / Trinity the Tuck
...although this tweet did not age well...
Many fans were not happy about the outcome.
"You mean to tell me that my dumbass sat here every Friday night for an hour and a half for idk how many weeks just so this s--t could end in a tie? for real? #AllStars4," tweeted user @megancarterxo.
And of course, there were memes.
Season 11 of the regular RuPaul's Drag Race series will premiere on February 28.