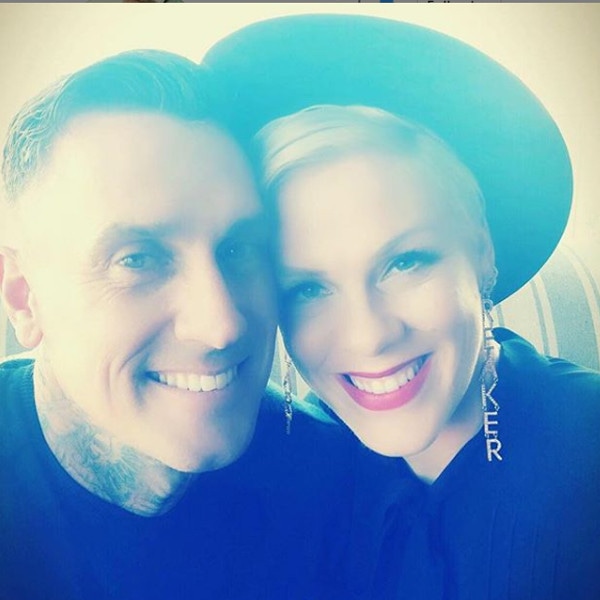 Instagram
Who knew Pink gets so stressed during the holiday season?
It's no secret that the music superstar has a successful, happy marriage with Carey Hart. But when appearing on today's all-new The Ellen DeGeneres Show, Pink couldn't help but share a moment where she got a little heated.
While playing a game of "Burning Questions," the singer was asked to share the dumbest way you've hurt yourself. It all has to do with slashing Carey's tires.
"It was Thanksgiving. Holidays are stressful," she shared with the audience. "I got clean through the first one. He has a raised [Ford] F-250 and those tires are very thick, thank you very much. And the second one, I lost a little steam and I hit the metal part and my hand just went straight down the knife."
Pink continued, "I got 13 stitches. But here's the thing, I didn't need any anesthesia. I couldn't feel a thing."
After the confession started making a few headlines, the 39-year-old took to Twitter and made it clear that it was one time and long, long, long ago.
"The story going around about my slashing tires is from 2003," she wrote to her followers. "I have not harmed a car in 15 years. #reformed #twenties #passion #tires."
For those wondering how this Hollywood couple celebrated their Valentine's Day, the pair both took to Instagram and posted heartfelt messages.
"Happy f--king Valentine's Day and also if there isn't some stubborn person in your life making you want to rip your hair out ON the daily THATS OK TAKE YOUR OWN DAMN SELF OUT and buy your own damn chocolates and not the gross kind," Pink joked on Instagram.
Carey would also post with the message, "My Valentine's Day loves."
The Ellen DeGeneres Show airs weekdays. Check your local listings online.