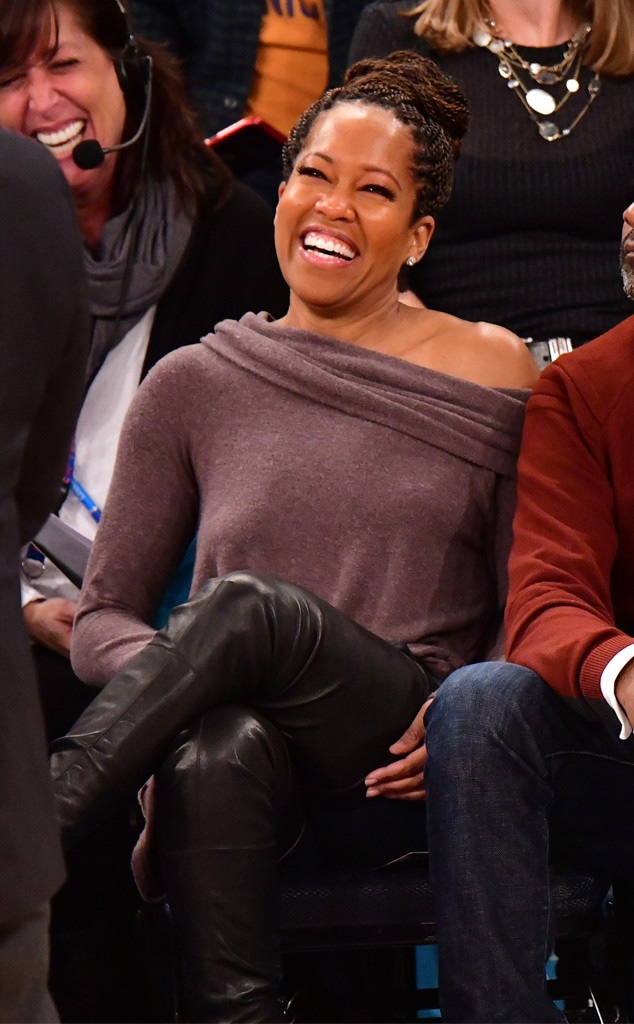 James Devaney/Getty Images
That was close!
Regina King was almost tackled by NBA star Joel Embiid on Wednesday night. The Oscar nominee was sitting courtside at Madison Square Garden to watch the New York Knicks take on the Philadelphia 76ers when she got the surprise of a lifetime. During the game, Embiid went after a loose ball and ended up running right into the crowd. Luckily, instead of plowing right into King, who happened to be sitting there, Embiid was able to jump over the actress.
Embiid actually landed on statistician who was sitting at a table beside King. Thankfully, everyone was OK after the impact.
After seeing video footage of the loose ball moment, King took to Twitter to write, "Yoooo. Thank you God and @JoelEmbiid for your athletic abilities. Crisis averted."
Embiid later liked King's tweet.
"It's good that I saved her life, I guess, but someone else had to, like, take that," Embiid said after the game (via ESPN). "I'm sorry about that."
He also added, "I only know one way to play and that's to play hard and compete."
This courtside incident comes just over a week before the 2019 Oscars, where King is nominated for Best Actress in a Supporting Role for her incredible work in If Beale Street Could Talk.
For a recap of the 2019 Oscars, watch E! News tonight at 7 p.m.!