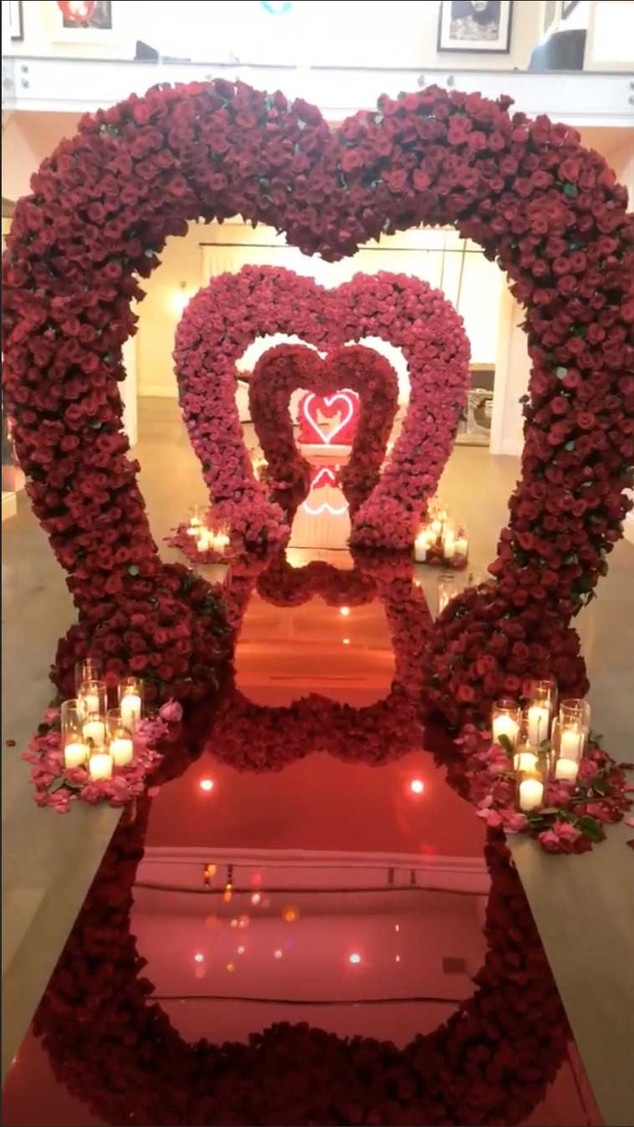 Instagram
Pay attention, ladies and gents, because Kylie Jenner is showing us how to do Valentine's Day in style.
All it takes to get this elaborate set-up is a lavish mansion, world-renowned florists and a $10,000 budget. A florist tells E! News that the romantic heart-shaped rose arrangement could easily be worth an estimated $8,000-$10,000. 
Kylie gave her millions of Instagram followers a peek at the over-the-top set-up on Wednesday, which has sparked rumors of a potential engagement between her and boyfriend Travis Scott. However, some people are taking the V-Day themed arrangement with a grain of salt since the makeup mogul has a penchant for extravagant holiday decorations. Her fabulous Christmas set-up is proof that Kylie loves holidays. 
Moreover, Wednesday is Galentine's Day, so the star could also be preparing for a dinner with her closest gal pals in honor of the occasion. 
The 21-year-old clearly has a knack for designing impressive displays, as she proved with Stormi Webster's first birthday party. With the help of event planner Mindy Weiss, Kylie created Stormi World for the celebrations. Guests entered a Stormi-themed door that was inspired by dad Travis Scott's Astroworld album cover. The amusement park party featured carnival rides, butterfly gardens, a live performance of "Baby Shark" and so much more. There was even merch for the lucky invitees to go home with!
Stormi definitely had fun at the party and she got plenty of gifts that she is still in the process of unwrapping. It's safe to say Stormi is living the sweet life.