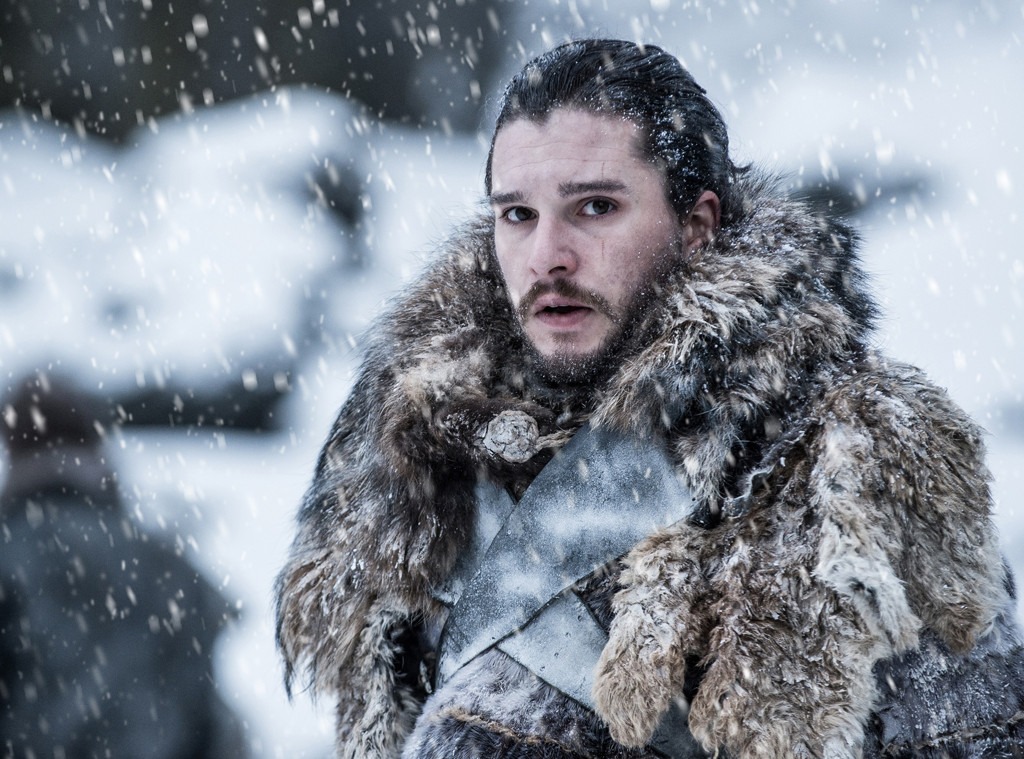 Rose Leslie did not, in fact, not speak to Kit Harington  for three days after he told her the ending to Game of Thrones. 
"I told my wife last year how it ended, and she wouldn't talk to me for about three days," Harington had told KISS Breakfast Show, according to Digital Spy. "And she'd asked!"
Leslie clarified to EW that Harington did not actually tell her the way the whole show ends. 
"I genuinely don't know the ending," Leslie said. "He told me the ending of last season and I remember getting a bit uppity about that …He happened to tell me—and this is a spoiler for anybody who hasn't seen the last season—he happened to tell me that one of the dragons fall into the ice lake, and then we see the dragon being dragged out of the water and the dragon breathes fire—or ice, I can't quite remember which one it is, I think it's fire—onto The Wall, and then, of course, that's when all the [Army of the Dead] can then cross over. So he told me about the dragon and I got rather livid with him, because I said, 'You weren't supposed to tell me everything! And that's a huge piece of information!' And he's like, 'Well, you asked!' And I was like, 'I know.'"
While she was mad about him spoiling the ending like that for her, it did not take three days for her to speak to him again. 
"That was an exaggeration," she told EW. "I love that he said three days. Look at him trying to get a soundbite. That's hilarious!"
Leslie does kind of blame herself for the reaction she did have, because again, she did ask him to tell her.  
"To be fair I was probably rather ridiculous in the way I phrased it," she said. "I was like, 'Tell me some things, but don't tell me other things.' But I actually don't know the ending to [the show] because, believe it or not, it's such a monumental phenomenal show, and I want to be like the rest of the world and watch it in real time and get that build up and anticipation. I want to finally come to the final episode and truly—and I honestly mean this—truly not know which way it goes."
Based on what we've heard so far, Rose might not even want to know. It sounds like it's going to be one heck of an ending, based even just on the way that Harington answered whether or not he was happy with that ending. 
"It's a weird one to answer, that. I can't really answer whether I'm happy or not," Harington said on the UK radio show. "I don't think it's about happy or sad really. I'm satisfied with what they did, but I don't know whether I'll be really satisfied until I see it."
Sophie Turner has implied the ending might be a little polarizing. 
"It was really satisfying for us. Who knows if it will be satisfying for the fans?" she told IGN. "I think a lot of fans will be disappointed and a lot of fans will be over the moon." 
All we really know right now is that if we were Rose Leslie, we would have already begged Kit Harington to tell us how the whole show ends and while we would have already gotten mad when he did tell us, we'd also be a lot less stressed about who's going to end up on the Iron Throne/whether we're going to need therapy in May.  
Game of Thrones premieres its final six-episode season on Sunday, April 14 at 9 p.m. on HBO.