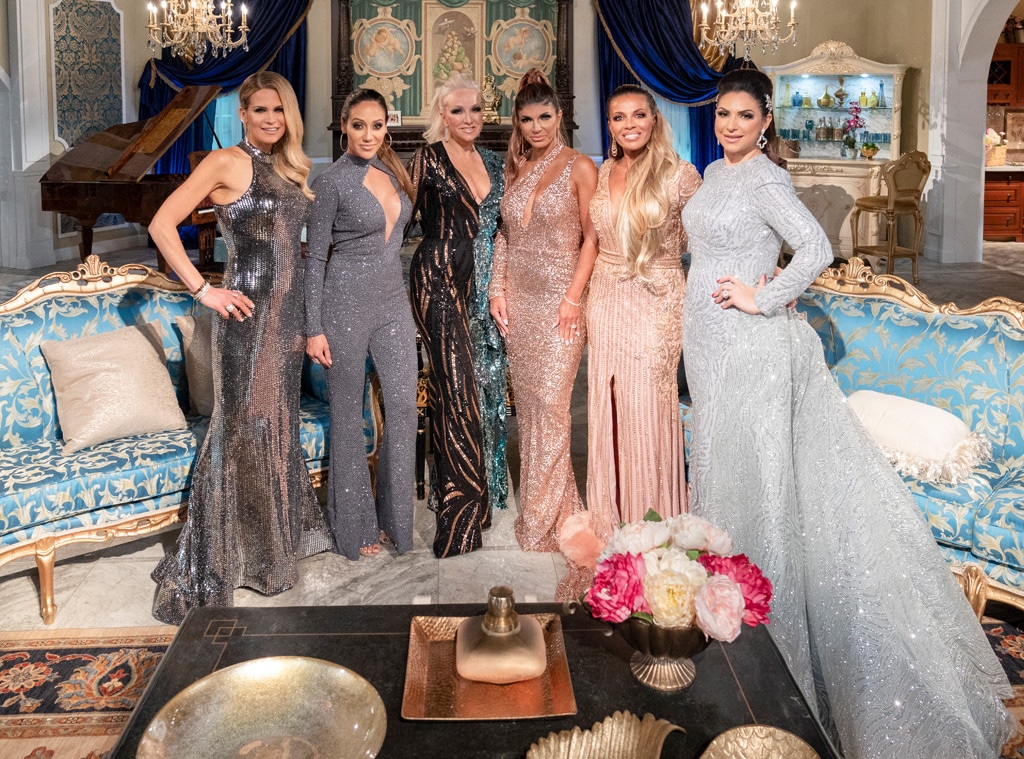 Bravo
Old wounds, harsh words, tears, threats and accusations are all part of the explosive The Real Housewives of New Jersey season nine reunion—and E! News has your exclusive first look at all the drama.
In the trailer below, Teresa Giudice, Melissa Gorga, Margaret Josephs, Dolores Catania, Jennifer Aydin and Jackie Goldschneider all go at it, rehashing the past season's worth of drama. The ladies hold nothing back.
"You f—king coldhearted bitch," Teresa says at one point, to…Melissa? We're not sure. But the main beefs seem to be between Teresa and Jackie and Margaret and Jennifer.
"I lose brain cells talking to you," Jackie tells Teresa.
At one point, Teresa calls Jackie a "white trash bitch," and Jackie hits back with, "You're not going to win a war of words with me."
"Really, bitch? You want to make a bet?" Teresa says.
"Yeah," Jackie says defiantly. And then Teresa makes a move that appears to signal things are about to physical. Just look at the looks on everybody's faces.
And host Andy Cohen hits Teresa with the hard questions about her future with Joe Giudice. "What you're saying is that you will go your separate ways," Cohen asks Teresa…who then cries. However, E! News learned that Teresa did say she and Joe would go their separate ways should he be deported to Italy.
Eventually, their husbands join the fray, as does Danielle Staub…and Joe Gorga asks his sister if she is using a vibrator?!
Part one of the reunion kicks off on Wednesday, Feb. 20 and features Margaret and Jennifer getting into a heated game of words. Then, Jackie is in the hot seat when Teresa accuses her of having ulterior intentions about joining the show and makes it clear that she will never forgive what Jackie said about her husband earlier in the season.
Part two follows on Wednesday, Feb. 27 at 9 p.m. and Teresa and Jackie continue their fight, and eventually Teresa discusses Joe's potential deportation.
Part three moves to 8 p.m. on Wednesday, March 6 and in it, Teresa continues discussing her relationship with Joe, and Danielle and Margaret rehash their season-long feud.
The RHONJ season nine finale airs Wednesday, Feb. 13 at 9 p.m. and the three-part reunion kicks off on Wednesday, Feb. 20 at 9 p.m. on Bravo.
(E! and Bravo are both part of the NBCUniversal family.)