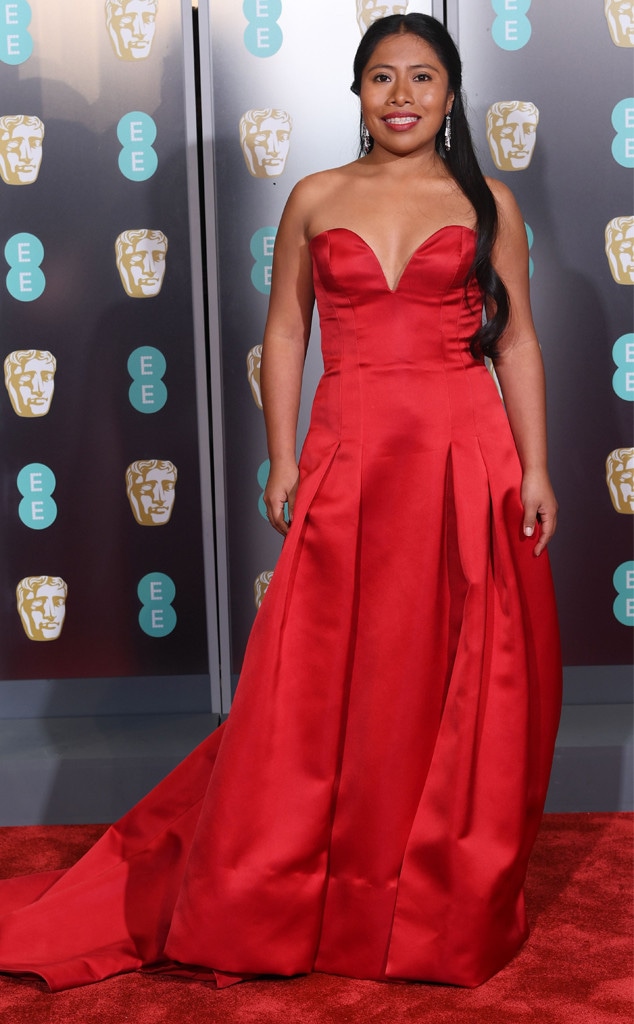 David Fisher/BAFTA/Shutterstock
It's no secret that Roma actress Yalitza Aparicio is living her best life.
From starring in Alfonso Cuarón's critically-acclaimed movie, which marked her film debut, to landing magazine covers and making history, the Oaxacan-born star is having an incredible year.
The 25-year-old actress' unlikely road to Hollywood is an inspiring one, considering the praise and accolades she's received the last few months. Not only did Yalitza earn a 2019 Oscars nomination (again, for her feature film debut), but she made history.
She is the first indigenous Mexican woman to receive an Oscar nomination and the second Mexican to be nominated for Best Actress in a Leading Role. Salma Hayek was the first to earn the nomination in the same category.
The history-making moment was so remarkable, that the 52-year-old actress congratulated the Roma star after her nomination was announced.
"I'm very moved that today I am no longer alone," she said. "Congratulations @yalitzaapariciomtz for your so well deserved nomination. I hope this time you win."
Yalitza also took to Instagram to share the exciting news. "Que felicidad tan grande," she wrote in Spanish, which roughly translates to "What great joy."
Along with her Oscars nomination, the Mexican actress' first-ever magazine cover made a major splash. When she graced Vogue Mexico's cover, many pointed out that she was one of the few indigenous women to be featured in a major publication, especially on the cover.
Aparicio has landed more magazine covers and features since the January 2019 Vogue Mexico issue. More recently, she's appeared on W Magazine's Director's Cut issue, Teen Vogue's Young Hollywood Class of 2019 issue and the 25th Vanity Fair Hollywood issue.
The star doesn't seem to be slowing down anytime soon. From the 2019 Golden Globes to The Hollywood Reporter's Women in Entertainment Power 100, she's making waves—one red carpet at a time.
Scroll through our gallery to see Yalitza's whirlwind year. From her groundbreaking Vogue Mexico cover to her bright and bold ensembles, this list will give you major career and fashion inspo.
The Mexican beauty will hit the 2019 Oscars red carpet and ceremony on Sunday, Feb. 24.
For a recap of the 2019 Oscars, watch E! News tonight at 7 p.m.!